Caramel Candy Apple Mini Doughnuts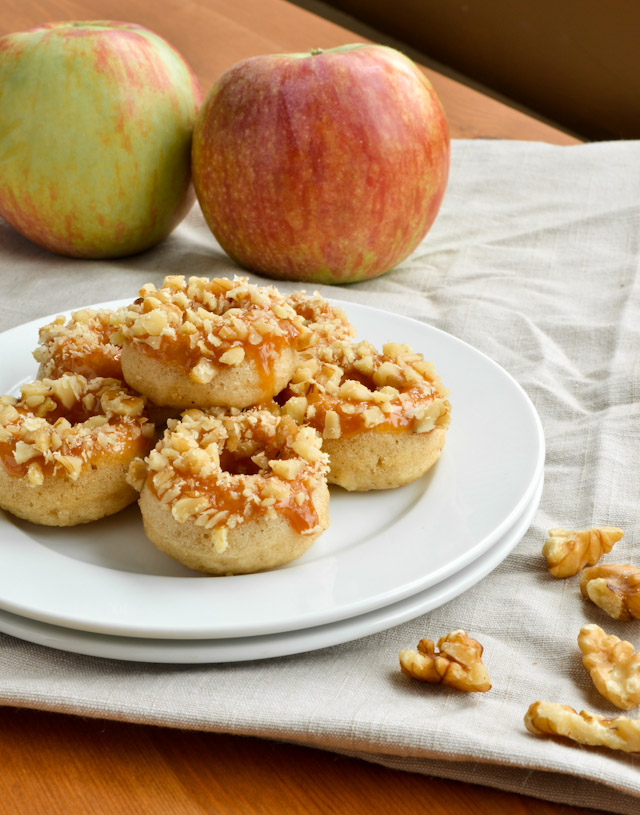 For a couple of years, I've been fighting the urge to buy a doughnut pan. The main reason I didn't want one was because doughnut pans really only have a single purpose – making doughnuts. I love doughnuts just as much as the next person who has a baking blog, but I could never picture myself making them very often. To own a baking gadget with only one purpose seemed pretty pointless unless you plan on using it a lot.
Of course, this changed last week when I spotted this cute little mini doughnut pan at Kitchen Stuff Plus. I can't say that it was love at first sight because it took me several days to make the purchase, but now that I have it and made these doughnuts, I'm definitely smitten.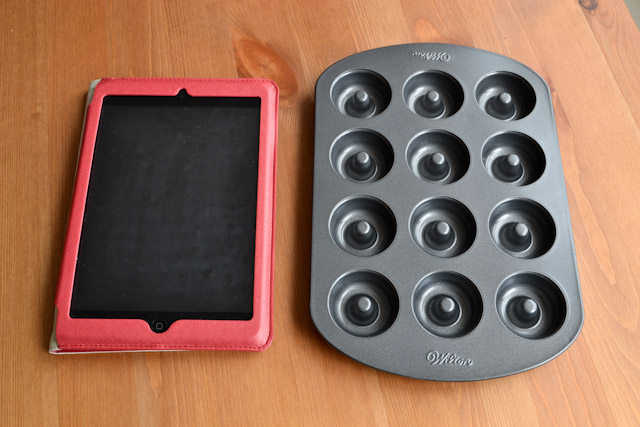 The main reason I love this pan so much it because of its small size. As you can tell from the image above, it's not that much bigger than my iPad mini (which needs a good screen cleaning). This was a main factor in the purchase because as a one-purpose item, I didn't want it to take up too much kitchen space. Another thing I love is that the doughnuts it makes are mini sized. This isn't really a reason related to the functionality of the pan as much as I just love cute things and mini doughnuts look much cuter than their regular sized counterparts.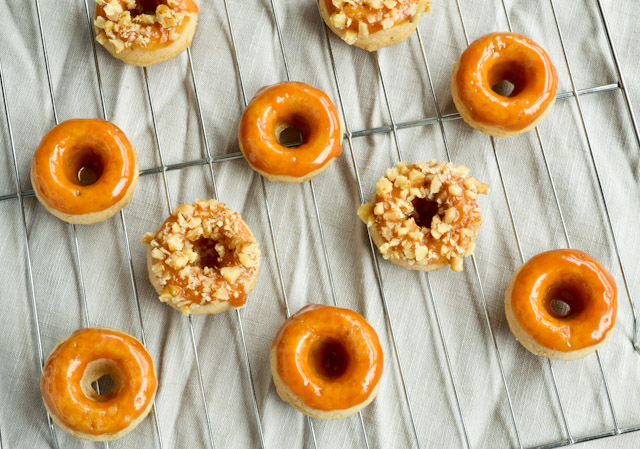 To break in my new mini doughnut pan, I decided to make use of the many apples that are still in our fridge. To avoid large chunks in the batter, I chose to grate the apples rather than attempting to chop them into tiny pieces. Because our apples are still fresh and very juicy, the grating process turned more into a thick applesauce and the result was sweet, fluffy doughnut with a strong apple taste. If you are not as lucky to have fresh apples at your disposal, the doughnuts will still turn out delicious but you will need to grate the apples as finely as you can in order to hide them in the batter. A food processor could also work too as long as no apple chunks are visible.
In the spirit of the upcoming Halloween season, I paired the apple doughnuts with a sweet and chewy caramel sauce. To top off the look, I added a sprinkle of chopped walnuts and the flavour instantly reminded me of the sticky caramel apples on a stick that I used to devour as a kid. If you are not partial to the nuts, you are welcome to leave them off.
Mini doughnut pan, I think this is the start of a beautiful friendship.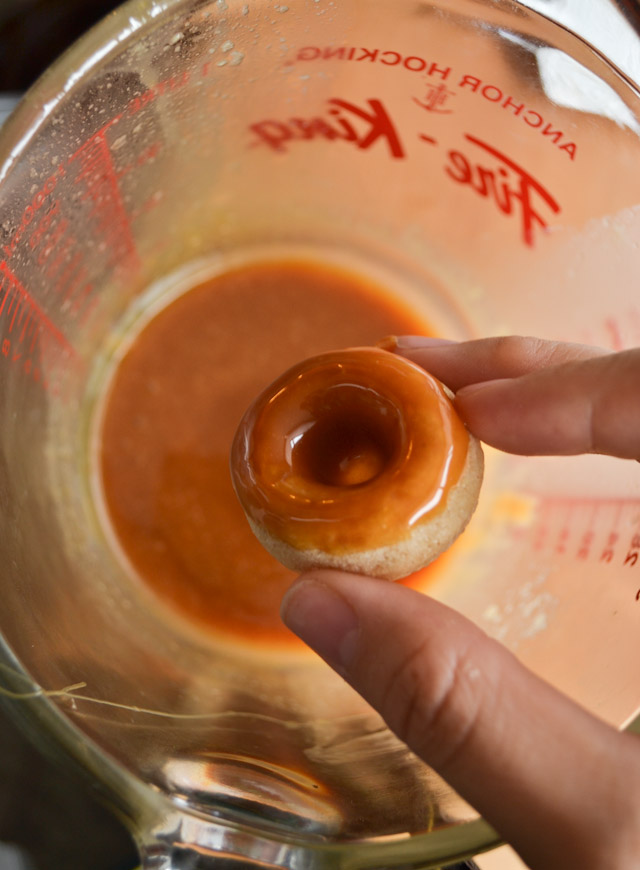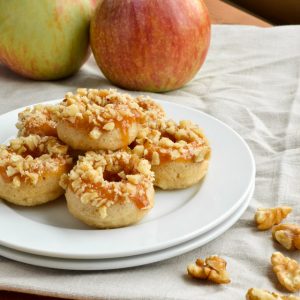 Caramel Candy Apple Mini Doughnuts
Ingredients:
1 1/4 cups cake flour
1/2 cup sugar
1 1/4 tsp baking powder
1 tsp cinnamon
1/4 tsp nutmeg
1/2 tsp salt
1/2 cup almond milk
1 tsp apple cider vinegar
1 1/2 tbsp butter/margarine, melted
1 egg, lightly beaten
1 large McIntosh apple or 2 small apples, finely grated
1/4 cup chopped walnuts
Glaze
20 chewy caramel candies
1 tbsp almond milk
Directions:
Preheat your oven to 350*F and lightly coat your mini doughnuts pan with non-stick spray.
In a small measuring cup, combine almond milk and apple cider vinegar and set aside.
In a large bowl, sift the cake flour and add sugar, baking powder, cinnamon, nutmeg and salt.
To the flour bowl, add almond milk and cider mixture, beaten egg, melted butter/margarine and grated apple. Stir until just mixed.
Fill a small sandwich baggie with batter and cut off the corner. Pipe the batter into the mini doughnut pan, filling the wells about halfway full.
Bake for 4-6 minutes until the doughnuts spring back when lightly touched. Remove from the oven and let cool in the pan for 5 minutes before transferring to a wired rack to cool completely. Repeat process until there is no more batter.
In a microwave-safe container, melt the chewy caramel candies and almond milk on high in 30 second intervals. Stir often until the mixture is soft. Dip doughnuts one by one in the caramel mixture and sprinkle with chopped nuts.