Strawberry Raspberry Oat Bars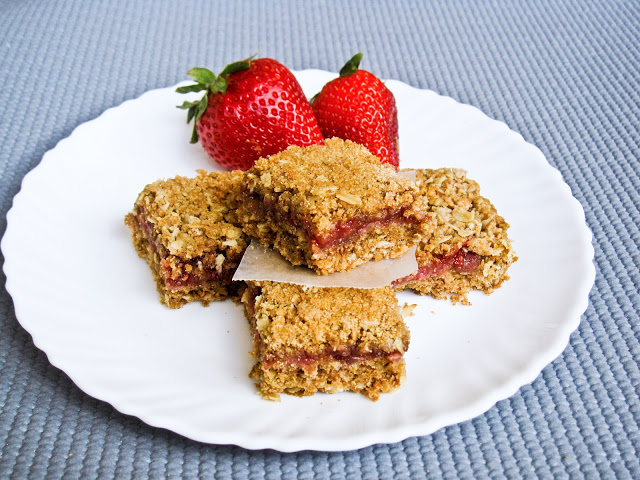 The last two weeks have been super busy, hence the lack of baking posts. This is the first weekend since the beginning of March where I have no plans and I get to sleep in, and in the comfort of my own bed. The same goes for my parents, who've spent the last two weeks in Southern Ontario watching my brother and sister's curling tournaments. It was great though, both of the teams emerged from their separate tournaments with silver medals (a national title for my brother, a provincial for my sister). I'm the non-curling black sheep of my family, but it was still great to see everyone since the only other time we're all in the same place is during the Christmas holidays.
Now I've spent the last few days trying to get back into a routine. Trevor started a new job and now we both commute to work. The biggest thing I've had to give up is coming home to an already-made supper. I'm home over an hour before him, so supper isn't on the table until after 7pm and after having my meals mostly prepared for me, I've been forced to remember what I used to cook all the time. With the weather staying warm, I see a lot of salads in our future. 🙂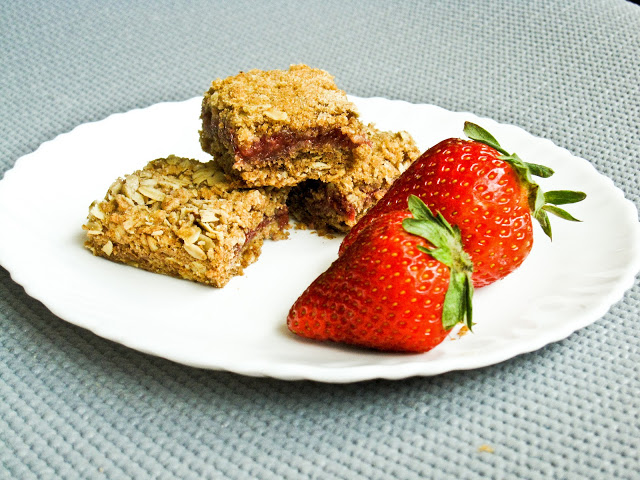 Since I've been doing most of the cooking again, I'm also doing most of the grocery shopping. This I don't mind because I love grocery shopping. Just not on the weekend. I can't imagine a crazier place to be – except maybe an Ikea on a Saturday. *shudder*
Recently, while scouring the produce section at one of my favourite stores, I came across a goldmine – strawberries! Normally I'm not a big fan of strawberries during the off-season, since they never look their best and the prices are insane, but these ones weren't bad at all. The price was reasonable, so I did what any strawberry-loving fiend would do – I bought two containers.
I still had a jar of homemade raspberry jam from my Grandma that I knew would pair nicely with the strawberries. Although the original recipe for these oat bars suggested raspberry jam without the seeds, I found the seeds to be a nice crunch. Sweet from the fruit and savoury from the oats and sugar, this recipe was given a thumbs up and an empty plate from Trevor, my taste-tester.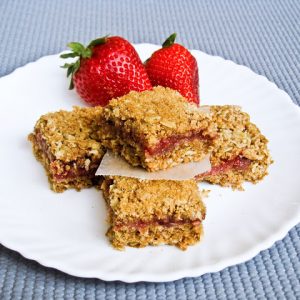 Strawberry Raspberry Oat Bars
Ingredients:
1/2 cup brown sugar
1 cup flour (I used whole wheat pastry)
1 cup rolled oats
1/4 tsp baking soda
Dash salt
1/2 cup butter/margarine
1/2 cup raspberry jam
1/2 cup strawberries, washed and cut into quarters
Directions:
Preheat own to 350*F. Greased an 8×8 inch square baking pan.
Whisk together brown sugar, flour, rolled oats, baking soda and salt. Cut in butter/margarine with a pastry cutter, or two butter knives, until the mixture is crumbly.
In a small bowl, combine raspberry jam and strawberries using a potato masher (or a fork, but I found a potato masher worked best). It's okay if there are a few small chunks of strawberries.
Add two cups of the crumbled mixture to the greased square pan and gently press down to the bottom.
Spread the raspberry/strawberry jam mixture on top, making sure that you keep at least 1/4 inch away from the edges.
Sprinkle the rest of the crumbled mixture onto the jam and lightly press down.
Bake for 30-35 minutes until light brown. Cool on a wired rack before cutting into squares.