Mini Whole Wheat Coffee Cake Muffins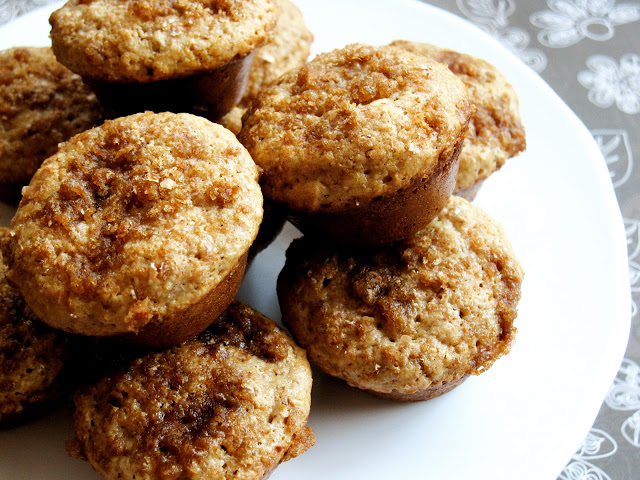 Most of the recipes posted here come from inspiration outside of my kitchen. Sometimes I'll see a candy or chocolate and the wheels in my head will start turning (see Cookies 'n' Creme Kissed Cookies).  Other times it will be a recipe I wanted to share because I've eaten it a lot and it's pretty much become a staple in our home (see Cheese and Garlic "Red Lobster" Biscuits).
Sometimes though, a recipe can take shape because of the need to use up a certain item in my fridge before the expiry date. In this case, it was a small container of fat-free sour cream. I knew beforehand that it needed to be turned into coffee cake muffins.
Eating coffee cake takes me back to high school when I used to live in Saskatchewan. We used to go to a friend's house in the afternoons to drink team, hang out and play cards (I know, we were the cool kids). I learned a lot of different card games back then, none of which I could probably remember now. The desserts that always came out of those afternoons were the best. It was never too overly sweet, but more savoury and always went well with tea. I became a fan of early grey tea during that time, and an even bigger fan of coffee cake.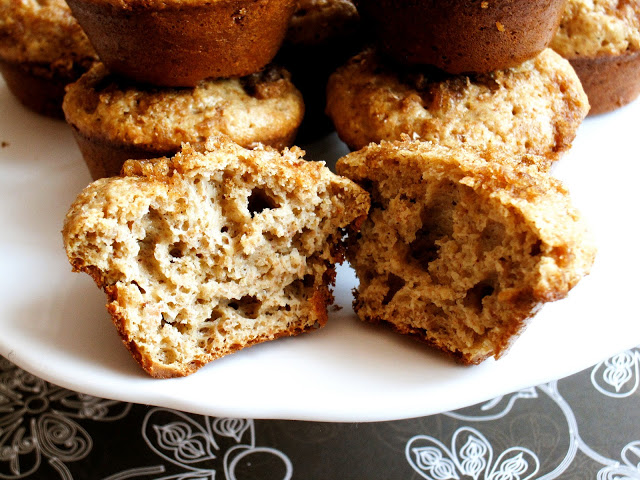 The best thing about these coffee cake muffins are the easiest thing to whip up. In less than 10 minutes, they can go from mere ingredients on your counter to baking in the oven. The results are fluffy and moist from the sour cream, almost with a lighter than air taste to them. I can't count how many times I would sneak into the kitchen to check on dinner and pop one in my mouth.
Delicious.
(I chose to make these into muffins for easier portion control since there is sour cream in the recipe and Trevor is trying to avoid it at all costs, but I'm sure it would fit nicely in an 8×8 pan if you are so inclined to make it that way. I'm unsure what the baking time would be, so that would be something to experiment with).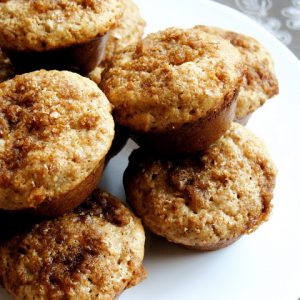 Mini Whole Wheat Coffee Cake Muffins
Ingredients:
Muffins:
1/2 cup whole wheat flour
1 cup soft whole wheat flour
3/4 cup brown sugar
2 tsp baking powder
1/2 tsp baking soda
1/2 tsp cinnamon
1/2 tsp nutmeg
Dash of salt
1 cup of sour cream
2 eggs
Topping
1 1/2 tbsp butter/margarine
2 tbsp whole wheat flour
4 tbsp brown sugar
1 tsp cinnamon
Directions:
Preheat the oven to 350*F.
Combine the butter/margarine, flour, sugar and cinnamon to make the topping. A fork will help make this crumbly. Set aside.
In a large bowl, whisk together flours, sugar, baking powder, baking soda, cinnamon, nutmeg and salt.
In a separate bowl, mix together sour cream and eggs. Add the flour mixture and mix until just combined (don't over-mix).
Ladle into prepared muffin tins (either lined with baking cups or greased), fill 3/4 full and sprinkle with topping.
Bake for 13 minutes until the muffins are brown and the topping has melted. Remove from oven and let cool on a wired rack.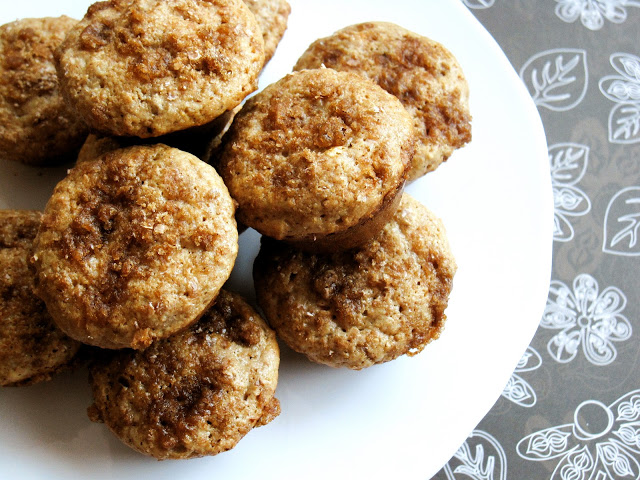 Enjoy!