Banana Blackberry Muffins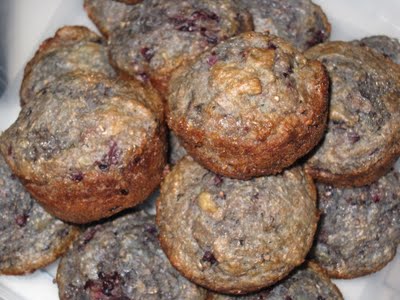 Thanks to his new summer semester, Trevor has classes all day on Saturdays (ugh!). To soften this blow to his weekend, I usually make muffins so he can have an easy breakfast and snack for later on in the day.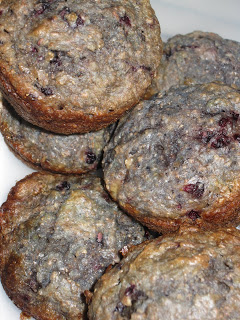 So a while back, when I asked him what he wanted for this week's muffins, he said that it was my choice since I would be making them and that he enjoyed any kind I made just as long as they were milk free. I had a bunch of ripe bananas in the freezer that I needed to use up and some blackberries in the fridge, so I decided to modify my usual banana chocolate chip muffin recipe.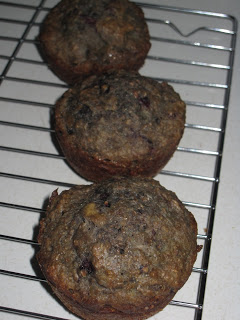 Looking through these photos, I noticed that these muffins look exactly like my oatmeal blueberry muffins. Oh well, maybe next time I won't mash up the blackberries beforehand.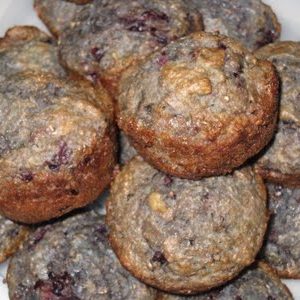 Banana Blackberry Muffins
Ingredients:
 2 cups flour
1 tsp baking soda
1/2 cup butter/margarine, soften
1/3 cup sugar
2-3 ripe bananas, mashed
2 eggs
1 tsp vanilla
1 small 6oz container blackberries, rinsed and mashed with a fork (keep juice)
Directions:
Preheat oven to 350*F.
Mix flour and baking soda in a bowl and set aside.
Cream together butter/margarine and sugar. Add the eggs, mashed bananas, vanilla and blackberries.
Add dry mixture to wet mixture. Batter will still be lumpy – do not overmix!
Grease muffin pan and fill 3/4 full. Bake for 8-12 minutes until edges are brown and tops of muffins are set.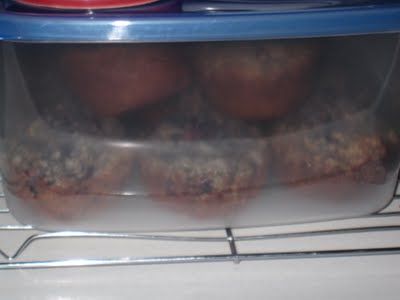 Enjoy!