Window Cookies
A couple of months ago, Pam over at Cookie Crazie did a post on most adorable Valentine's Day cookies. She used mini heart cutters and arranged them in such a way to have the hearts sticking out of the square cookie. When I purchased a Wilton's mini romantic cutter set at the beginning of the month, I had every intention to create similar cookies.
Then life got in the way, in the form of work, friends visiting/moving and birthdays. The next thing I knew it was the end of February and more than a month had past since I made cookies with icing. Since I just purchased my new Kitchen Aid Mixer, I decided to take advantage of the recent evening alone and make chocolate sugar cookies.
I used my new mini cutters along with a square cutter to create a window with flowers, hearts and butterflies similar to Pam's style. I'm terrible with words, so I let the pictures explain her technique!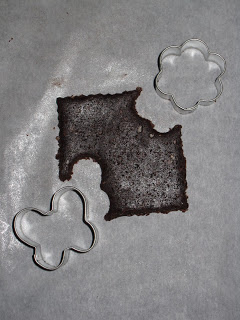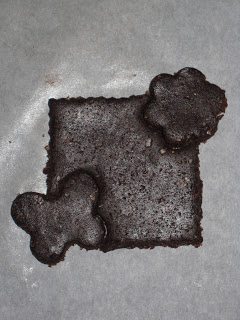 It helps to press the cookies together, but try not to squash them, otherwise the different sections come out uneven.and thus become harder to put royal icing on later.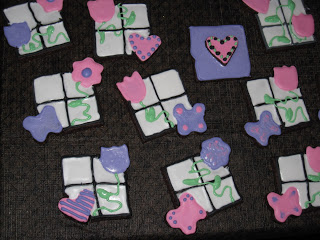 While icing these cookies, I also made a mental list of more baking supplies I'll need to pick up. My only tip #3 which I usually use to outline the cookies is currently attached one of the piping bags I have prepped for my cake decorating class tomorrow, so I had to use cut-up plastic sandwich baggies instead. This resulted in more uneven lines and thicker borders, so I definitely need to pick up more tips and a tip cleaner.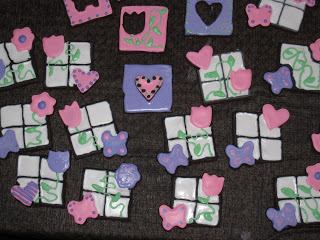 Have a great weekend everyone!