Happy Leprechaun Day!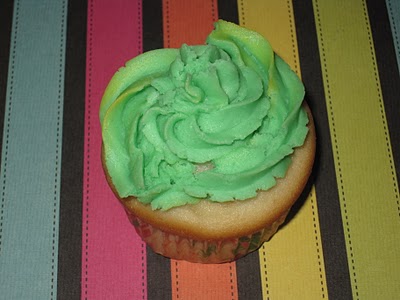 After my final cake decorating class last week, I've been trying to use up all my leftover buttercream icing. I made a ton of green icing, thinking that I would use most of it for leaves and stems on my roses, but I guess I still need to learn about icing quantity.
This gave me a nice excuse to make vanilla cupcakes though, with some of the leftover cake mixes I have on hand (I know – gasp! Shhhhhh! I promise, the next post will have a homemade recipe in it, I've just been lazy this week!)
And since it's March 17 aka St. Patrick's Day, green icing cupcakes make perfect sense!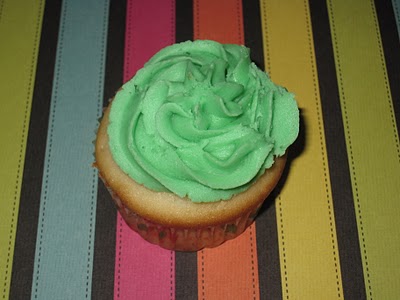 But if you are looking for a to-die-for green-themed recipe, I highly recommend Bridget over at Bake at 350,  as she did the unthinkable and made Mint Cream Cheese Brownies. It's like she was aware of everything that I love and decided to combine it all into one sinful dessert.
I can't make it because I might accidentally eat the whole pan while re-watching Glee. Then I'd have to do my yoga dvd a billion times to cancel it all out and fit into my work pants the next day. But you should try it, because its very likely you'll have more self control than I do. This way, you can also torture me by telling me how awesome it is.
Lastly, I also have some very excellent news! I'm set to take a one day cupcake decorating class in April over at Le Dolci, courtesy of Groupon and their amazing 50% off deals. (By the way, I highly recommend joining Groupon, as its a great way to find out the new events and deals in your city). I'm hoping this will be more beneficial than taking the Michael's cake decorating classes, as cupcakes are cuter and easier to handle.
Take care everyone!