My New Baby!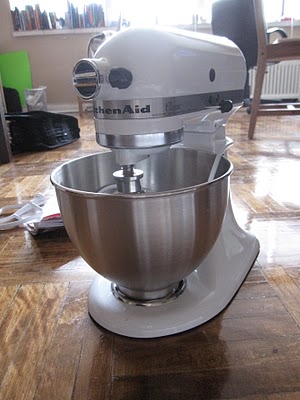 Yes, I finally bit the bullet and got myself a new mixer. Not just any new mixer mind you, but the most beautiful, pure KitchenAid Mixer ever. Literally, it's presence in my kitchen is putting all my other appliances to shame. I may have to throw them all out and start again like in university.
I would like to thank all those who made this purchase possible:
– my old handmixer for dying in December. I loved you and I'm so glad that your final act was making royal icing for my first attempt at decorating cookies. Mind you, if I hadn't made them and burnt out your engine, you would still be there. Thank you for being that sacrifice.
– my mother, who gave birth to me so close to Valentine's Day that I would be able to celebrate my birthday recently and send me a birthday cheque for the purchase of a KitchenAid Mixer.
– Barnes & Castle, a discount appliance store in the GTA where I was able to purchase said KitchenAid Mixer for the awesome price of $188.99 before taxes and therefore convince my mother that she would not need to buy one online and thus save herself over a $150 in purchase and shipping fees. I'm a good daughter and an even better bargain hunter.
– Trevor, who came with me to said store on the windiest and busiest of all Saturdays to help me purchase said KitchenAid Mixer and lovingly carried it out of the store to the car, up three flights of stairs to our home and gently helped me extract it from its box. He must know that more baking is in his future.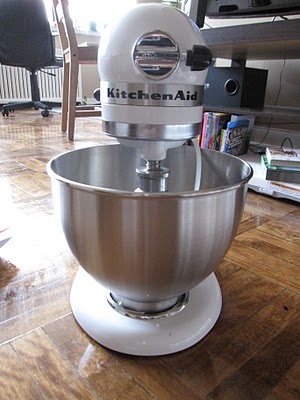 Alright, I'm off to make some Pioneer Woman Cinnamon Buns for the busy week ahead. Even though the recipe doesn't call for it, I'll find an excuse to use my baby somehow.