One Pan Baked Salmon and Roasted Veggies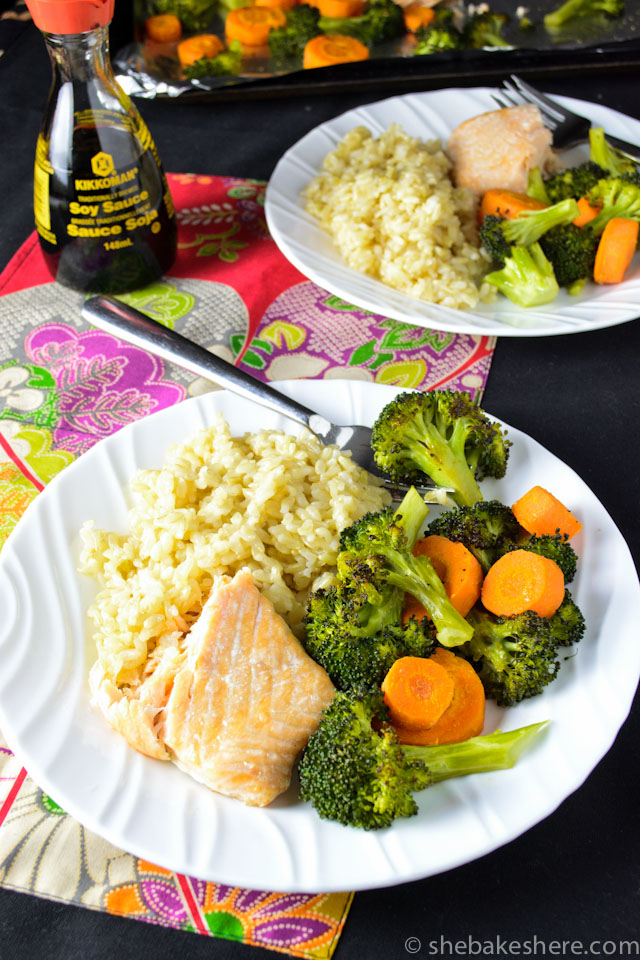 Happy 2017! I hope everyone had a good celebration with family and friends and partied their way into the new year. Trevor and I rang in 2017 by fiddling with our TV antenna which decided to disconnect between numbers 8 and 7 in the countdown. In the last few seconds of 2016, we threw open our balcony door and relied on our neighbours above us to yell out "Happy New Year!" Did I also mention that I was hoarse and very congested with my second cold of the season? Not my finest way to ring in the new year, but that's okay, I'll still take it.
After our returning from our recent trip to Mexico in December, we've been enjoying a pretty low-key January. I recently upgraded to a bigger slow cooker and we've taken a couple trips to the movie theatre (Moonlight, Manchester by the Sea & Fantastic Beasts and Where to Find Them – love me some JK Rowling!). Other than that, it's been a lot of hiding out from the cold and daydreaming about the warm, sunny weather and the beaches we left behind in Mexico.
I'm sharing this One Pan Baked Salmon and Roasted Veggies recipe today as part of another Canadian Food Creatives collaboration. Since January is a popular month for organizing and eating healthier, the theme is Health Weeknight Dinners. As someone who has a Monday to Friday day job, I jumped at the chance to contribute because I'm always on the lookout for more easy dinner recipes to add to my regular rotation. Right now it's still just Trevor and I and we're pretty low maintenance, but it's always good to have lots of ideas on hand. Especially because the alternative is ordering in and that can really take a toll on our wallets and our waistlines.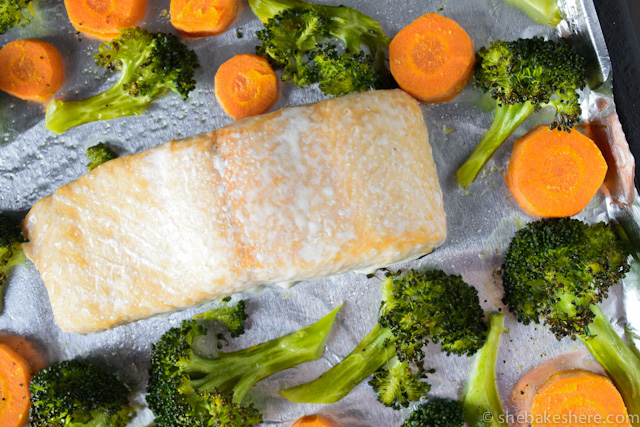 Baked salmon, vegetables, and rice were a pretty standard meal throughout my childhood, but one of my favourite memories of eating lots of baked salmon was back when I was a university student with dorm kitchen and a limited budget. I had read somewhere in a health magazine that salmon was supposed to be good for helping people focus and for "boosting" memory. So twice a semester, I would buy a huge slab of fresh salmon at the grocery store, bake the whole thing and then live off the leftovers during my midterm and final exam weeks. Looking back now, I highly doubt consuming that much salmon did anything to help me to retain information during my exams, but it was really nice to have ready-made dinners during those stressful periods.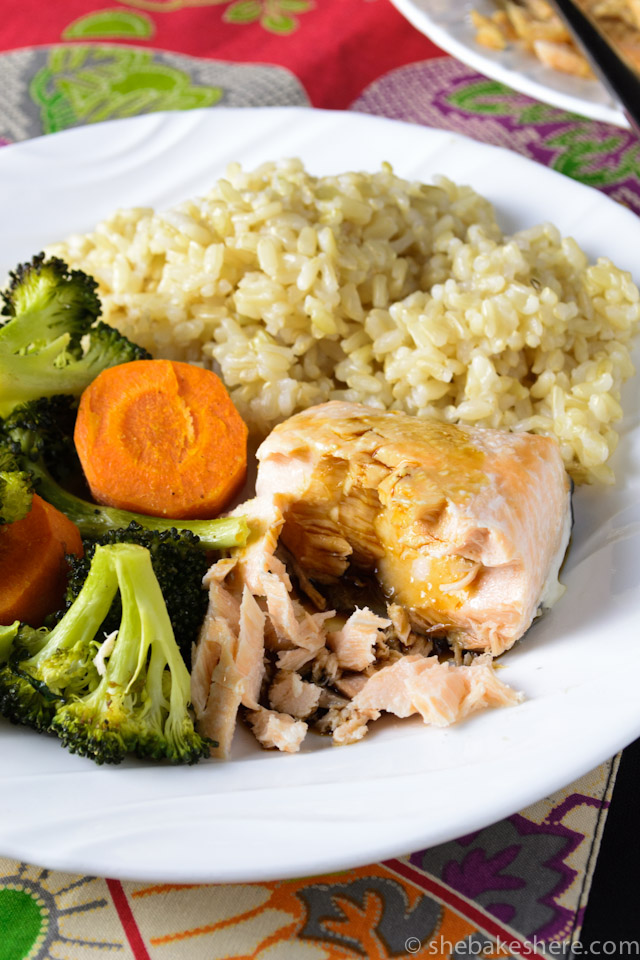 Even though it's been a while since I was in school, we still enjoy baked salmon on a regular basis. I still buy those giant slabs at the grocery store, but now I cut them into portions, wrap them individually in plastic wrap and foil and freeze them for future meals. During the week, I usually will pull one out in the morning, place it on a plate in the fridge to defrost while I'm at work and then it's ready to go when I get home. If I really feel like planning ahead, I sometimes will even marinate the salmon in soy sauce, garlic, and brown sugar, but that's another recipe for another day!
One Pan Baked Salmon and Roasted Veggies
Ingredients:
Salmon fillets
Carrots
Broccoli
Olive oil
Garlic powder
Sea salt and pepper
Directions:
Preheat oven to 375*F. Line a large baking sheet with aluminum foil and lightly spray the foil with non-stick spray.
Place the salmon fillets skin-side down on the baking sheet and lightly season with sea salt. Let rest while prepping the rest of the vegetables.
Peel and chop carrots and chop broccoli into bite-sized florets. Place the vegetables in a large bowl and toss with a drizzle of olive oil and a sprinkle of garlic powder until lightly coated. Arrange carrots and broccoli on the baking sheet around the salmon fillets and lightly season the vegetables with sea salt and pepper to taste.
Bake for 20-25 minutes until the salmon fillets are cooked through (it should be barely translucent) and the vegetables are lightly browned. Be sure not to overcook the salmon as it can easily dry out.
Remove the baking sheet from the oven and serve immediately with soy sauce and your choice of grain.
Make sure you also check out the other wonderful recipes from our healthy weeknight dinner recipe collaboration below! You can also find them all on Twitter, Instagram, and Pinterest using the hashtag #CdnFoodCreatives.