Chocolate Dulce de Leche Sandwich Cookies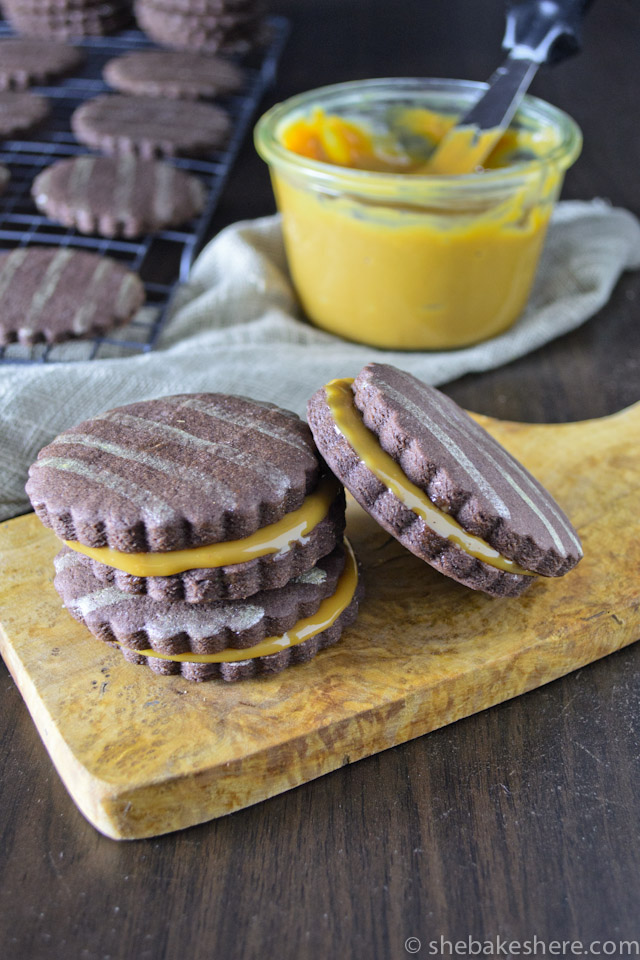 A couple weeks ago, I discovered the magic powers of dulce de leche. Dulce de leche is a thick, creamy, very addicting caramel spread that is made by heating milk and sugars for several hours. It can be purchased ready-made in grocery stores, but if you are feeling little more domestic, you can also cheat a little by using a can of sweetened condensed milk. There's a ton of resources on the internet for how to make homemade dulce de leche using condensed milk, so instead, I'm going to share a cookie recipe you can make once you forcibly stop yourself from eating it straight from the jar.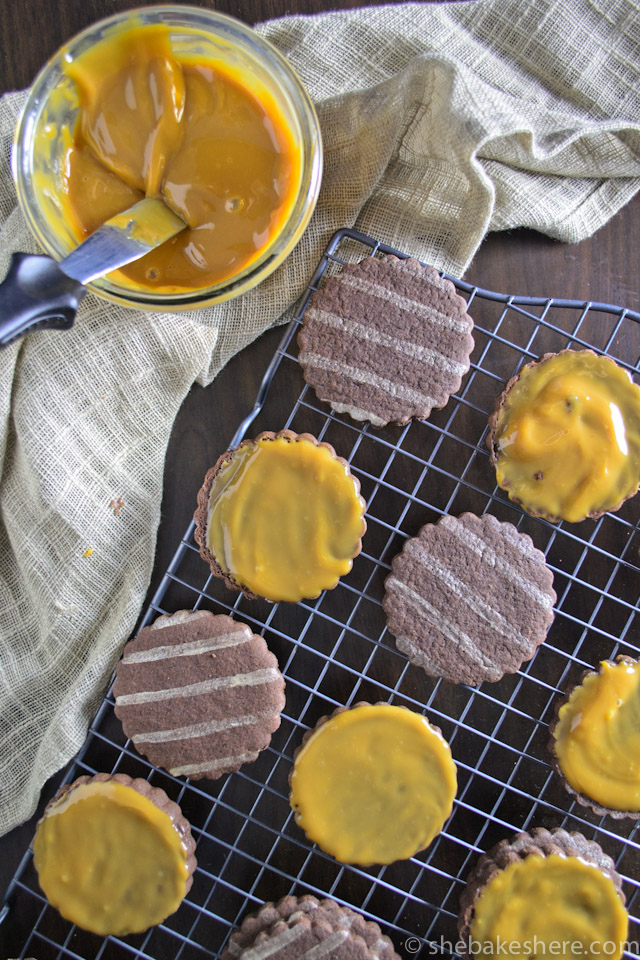 I made these chocolate sandwich cookies for a cookie exchange in my office and they were a huge hit. Since dulce de leche is very sweet on its own, I reduced the sugar content and added a little more cinnamon and nutmeg to spice up the cookies and add a little more Christmas flair. The edible pearl dusting was an extra decoration that was added in the end and a nice effect against the dark cookies. Pearl dust can be purchased at most Michael's Craft stores or cake decorating stores and those little containers goes a long way.
It's also worth noting even if you don't have a dulce de leche filling to go inside, these cookies are still wonderful on their own. For the last few days, we've been enjoying the leftover unfilled cookies that did not make their way to the cookie exchange and they have been my afternoon cookie of choice, paired with a hot cup of English Breakfast tea.
Chocolate Dulce de Leche Sandwich Cookies
Ingredients:
3 cups flour
1/2 cup unsweetened cocoa powder
1 tsp baking soda
1 tsp baking powder
1 tsp cinnamon
1/2 tsp nutmeg
Pinch of salt
1 cup butter/margarine, softened
3/4 cup granulated sugar
1/3 cup brown sugar
2 large eggs
1 1/2 tsp vanilla
1 cup dulce de leche
Optional
Edible pearl dust
Clear vanilla extract
Directions:
In a large bowl, whisk together flour, unsweetened cocoa powder, baking soda, baking powder, cinnamon, nutmeg, and salt. Set aside.
Using handheld beaters or a stand-up mixer, cream together butter/margarine, granulated
sugar and brown sugar until light and fluffy. Add eggs and vanilla and continue to beat on medium until well combined, scraping down the sides of the bowl as needed.
Add in flour mixture and continue mixing until no more flour is visible. Divide the dough into two mounds, wrap each in plastic wrap and chill in the fridge for 2 hours.
Preheat your oven to 325*F and line your cookie sheets with parchment paper or a silicone baking mat. Roll out the chilled dough on a flat, well-floured surface and cut into shapes with a round cookie cutter. Bake for 8-9 minutes until the cookies are set in the middle. Let the cookies cool on the sheet for one minute and then place on a wired rack to cool completely.
Sprinkle edible pearl dust in a small container and add a few drops of clear vanilla extract. Mix together with a clean paint brush and lightly paint your design on the cooled cookies. Let dry for 5 minutes.
Pair up cookies and spread dulce de leche on the flat side on half of the cookies. Top with remaining cookies. Store in the fridge in an air-tight container.
Adapted from 100 Best Cookies from Better Homes and Garden Holiday Magazine 2013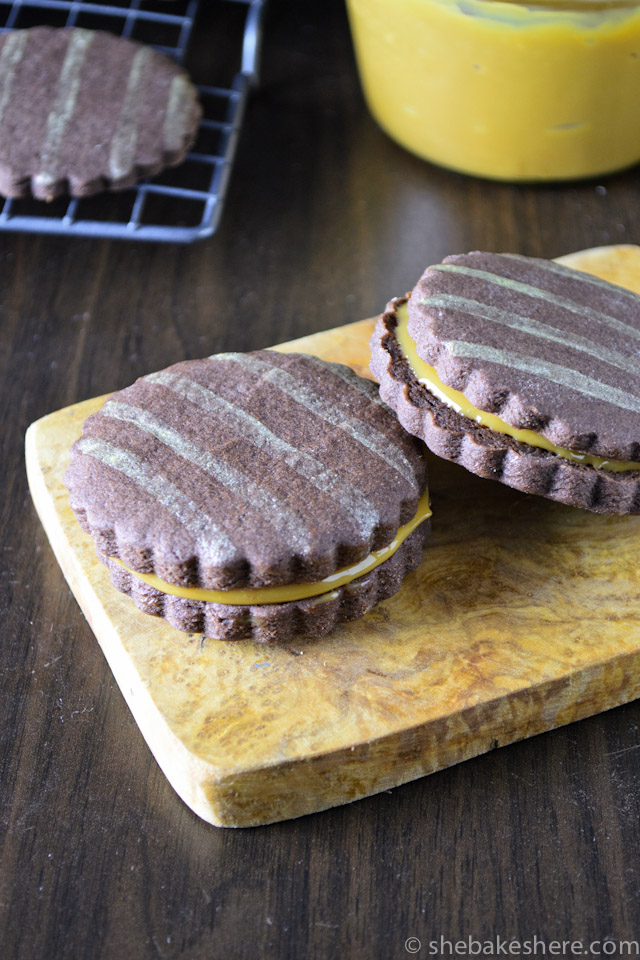 This will likely be my last post this year as I'm in the process of packing for a family trip to the warm, sandy beaches in Mexico. This will be my family's first Christmas since my Grandma passed away and after a difficult holiday last year and a very emotional start to 2016, we all agreed to a non-traditional Christmas this time around. No presents to buy, no tree to decorate or turkey dinner to make, just more time to spend with my close-knit family.
Merry Christmas, Happy Holidays and Happy New Year to all my readers. Thank you so much for sticking with me and my inconsistent postings this year. I'm thrilled to be posting again and I look forward sharing more recipes in 2017.