Triple Chocolate Banana Muffins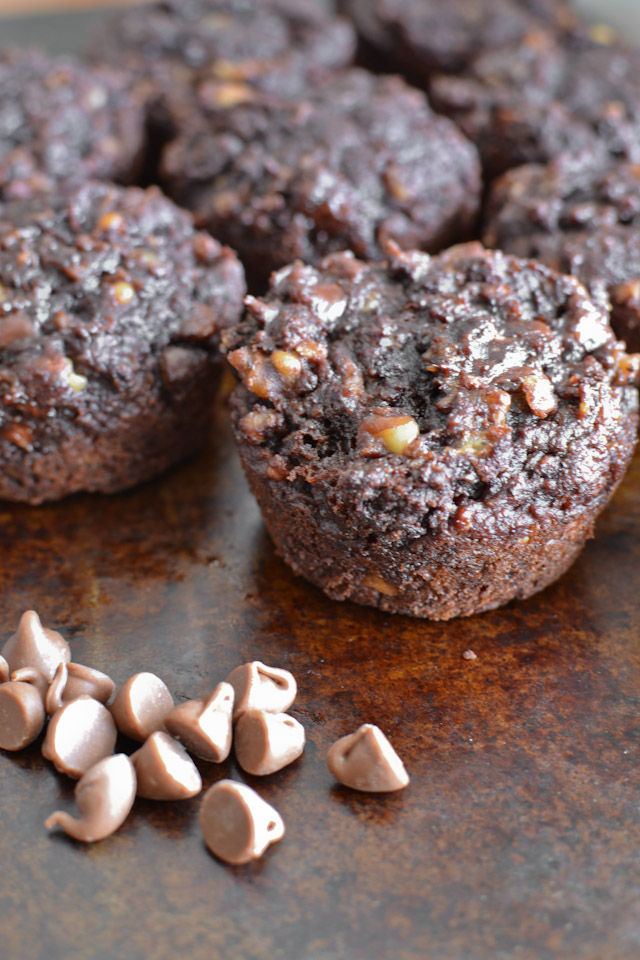 What's a girl to do when her life is packed away in boxes and she is having trouble navigating her own living room? Why, eat chocolate of course!
One of my most popular recipes on the blog is my Healthy Chocolate Avocado Muffins, but due to my obsession with eating them on everything (veggie burgers, pasta, smoothies, a slice of toast), I don't always have a ripe avocado on hand every time a chocolate craving hits. Up until recently, I've resorted to eating handfuls of the frozen milk chocolate chips I keep finding in half-open bags the back of our freezer. I'm convinced that in doing so, I'm helping to clean out the freezer, so the guilt hasn't set in yet.
Another thing I keep finding in the back of the freezer is frozen bananas. During the summer time, I love drinking smoothies and apparently I've been hoarding bananas like a crazy lady anticipating a grocery store shortage. Every time I open the freezer, I discover another one lurking in the dark corners. Who knew these bright yellow (er…spotted) sucker could hide so well behind all my frozen pizza boxes?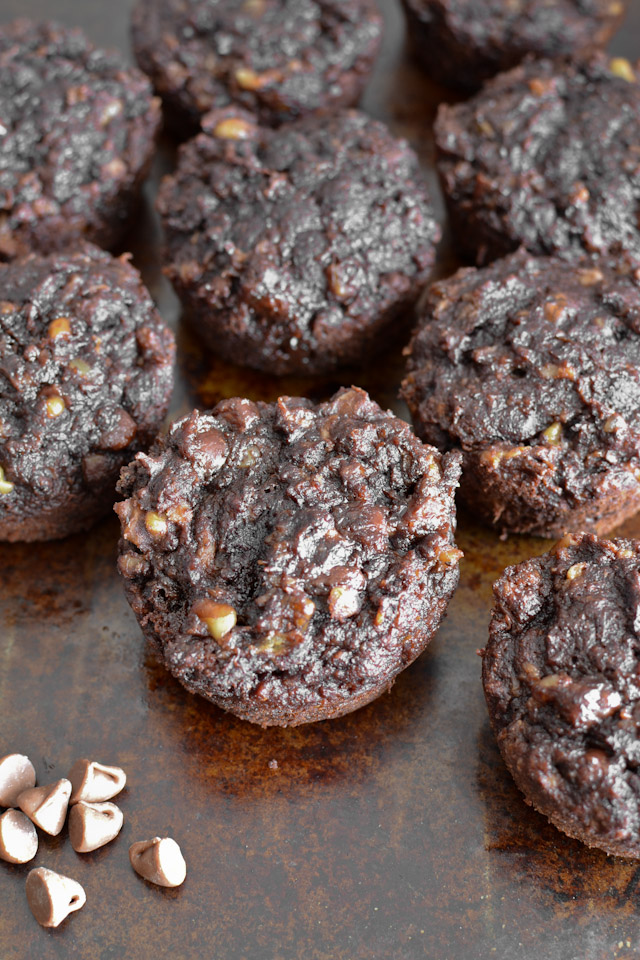 I know it sounds like such a cliche, but I'm going to come out and say it anyway: when life hands you extra bananas, make banana muffins! To lighten up the muffins a bit, I substituted melted coconut oil for the vegetable oil and then I went completely in the other direction and added the cocoa powder, milk chocolate chips, dark chocolate chips and the remains of a bag of walnuts. I was torn whether to call these "Complete Freezer Clean-out Banana Muffins" or "Crazy Lady Defeats PMS with Chocolate Banana Muffins," but ultimately I decided to go with "Triple Chocolate Banana Muffins."
A lighter freezer and a satisfying a raging chocolate craving? Done and done.
Triple Chocolate Banana Muffins
Ingredients:
1/3 cup coconut oil, melted
3 large ripe bananas, mashed
1/3 cup brown sugar
1 egg
1 tsp vanilla
1 1/4 cup + 1 tbsp whole wheat pastry flour
1/4 cup cocoa powder
1 tsp espresso powder
1 tsp baking soda
Dash of salt
1/2 cup milk chocolate chips
1/4 cup dark chocolate chips
Optional
Directions:
Preheat the oven to 350*F. Grease a muffin pan or line with baking liners.
n a large bowl, mash the bananas with a fork or a potato masher. Add coconut oil and mix well. Add brown sugar, egg, and vanilla and mix until just combined.
In a separate bowl, whisk together whole wheat pastry flour, cocoa powder, espresso powder, baking soda, salt. Add chocolate chips and walnuts (if using).
Combine wet ingredients with dry ingredients and stir until just combined (do not over-mix!)
Fill the muffin tin 3/4 full of muffin batter. Bake in the oven for 10-15 minutes until the tops of the muffins are golden brown. Cool for a few minutes in the muffin tin. Remove and finish cooling on a wired rack.