Chocolate Pretzel Cookies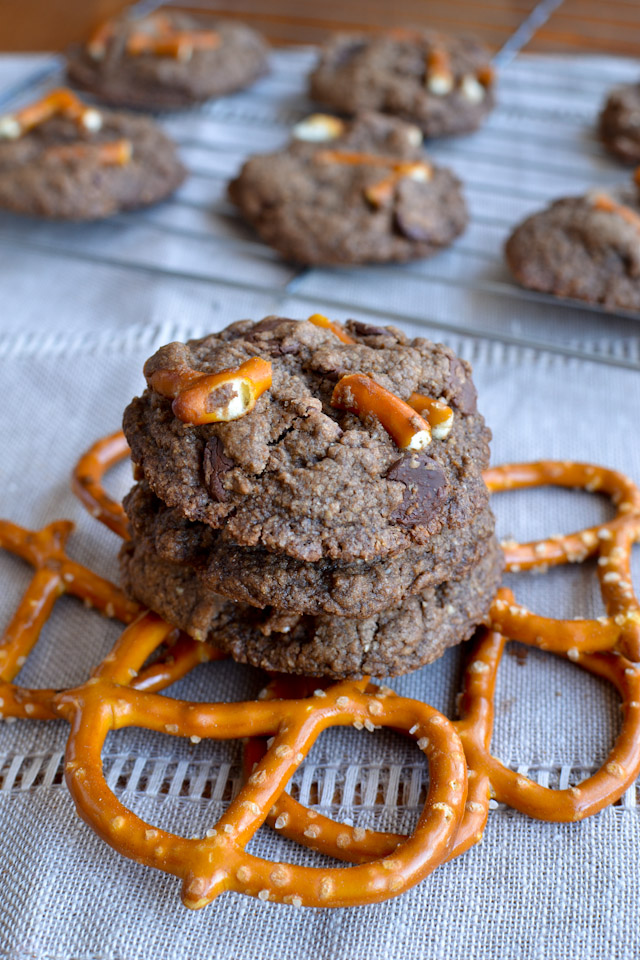 Try as I may, I'm not a very good plan-ahead-of-time-food-blogging person. And you know what? I'm okay with that.
I've always enjoyed reading special milestone posts from other bloggers, such as blog anniversaries (blogoversaries?), birthdays, wedding anniversaries…generally anything that celebrates this day as being just a little bit more special . For some of my favourite food bloggers, I can tell you exactly when their birthday is, the date they were married and even when they started their blog based on the above and beyond creativity of these posts.
Me? I'm the worst at planning these things. In fact this past January was the 3rd anniversary of She Bakes Here and I didn't do anything to acknowledge it. At first I was a little bummed out about missing out on yet another milestone post, but now I'm okay with it. Those kinds of posts can take a lot more time to research, test, photograph and write and usually by the end of December, I find myself pretty burnt out. Adding the stress of trying to create an awesome anniversary post for the beginning of January is not exactly how I want to ring in the new year.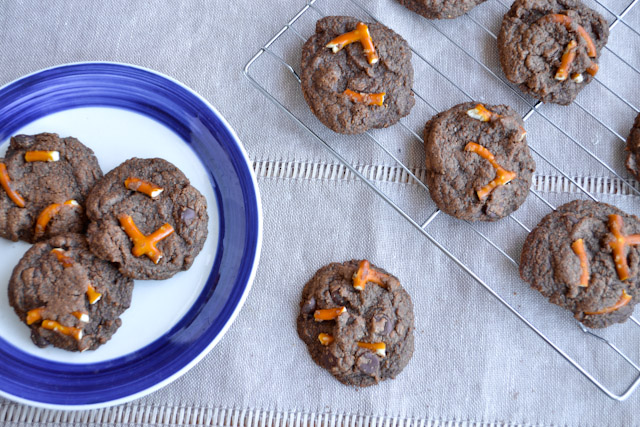 Of course, this doesn't mean that I'm completely writing off publishing these kinds of posts. Maybe someday when I have discovered the perfect organizational method that works for me, I'll be inspired to whip up something cute and tasty that screams "Happy Anniversary She Bakes Here!" Until then though, I will keep acknowledging my lateness to the event like a belated birthday card.
Speaking of birthday cards, I'm also totally posting this on my birthday right now. Yeah, I'm a February 13th pre-Valentine's Day baby. See what I mean about not being able to plan posts ahead of time? Maybe next year I'll remember to plan a fun birthday themed recipe. This year, I'll just enjoy taking advantage of all the birthday freebies around the city (Booster Juice and Starbucks are my favourites) and then end the day with supper with my husband. Because that's what you do when your birthday falls on an awkward weekday, at least until the weekend.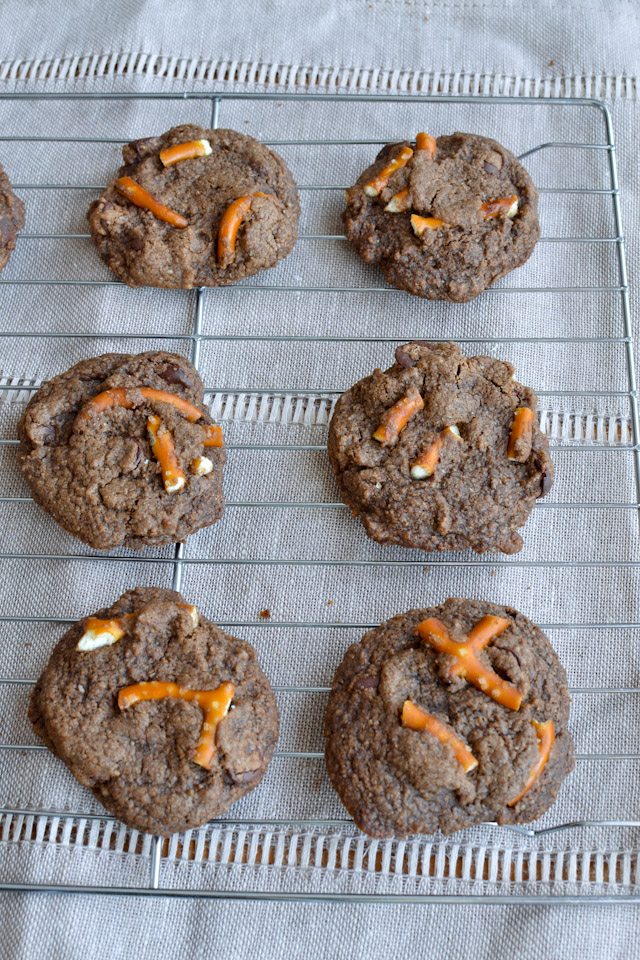 These chocolate preztel cookies are the final recipe in a short Valentine's Day series of chocolate recipes made completely without dairy. When I first made these cookies, I was worried that I had added too many pretzel pieces to the cookie dough, but next time I may add a little bit more because this extra salty crunch turned out to be our favourite part. I also reduced the brown sugar from the original recipe and this resulted in a richer chocolate taste that was similar to a brownie. Trevor, who is lactose intolerant, absolutely loved these cookies and has since begged me to make them again.
Chocolate Pretzel Cookies
Ingredients:
½ cup coconut oil (soft solid)
3/4 cup brown sugar
1/4 cup almond milk
1 tsp vanilla extract
2 cups flour
3 tbsp unsweetened cocoa powder
1 tsp baking soda
1 tsp baking powder
1/2 cup dairy-free chocolate chips
2/3 cup pretzels pieces
Directions:
Preheat your oven to 350*F. Line your baking sheets with parchments paper or a baking mat.
In a large mixing bowl, blend together coconut oil and brown sugar. Add almond milk and vanilla extract.
In a separate bowl, whisk together flour, unsweetened cocoa powder, baking soda and baking powder. Gradually add dry mixture to wet mixture until a soft dough forms. Using a wooden spoon, stir in dairy-free chocolate chips and pretzel pieces.
Scoop out dough in 1 tbsp-sized mounds onto a prepared baking sheet and flatten slightly with the back of a spoon. Bake for 5 minutes. Immediately remove the baking sheet from the oven. Let cool for a minute before transferring the cookies to a wired rack to cool completely. Store in an airtight container.