Chewy Chocolate Oatmeal Brownie Cookies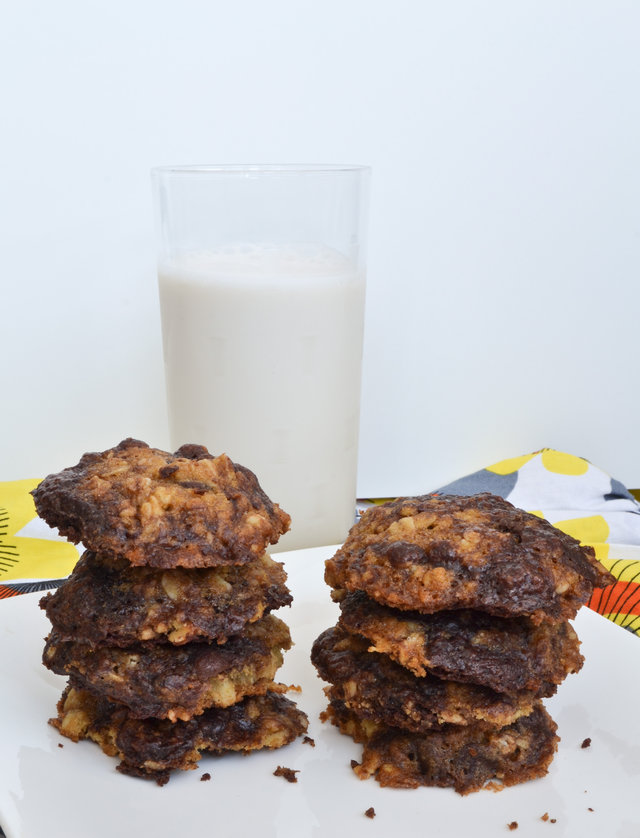 Is it just me or did it get colder the second the calendar switched from August to September? Not that I'm complaining though, fall is my favourite time of year. I'm starting to crave warm sweaters, comfy boots and fuzzy pajamas – not all as one outfit, mind you. As for food, my taste buds are leaning towards hot mugs of tea, pumpkin spices and all the chocolate I can cram into my face without getting a headache. That last one may not be weather-related. We think it's just a side-effect of too many kale salads in August.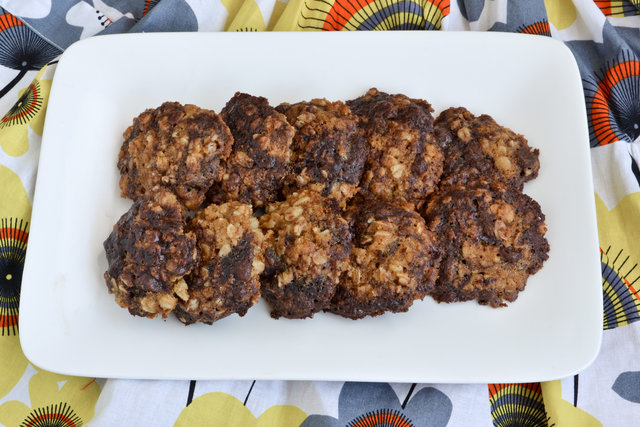 Now that the weather is cooler, I'm also rejoicing that I can turn my oven on again. This oatmeal and brownie cookie hybrid has been sitting in the back of my mind for a while, but I figured that I should save it until the end of summer. Who can resist the perfect combination of a crumbly and chewy oatmeal cookie and a soft chocolate brownie? I just wish these pictures did these little guys more justice. These cookies may not be as photogenic as say a pretty cupcake with swirled icing, but I can assure you will need to make them. The glorious smell that fills your kitchen when they are baking is worth it alone. And paired with a tall glass of milk after a long day at the office? Heaven, I tell you, heaven.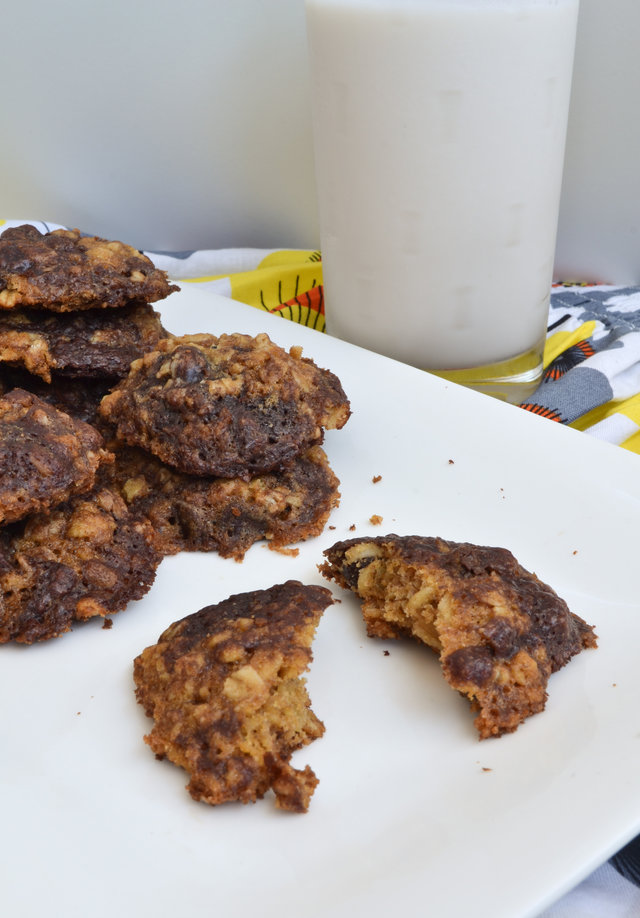 The cookie recipe is one I adapted from Smitten Kitchen. I didn't refrigerate the cookie dough like Deb did, so my cookies spread out a little more than hers. If you like a thicker cookie, I suggest sticking the dough in the fridge for a few hours prior to step #5. To speed up the baking process, I also used my favourite brownie boxed mixing (Ghirardelli).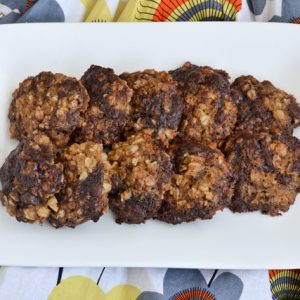 Chewy Chocolate Oatmeal Brownie Cookies
Ingredients:
1/2 cup butter/magarine, softened
2/3 cup brown sugar
1 large egg
1 tsp vanilla extract
3/4 cup flour
1 1/2 cups rolled oats
1/2 tsp baking soda
Dash of salt
1/2 cup chocolate chips
1/2 cup brownie batter (boxed brownie mix is fine)
Directions:
Preheat your oven to 350*F. In a large bowl, whisk together flour, rolled oats, baking soda, salt and chocolate chips. Set aside.
In a separate mixing bowl, cream together butter/margarine and brown sugar. Add egg and vanilla extract and cream until smooth.
Add flour mixture to wet mixture and stir with a wooden spoon until well combined.
Spread the cookie dough on large baking sheet and drizzle with brownie batter. Using a cookie or ice cream scoop, scoop out dough/batter mixture onto a prepared cookie sheet.
Bake for 12-15 minutes. The cookies should still be slightly soft in the middle.
Cool for a few minutes before transferring to a wired rack.