Baked Crispy Lentil Croquettes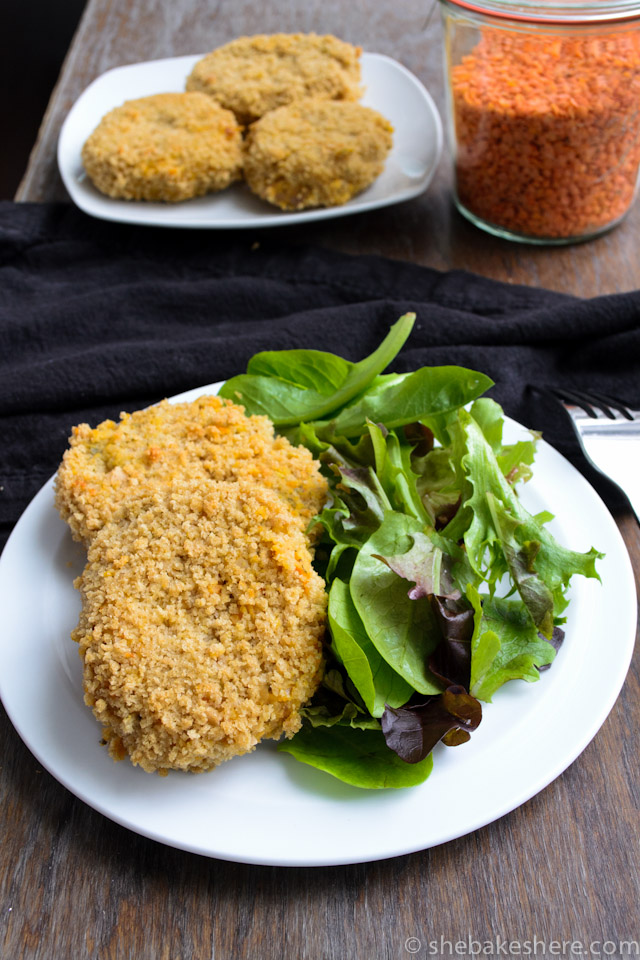 Disclaimer: I was asked to participate in the #LentilsLoveVeggies campaign, sponsored by Canadian Lentils & Half Your Plate. Although I have been compensated, all opinions in this post are my own. Thank you for supporting the sponsors that help keep She Bakes Here up and running and creating delicious recipes!
If you've scrolled through some of my latest posts from December and January, you would probably think that I survive on a lot of chocolate, bread, and cookies. But while I do indulge on desserts on special occasions (holidays…weekends…), my day to day eating habits are actually quite healthy. We have a small kitchen, but my husband and I make it a priority to keep a well-stocked pantry filled with canned goods, dried oats, rice, beans and pulses for easy and healthy meals. Making supper at home is a reward in itself because it usually means we have leftovers for lunch the next day or future last-minute meals that can go in the freezer. And let me tell you, those freezer meals are a lifesaver on busy weeknights.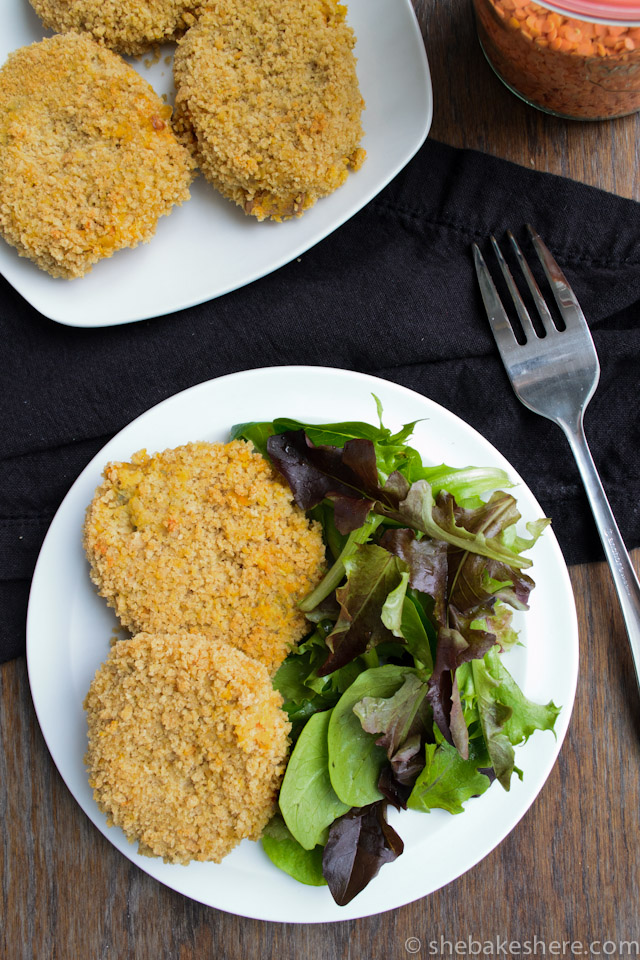 It's been 6 years since I started cutting red meat out of my diet, so lentils have been a pretty regular staple in our kitchen for quite some time. What drew me to these little pulses was more than just the fact that they are a nutritional powerhouse. No, what I love the most is how easy they are to prepare. Unlike beans, lentils don't have to soak beforehand, so I can come home after work, rinse, cook and the lentils are ready within 20 minutes. Of course, lentils are not just limited to supper time, as I'm also a big fan of cooking red lentils with oatmeal for weekday breakfast. And since I leave my place just after 7am (ugh), I can attest to how quick and convenient these little pulses can be when you feel pressed for time.
Lentils also pair wonderfully with vegetables to create a wholesome balanced meal. While it may seem harder to meet the 7-10 serving daily requirements during the dark winter months, lots of vegetables are still in season, they can be easily stored or frozen, and it doesn't take a lot of time or preparation. Right now we're really into pan-roasting broccoli, carrots, brussel sprouts and sweet potatoes which involves very little prep work and brings out their natural caramelized flavour. Whenever I have lots of veggies to use up at once, roasting is always my go-to method. Together, Trevor and I have been known to polish off a whole baking sheet in one sitting.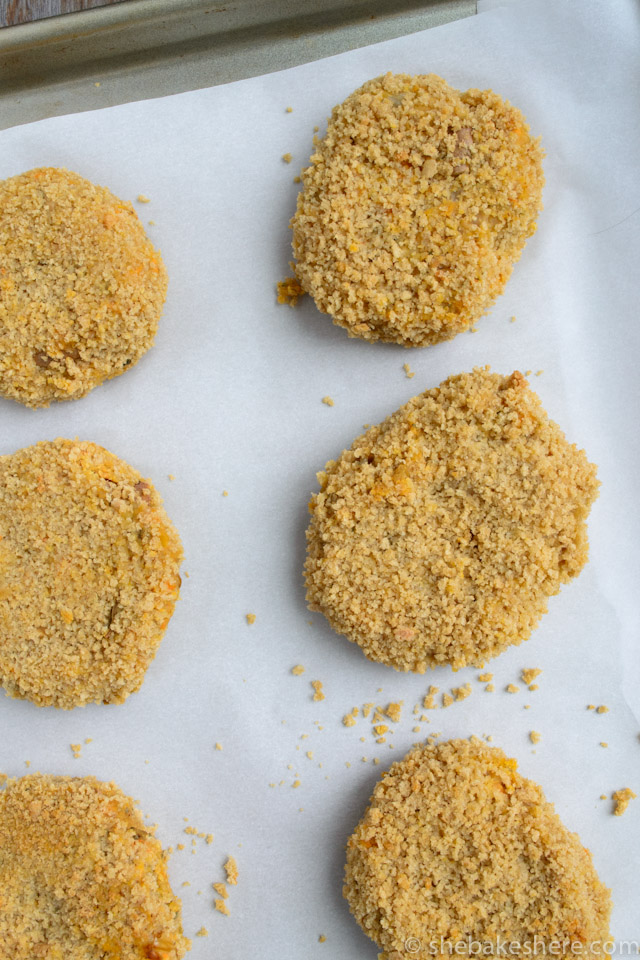 So how do lentils and vegetables fit within this recipe? Well I used some of my favourite winter vegetables – sweet potato, carrots and onions – along with 3 cups of red lentils to create a soft filling for these crispy lentil croquettes. My Grandma used to make croquettes (korokkes) when I was younger and although my version is meatless and baked instead of deep-fried, I was definitely reminded of her recipe when I pulled mine out of the oven and had my first bite. Unlike Western croquettes which are usually shaped like a cylinder, Japanese korokkes are typically shaped round like a patty and then rolled in eggs and Japanese-style breadcrumbs before cooking. I also added some extra spices to kick things up a notch, but if spice isn't your thing, you can scale back on the cayenne pepper and some of the chili powder.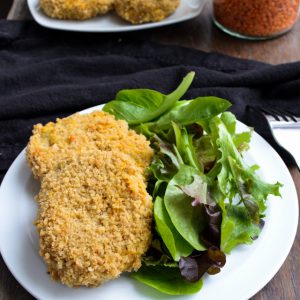 Baked Crispy Lentil Croquettes
Ingredients:
1 medium sweet potato, diced (approx 2 cups)
Olive oil
1 cup of dry red lentils + 3 cups of water
1 small onion, finely chopped
1 garlic clove, finely chopped
1 medium carrot, finely shredded (approx 1/3 cup)
1 tsp cumin
1/2 tsp chili powder
1/2 tsp paprika
1/8 tsp cayenne pepper (optional)
2 tbsp dried parsley
1 beaten egg + 1 tbsp water
1 cup whole wheat panko crumbs
Directions:
Preheat oven to 400*F and line a baking sheet with parchment paper or a silicone non-stick liner. Toss the diced sweet potato with a drizzle of olive oil until well-coated. Baked the sweet potato for 15 minutes until it is soft enough to be pierced with a fork.
While the sweet potato is cooking, rinse the red lentils and add to a large saucepan along with the 3 cups of water. Bring to a boil over high heat, and then reduce to simmer for 7-10 minutes until the lentils are soft and have doubled in size. Be sure to drain any excess water that may be lingering in the bottom of the pot.
In a large bowl, mash the cooked sweet potato with the red lentils using either a fork or a potato masher. Stir in chopped onion, garlic clove, shredded carrot, cumin, chili powder, paprika, cayenne pepper (if using) and dried parsley. If it's easier, you can ditch the spoon and use your clean hands to make sure that all the ingredients are combined.
Set aside two shallow dishes, one with the beaten egg and water mixture and one with the whole wheat panko crumbs. Shape the croquette mixture into patties, dip the patties into the egg/water mixture and then toss lightly in the panko crumbs to coat. Assemble the patties on a baking sheet (you can use the same one used for the sweet potatoes). Bake for 20 minutes, carefully turning the patties over at the 10 minute mark.
Let croquettes cool for 5 minutes and enjoy!
If you have time, you can also pan-frying the onion, garlic and carrots before adding them to the sweet potato and red lentil mixture.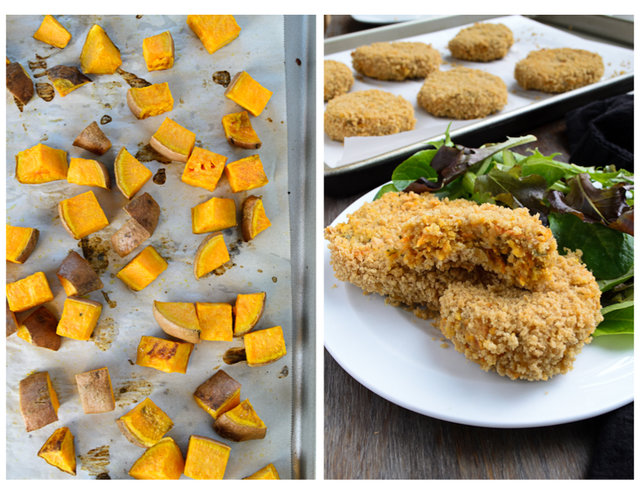 I hope you enjoy these croquettes as much as we do and that this nutritional recipe gets you through these long winter days. It's also worth noting that they freeze really well – just wrap them individually in plastic wrap after they've cooled and they can be tossed into a freezer zip-loc bag. Right now I have a freezer full of croquettes from all my recipe testing and I've been crumbling them over a salad as a nice lunch option.