Reese Chocolate Spread and Almond Biscotti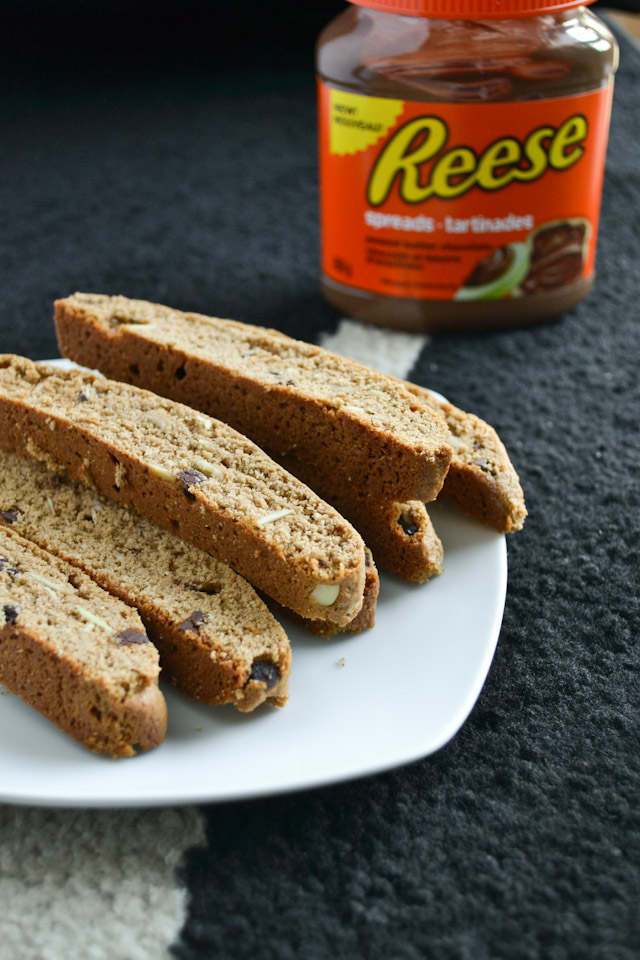 Trevor and I have a real addiction for peanut butter. We make our own on a semi-regular basis and if you check out my blog archives, you may notice that I have over a dozen peanut butter recipes. There wasn't a lot of PB goodness in the kitchen when I was a growing up, so I'd like to think that this is just me making up for lost time. So when Food Blogger's of Canada and Hershey's Canada were looking for bloggers to take part in the #DoYouSpoon campaign promoting Reese Chocolate Spread, I jumped at the chance. Peanut butter and chocolate? Count me in!
To say that their Reese Chocolate Spread is addicting would be too minimal. The creamy, sweet-but-not-too-sweet spread is a heavenly combination of chocolate and the Reese peanut butter that we all know and love. To get the real sense of what I'm talking about, you just have to eat a little with a spoon straight from the jar. No bells, no whistles, just straight from the jar. Full disclosure, though, I can't promise you'll only do that once. On more than one occasion, I've found myself wandering into the kitchen to make tea and eating a small spoonful while waiting for the water to boil. It's the little things in life.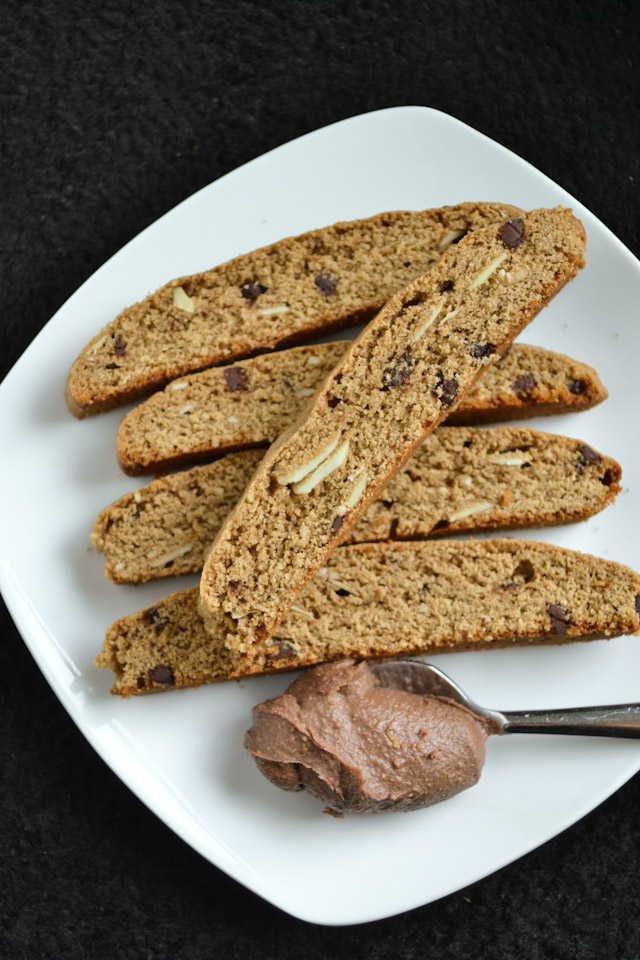 The recipe I'm sharing today makes great use of this Reese spread once you manage to pry the single serving spoon out of your mouth. I think it has a lot to do with the weather getting cooler and my desire to curl up on the couch with a mug of tea and a snack. Biscotti is my favourite cold weather cookie and I love how they are such a crowd-pleaser. Many people are intimidated by making biscotti because you have to bake it twice, but consider that to be more time to enjoy your cup of tea and eat more Reese spread straight from the jar.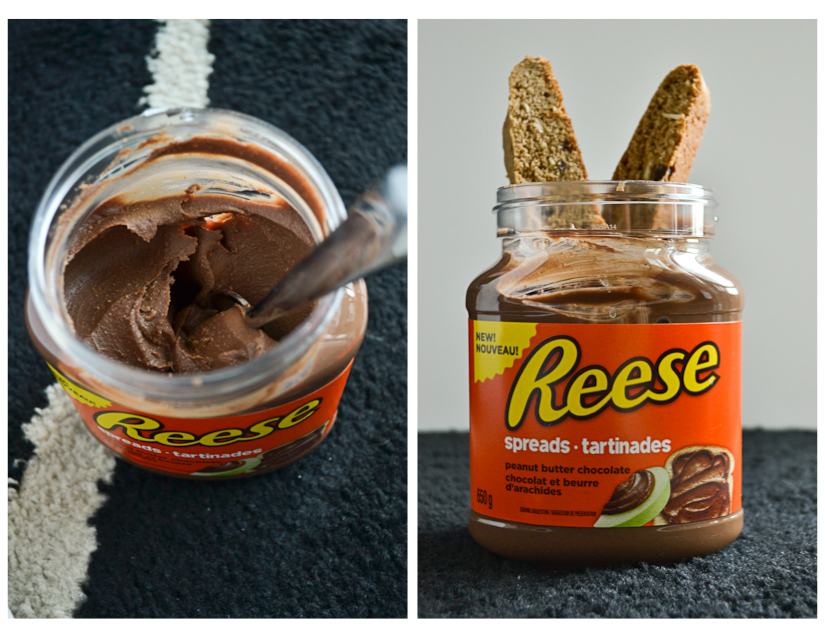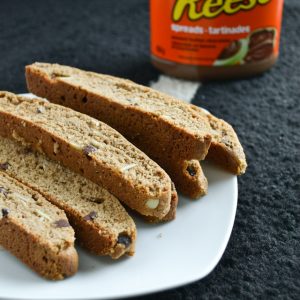 Reese Chocolate Spread and Almond Biscotti
Ingredients:
1/2 cup butter/margarine, softened
1 cup brown sugar
3 eggs
2/3 cup Reese Spread
1 tsp vanilla
3 1/4 cups whole wheat pastry flour
1/4 cup ground almonds
1 tsp baking powder
1/4 tsp salt
1/4 cup mini chocolate chips
1/4 cup sliced almonds
Directions:
Preheat oven to 350*F. Line a large baking sheet with parchment paper or a silicone baking mat.
In a large mixing bowl, cream butter/margarine and brown sugar. Add eggs, Reese Spread and vanilla and continue to mix until well-combined.
In a separate bowl, whisk together whole wheat pastry flour, ground almonds, baking powder and salt. With your mixer is on low, gradually add flour mixture to the wet mixture. Using a wooden spoon, stir in mini chocolate chips and sliced almonds.
Take half of the dough and shape into a 12-inch long roll on your baking sheet (flatten to about 1-inch thick). Do the same with remaining dough, leaving 3-4 inches between the two rolls (if they touch during baking, it's fine. No one will tell by the end).
Bake for 25-30 minutes until they are a light brown and firm to the touch. Gently transfer both rolls to a wired rack and let cool to room temperature. Don't worry if they crack a little, just cut around those pieces once they have cooled (see below).
Once the rolls have cooled, use a sharp knife to slice diagonally in 1 inch wide sections. Place the sliced biscotti back on your baking sheet and bake for more 10 minutes, flipping the cookies halfway through. Cool on a wired rack and store in an air-tight container.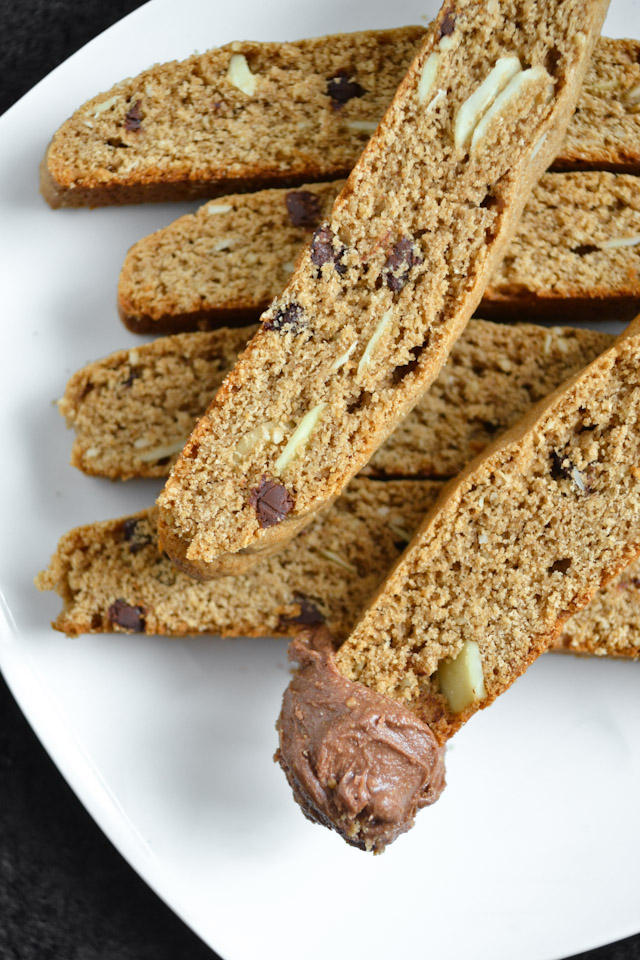 Disclaimer: This post is sponsored by Hershey's Canada and I was compensated monetarily and with 2 jars of Reese Spread for the purpose of writing this post and creating this recipe. All opinions stated are my own. I really did (and still do) eat it with a spoon.