Pumpkin Bran Muffins with Walnuts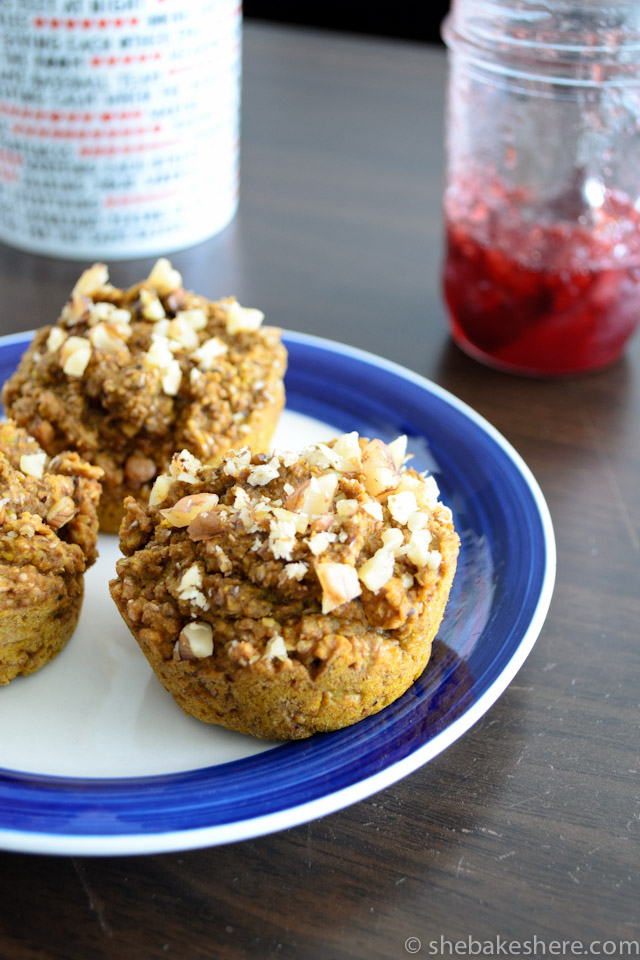 Trevor and I have a running joke called "not enough hours in the day" which can be applied to many, many things:
"You live in Toronto and you haven't been to [blank]? You need to go!"

"I recently read [blank] and really enjoyed it. You should read it."
"[Blank] is a really great TV show and you would definitely like it. It's on Netflix and there are only 999,999,999 seasons, so it's easy to catch up."
Between work, running errands, cooking, eating, cleaning (ha), exercising (double ha), socializing, breathing, and attempting 6+ hours of sleep every night, sometimes it truly doesn't feel like there are enough hours in the day. The worst part is that we don't even have kids or pets so I have no one to place the blame on (psst, those with kids and/or pets, please share your secrets!).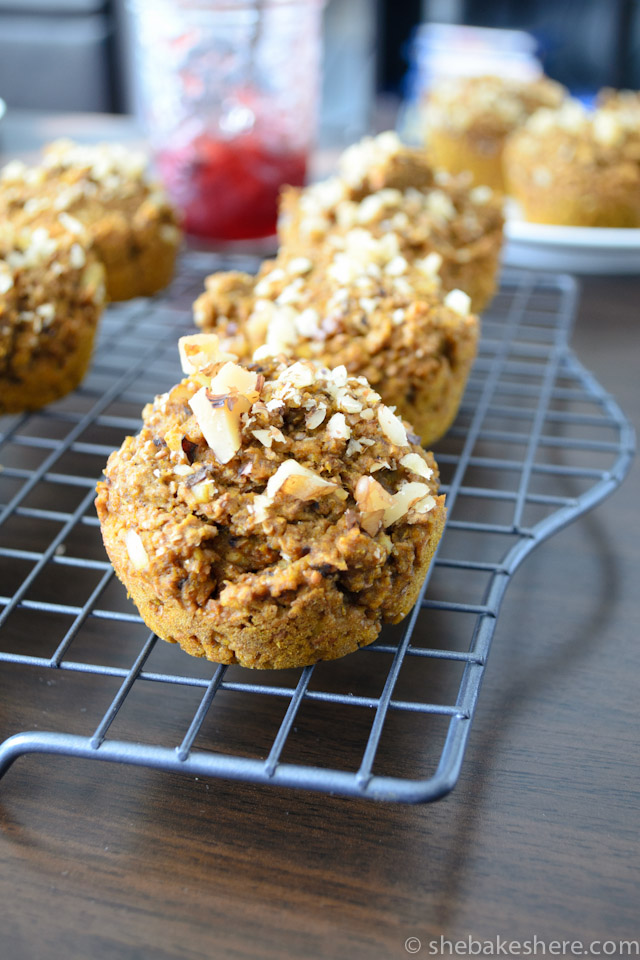 Luckily, there are little shortcuts I've been using to make things easier. I recently became better at preparing my breakfast and lunch the night before, so weekday mornings are less torturous. Our Tassimo also recently bit the big one, so now if I want my usual cup of morning coffee I have to make sure that my French press is clean before I go to bed (which in turn makes me do the rest of the dishes anyways). Shaving off little minutes here and there is great and for someone like me who is not a morning person, I'm all for making that time of day a little less crazy.
One thing that makes my mornings a little easier is having ready made muffins for breakfast. It may be a little early for pumpkin, but I'm so over summer right now that I say go for it. I want crunchy leaves, cool nights, fuzzy sweaters and casseroles and soup for supper. It may take a couple more weeks to convince Mother Nature, but at least it smells like fall in my kitchen.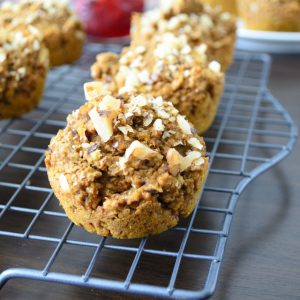 Pumpkin Bran Muffins with Walnuts
Ingredients:
1 cup whole wheat pastry flour
1 cup bran
2 tsp baking powder
1/2 tsp baking soda
Pinch of salt
4 packed tbsp brown sugar
1 tsp pumpkin pie spice
1/2 tsp cinnamon
1/2 cup chopped walnuts
1 cup pureed pumpkin
1/2 cup almond milk
1/4 cup melted coconut oil
1 large egg
Directions:
Preheat your oven to 350*F and prepare your muffin tin either with non-stick cooking spray or baking liners.
In a large mixing bowl, whisk together flour, bran, baking powder, baking soda, salt, brown sugar, pumpkin pie spice, cinnamon and  1/4 cup of the chopped walnuts. Set aside.
In a separate bowl, combine pureed pumpkin, almond milk, melted coconut oil, and egg. Make a well in the dried ingredients and add the wet ingredients. Using a wooden spoon, stir the mixture until just combined.
Evenly divide the batter between the 12 muffins cups and sprinkle with remaining chopped walnuts. Bake for 20 minutes until the tops are brown.
Remove from the oven and let sit for a few minutes to cool before removing from the pan. Let cool on a wired rack and store in an air-tight container.