Banana Bread Pecan Scones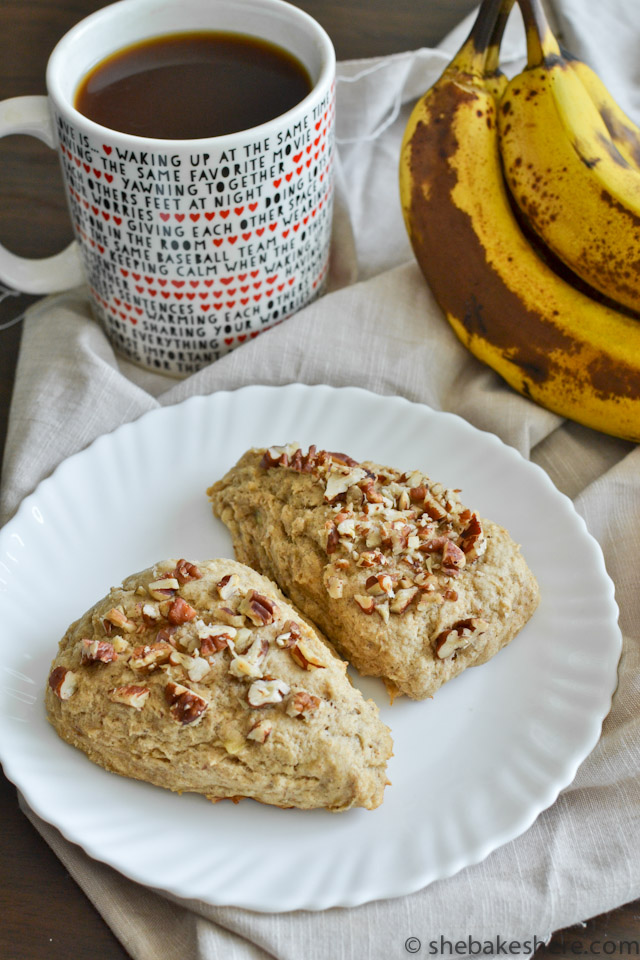 Bananas never last in our kitchen. In fact, until recently I'd have to remind myself to put bananas on the list before heading out to the grocery store. Thanks to my almost daily green smoothie habit, we will easily go through a bunch in under a week. Trevor also likes to have a piece of fruit with his breakfast and lately, it became a battle of who got the last banana. Since my weekday green smoothie usually happens after work, I always lost. Until now.
One day after work I was picking up groceries at a store on the east end of town (Trevor was working late) and I came across the 50% off produce cart. Usually the cart is pretty empty at the end of the day, but on this lucky day, it was completely loaded with bags of ripe bananas. I checked a couple bags and discovered that despite being really ripe, the bananas were still in pretty good shape. I knew I couldn't pass up such a good price and ended up bring home four large bunches (with minimal bruising after dragging my bags onto the streetcar).
After peeling and filling up my freezer (mmm, future smoothies), I was still left with a lot of bananas. Trevor was set for the next week with his own separately purchased bunch for breakfast, but I knew I wanted to bake something besides a standard loaf of banana bread.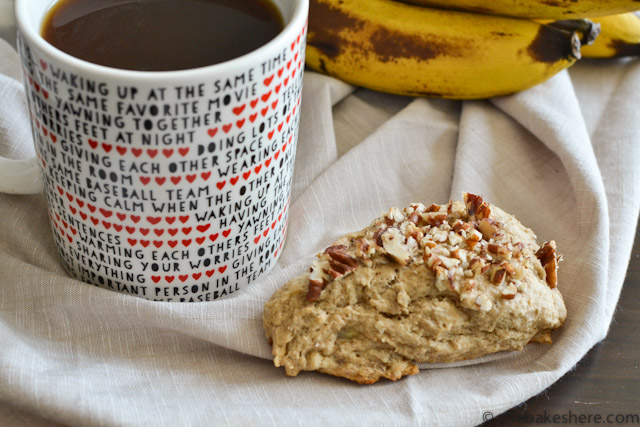 Enter banana bread pecan scones. All the flavour of banana bread, but in a personal-sized soft and buttery scone. I'm a sucker for nuts in my baking, so after shaping the scones I lightly sprinkled (pressed) some chopped pecans into each triangle before popping them in the oven. Have you ever wanted to plant yourself in front of your oven and inhale the smell of toasted pecans? You will after the first 5 minutes of baking these scones.
Normally I like to have a pat of butter or jam with my scones, but these were wonderful on their own with a side of Saturday afternoon coffee. They'll also make a nice side dish for a special occasion breakfast or a take-along snack for a weekend road trip. Me, I had to force myself to stick half of them in the freezer because I tend to lose my mind around freshly baked goods. After inhaling two already.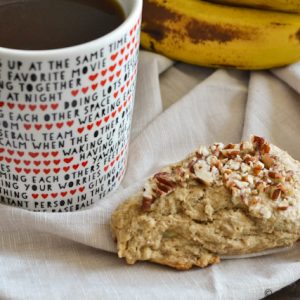 Banana Bread Pecan Scones
Ingredients:
1 cup all-purpose flour
1 cup whole wheat pastry flour
1/4 cup brown sugar
3 tsp baking powder
1 tsp ground flax seed
1 tsp cinnamon
1/2 tsp nutmeg
1/4 tsp sea salt
1/2 cup cold butter/margarine
2 ripe bananas, mashed
2 tbsp almond milk
1/2 cup chopped pecans
Directions:
Preheat oven to 350*F. Line a baking sheet with parchment paper or a silicone baking mat.
In a large bowl, whisk together all-purpose flour, whole wheat pastry flour, brown sugar, baking powder, ground flax seed, cinnamon, nutmeg and sea salt. Using a pastry cutter, cut in the cold butter/margarine until the mixture is coarse and the butter/margarine pieces are pea-sized.
In a small bowl, mash the bananas. Add in the almond milk and stir until the bananas and liquid are combined. Pour mixture into the flour bowl and stir with a wooden spoon until no flour is visible.
Turn the dough onto a floured surface, lightly dust with more flour and knead 10 times. Pat the dough into a large circle and slice into 12 triangles. Place the scones on your prepared baking sheet and lightly press the chopped pecans into the tops of each scone.
Bake for 15-18 minutes until the scones are set and the bottoms are brown. Remove from the oven and let cool on a wired rack. Enjoy plain, with jam or with a slab of butter/margarine (I preferred mine plain).