Apple Walnut Phyllo Tart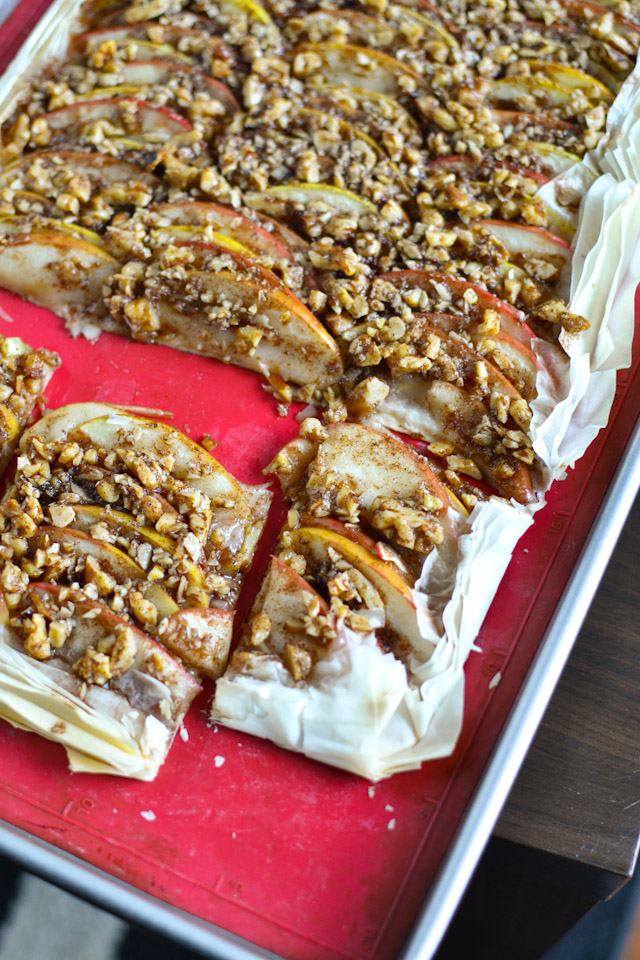 Apple season is upon us! I'm so excited to share this recipe because the fall season is probably my favourite food season, especially with all the great produce available in Southern Ontario. We recently gave up our car so we've been braving the crowds and making use of the Saturday Farmer's Market at the St. Lawrence Market every weekend. This was one of the many perks I was looking forward to when we were planning our move downtown and I couldn't be happy that St. Lawrence and many other farmer's markets are just a 10 minute streetcar ride away. Being carless may mean that we're unable to make a trip up to the apple farm again this year, but at least we can still get our fill of locally grown apples.
When I first envisioned this apple tart, I wanted something light, fruity and quick to throw together. I was originally going to use puff pastry for the tart, but my local grocery store was out of stock and I needed to satisfy my seasonal craving for baked apples. I already had a box of phyllo dough chilling (literally) in my freezer, so I figured why not? Puff pastry and phyllo are very different from each other (Taste of Home has a good article), but I liked the end result so much that I had to share this recipe.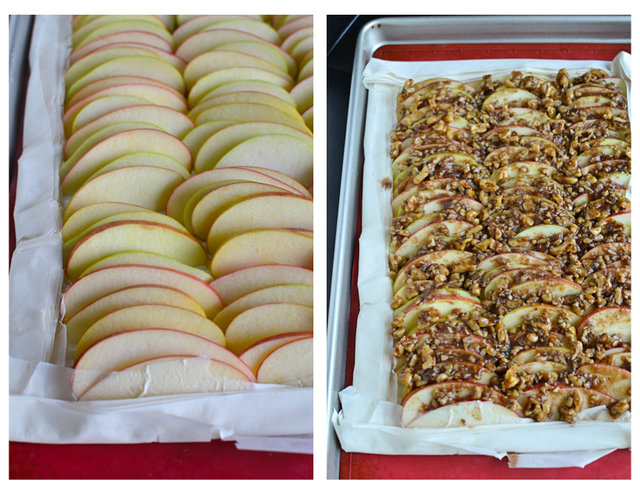 I'm still working through my massive Costco-sized bag of walnuts, so adding chopped walnuts were a no brainer for me. If walnuts are not your thing, feel free to substitute chopped or sliced almonds or pecan pieces. One thing I may do differently is brush the edges with a melted butter, cinnamon and brown sugar mixture instead of just plain melted butter, but there's always next time.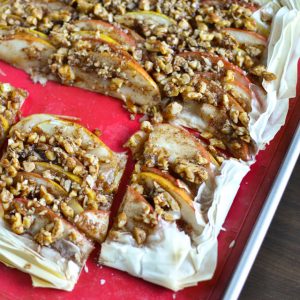 Apple Walnut Phyllo Tart
Ingredients:
Topping:
1 cup chopped walnuts
1/4 cup coconut oil, melted
2 tbsp pure maple syrup
2 tsp cinnamon
1/2 tsp nutmeg
3 large apples*
Other Ingredients:
8 sheets of phyllo dough, thawed
Melted butter
Cinnamon and brown sugar, for sprinkling
Directions:
Preheat oven to 350*F. Prepare your baking sheet with parchment paper or a silicone baking liner.
In a small bowl, mix together chopped walnuts, melted coconut oil, maple syrup, cinnamon and nutmeg.
Wash, core and slice apples into 1/4 inch slices. To prevent apples from browning, place slices in a bowl filled with water and a splash of lemon juice.
Gently roll out thawed phyllo and cover with plastic wrap and a damp towel to prevent the sheets from drying out. Working quickly, remove one sheet of phyllo and brush with melted butter, starting from the outside edges and ending in the middle. Lay another sheet of phyllo on the first sheet and repeat the process until you have used 8 sheets.
Sprinkle a little cinnamon and sugar on the top phyllo sheet and arrange apple slices in a single layer, overlapping slightly. Leave a little extra room along the edges so you can fold the sheets to create a border along the tart. Brush the border with melted butter and top with walnut mixture, making sure that each apple is covered.
Bake for 25-30 minutes until the edge of the tart is a light brown and the apple mixture is bubbling. To achieve a golden brown edge, set your oven to broil for 1-2 minutes and watch carefully.
Remove from oven and let cool for a few moments. Slice with a pizza cutter and serve.
* I used a mixture of Gala and Golden Delicious apples with great success.
Frozen phyllo normally takes about 5 hours to thaw completely, so plan accordingly.
Optional: You can sprinkle the edges with a bit of cinnamon and brown sugar for an extra crunch.