Apple Cinnamon Almond Scones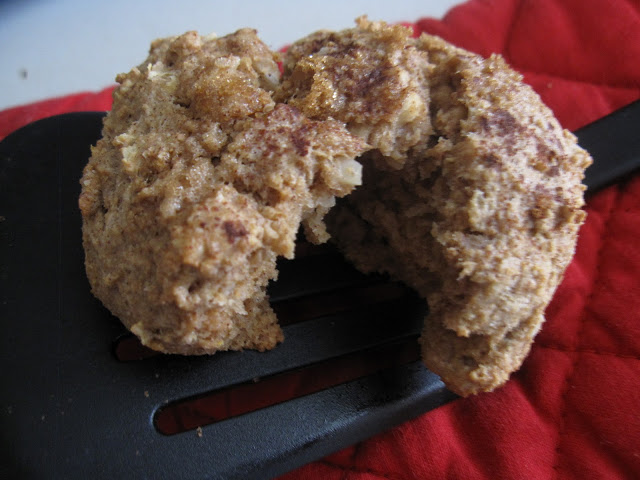 When it comes to naming recipes, how do you figure out which words come first? I must have stared at the title of this entry for 10 minutes straight, trying to piece together the words apple, cinnamon, almonds, and scones. Would it be better if almonds came first? Where does cinnamon fit in all of this? Apples were the highlight ingredients, so does it come first or second? Naming recipes shouldn't be this complicated.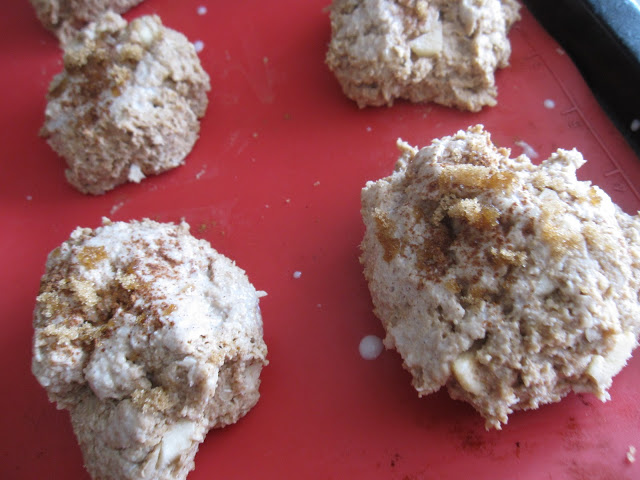 After a steady diet of farm apples all week (I average about 2x a day), I woke up this weekend and couldn't stomach the thought of another crunchy apple. My teeth hurt, my tongue felt tart and the two bags weren't looking any smaller than when we picked them at the farm. Trevor was pulling his fair share of polishing them off, but I knew that I needed to start thinking up some recipes while the apples were still fresh.
Recently, we saw Louis CK with some friends and then went over to their place for some drinks. The next morning, Trevor was really feeling it, so I thought that the nicest thing I could do was make some scones and generally stay out of his way for most of the morning.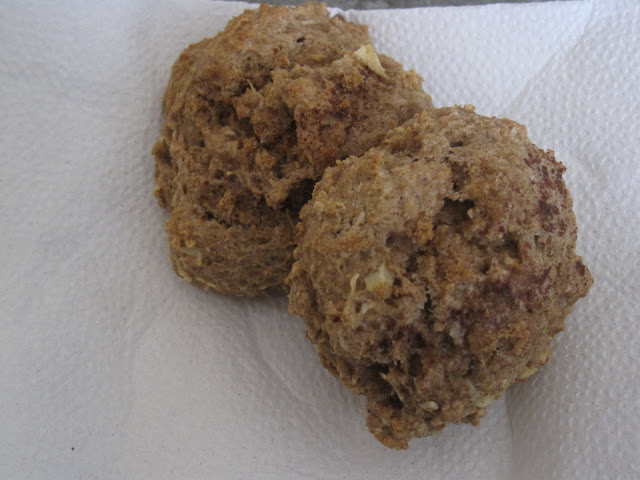 When pressed about his opinion after one scone, he mumbled "very good." A man of many words, but I'm sure that today is not the day to search for a more detailed response on my baking. 🙂
Apple Cinnamon Almond Scones
Ingredients:
2 cups of flour (I used 1 1/2 whole wheat pastry flour and 1/2 white)
1/4 cup brown sugar
2 tsp baking powder
1/2 tsp baking soda
2 tsp cinnamon
1/4 cup cold butter/margarine, coarsely chopped
1 large apple – cored, peeled and cut into quarters (3/4 grated, 1/4 chopped up)
1/4 cup sliver almonds, crushed
1/2 cup almond milk
To brush on top
2 tbsp almond milk
sprinkle of cinnamon and brown sugar
Directions:
Preheat oven to 425*F.
Whisk together flour, sugar, baking soda, baking powder and cinnamon. Cut butter/margarine into dry mixture with a pastry cutter.
Grate in 3/4 of a large apple and add 1/4 chopped apple and crushed slivered almonds. Mix and create a small well in the mixture for the almond milk. Add the milk and mix until dough forms.
On a floured surface with floured hands, knead dough 8-10 times. Form into 8 balls and place on lightly greased baking sheet. Brush with remaining almond milk and sprinkle the tops with a pinch of brown sugar and lightly dust with cinnamon.
Bake for 12-15 minutes until the scones are light brown. Cool on a wired rack and serve.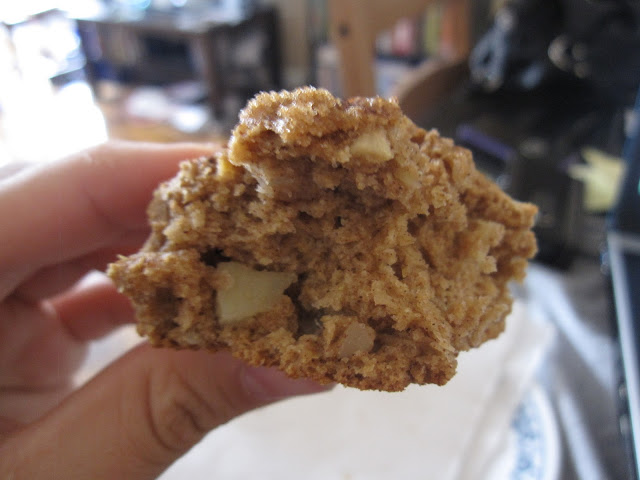 Enjoy!