Hearty Apple and Zucchini Steel Cut Oats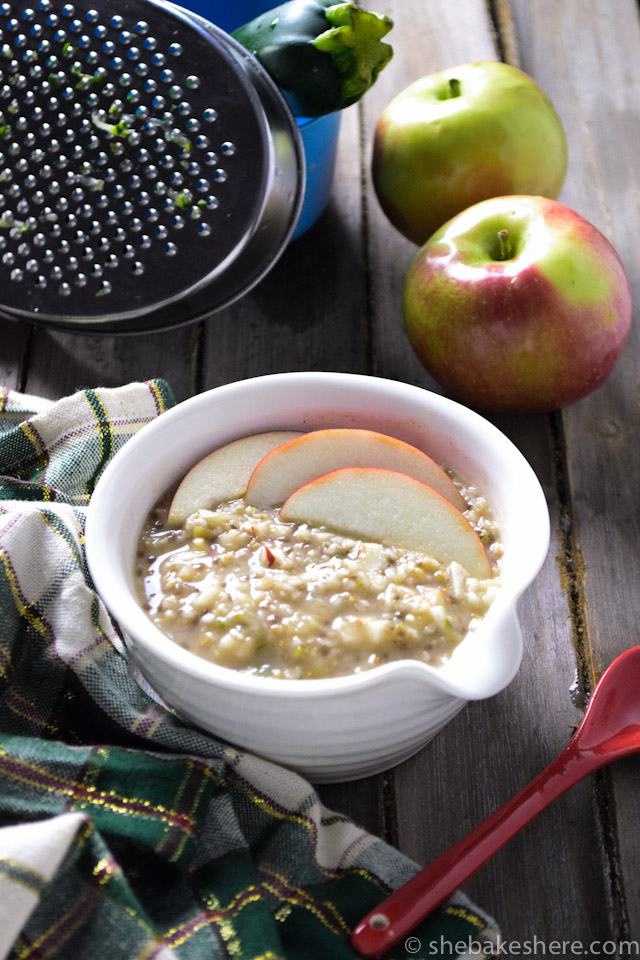 I had every intention of posting something right after I attended the 2016 Food Bloggers of Canada Conference at the end of October, but the universe had other plans. Remember earlier last month when I had a minor cold and then said that I couldn't remember the last time I was sick? Well touche universe, touche. Right after the conference, I was hit with a horrible bout of the dreaded common cold. To give you an example of how crazy it was, I took a couple sick days from work and my FitBit told me that during one day, I slept off and on for 15 hours. During the weekends, I became the queen of two-hour afternoon naps. At one point, I was even convinced that my stomach was sloshing around from all the tea and hot soup I was consuming. I'm now slowly getting my energy back (a little cough here and there), but it's still a miracle that Trevor hasn't caught it (knock on wood, hah).
Now that I'm on the mend, I'm happy to be back in the kitchen and making my own food again. Especially after being inspired by all the people I met and the sessions I attended while at FBC2016. I'll let you in on something about me – there is nothing I find more anxiety-inducing than attending a large social event where I don't know many people. However, one of my personal blogging goals this year was to do something out of my comfort zone and since this year's conference was held in downtown Toronto (literally down the street from our home), I knew I had run out of excuses for not to go.
Of course, in the end, it wasn't nearly as hard as I imagined it would be. The people I met and sat with were all warm and inviting, the food was flavourful and I'm already sitting here with a ticket to next year's conference in Ottawa. Sometimes the hardest and most rewarding thing about fear and anxiety is facing it head on.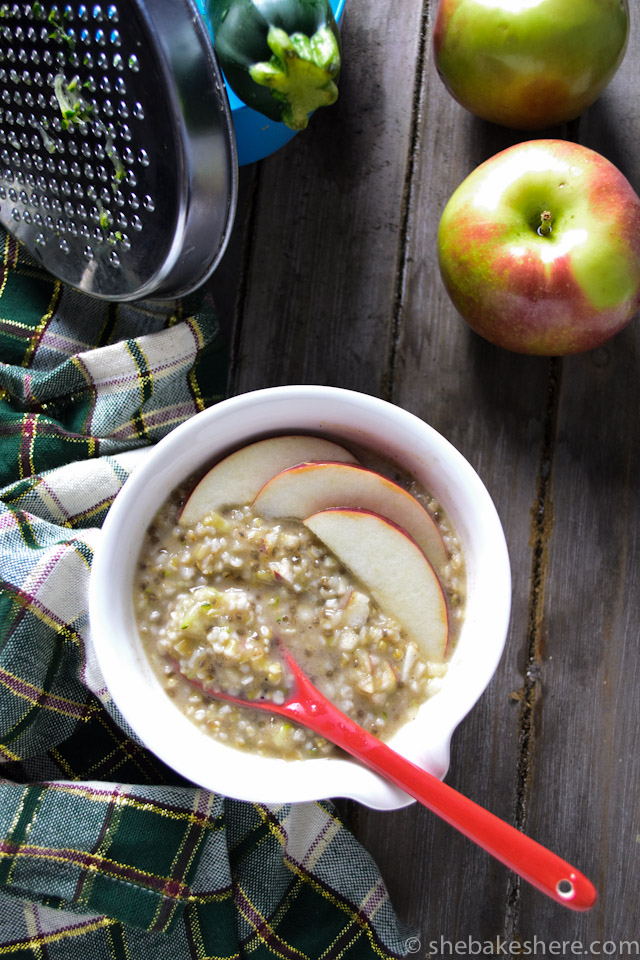 This hearty apple and zucchini steel cut oats recipe I'm sharing today is a new favourite hot breakfast I've been enjoying as of late. While in the summer I'm all about cold cereal and creamy overnight oats, in the cooler months I like sturdy, simmering bowls of oatmeal or steel cut oats. Unlike rolled oats, steel cut oats take a little longer to cook (about 25-30 minutes) and they have a nuttier flavour and chewier texture. I started making steel cut oats for breakfast last winter as a good make ahead option when I felt like I was dragging in the mornings. Nothing perks me up more during the chilly weekday mornings than knowing I already have breakfast waiting for me in the fridge.
Since being sick, I'm also trying to find sneakier ways to put some more fruit and vegetables in my meals. Steel cut oats are full of healthy endless options because it all depends on what you have in your fridge. Some other good things I've added in the past are mashed bananas, grated carrots, any kind of berries, dried fruit, flaked coconut, hemp hearts and chopped nuts.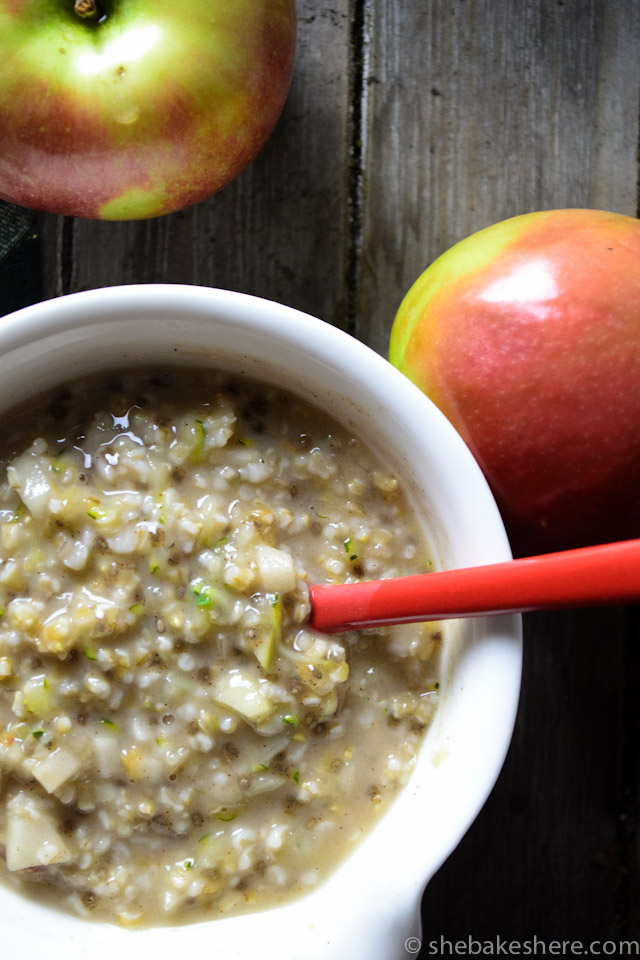 Seeing these little flecks of green zucchini and red apples bits in this recipe makes me really happy to know that I'm getting a little extra nutritional boost in my first meal of the day. Even at 7 am when the sun still hasn't made an appearance.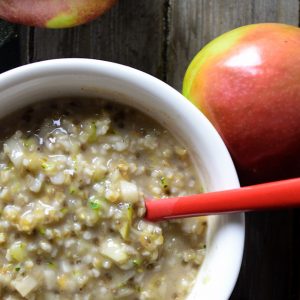 Hearty Apple and Zucchini Steel Cut Oats
Ingredients:
2 1/2 cups water
Splash of Almond milk (roughly 1 tbsp)
1/2 cup steel cut oats
1/2 tbsp chia seeds
1/3 cup grated zucchini
1/2 cup finely chopped apple
1 tbsp maple syrup
1/2 tsp cinnamon
Directions:
In a large pot, gently heat water and Almond milk to a boil. Add steel cut oats and chia seeds and let simmer for 25-27 minutes.
Add grated zucchini and finely chopped apples in the last few minute of cooking and gently stir to combine. Remove from heat and stir in maple syrup and cinnamon. Serve immediately.