Bite Sized Mini M&M Cookies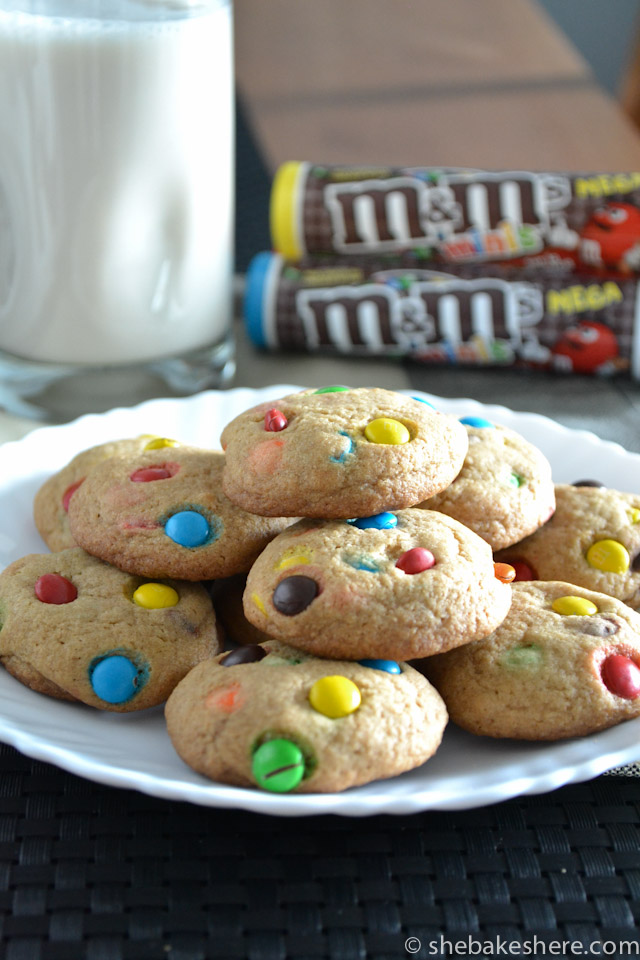 Today's post and cookie recipe has been brought to you by the words comfort and colourful. If this week was cold, dark and grey for you too, then I think you need these fun little M&M cookies in your life. I highly recommend eating them with a glass of almond milk in your pjs, under a giant blanket on the couch and in front of the TV. Consider this recipe a warm hug that will get you through the upcoming winter months.
I first discovered mini M&M candies in the late 90's (cue nostalgia alert). While I love old-school M&M's (especially peanuts), what really caught my eye was the small, plastic tubes the candy was packaged in. This packaging was so simple it's almost genius. I'm mean, who doesn't love a handheld tube of tiny chocolate candies that you could literally pour into your mouth? Pixie sticks were also big at my school, but being a chocolate-loving girl I was naturally drawn to mini M&M's. It was amazing that any learning was achieved among my peers with all that sugar goodness running through our system.
Since the packaging was so cute, those mini M&M tubes would often find their way into our stockings at Christmas. The snap lid made them a nice, portable snack, but who were we kidding, those tiny chocolate morsels rarely lasted. If you did manage to snap the lid closed and stick the rest of the chocolate in the fridge, you definitely had more will power than me.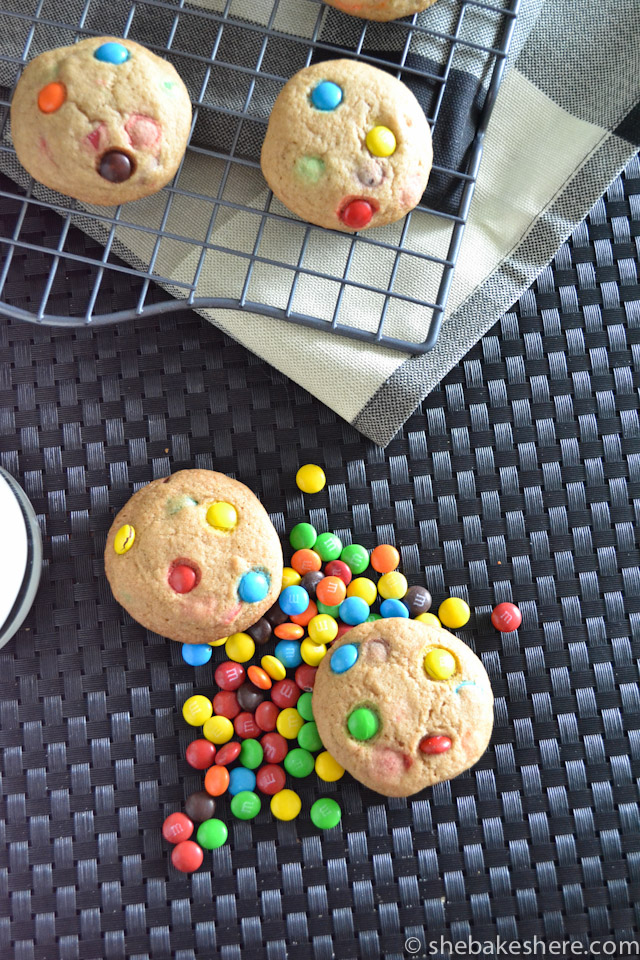 On a recent trip to Dollarama, I was checking out the candy aisle (always full of hidden gems) and discovered an entire shelf full of rainbow mini M&M candy tubes. In a flash, I had one of each colour in my basket and I was already racking my brain of what to do with them. Obviously at least one tube was going to be eaten during the subway ride home (delicious), but this left me with at least four tubes for baking. At first I was all about mixing them in a batch of brownies (all the chocolate!), but after eating some on the subway ride home I was feeling nostalgia for batch of cookies.
Mixing M&M's into cookies is not some kind of new revelation, but if you haven't made them in a while I highly recommend doing so as soon as possible. Something about seeing the bright coloured specks of chocolate in the cookie dough is an instant mood lifter.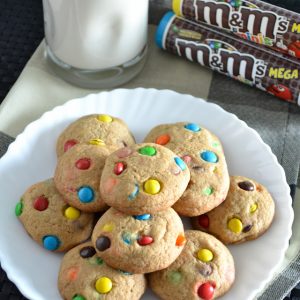 Bite Sized Mini M&M Cookies
Ingredients:
1/2 cup butter/margarine, softened
3/4 cup brown sugar
1 egg
1 tsp vanilla
1 cup all-purpose flour
1/2 cup whole wheat pastry flour (or more all-purpose flour)
1/2 tsp baking soda
3/4 cup mini M&M candy (three 50g containers)
Directions:
Preheat oven to 350*F. Line your baking sheets with parchment paper or a silicone baking mat.
In a large mixing bowl, cream butter/margarine with brown sugar. Add egg and vanilla and continue mixing until well combined.
In a separate bowl, whisk together all-purpose flour, whole wheat pastry flour (if using) and baking soda. Gradually pour flour mixture into wet mixture and stir until well-blended. Stir in mini M&M candy.
Drop batter in tablespoon-sized mounds onto your baking sheets. Bake for 8-12 minutes until the cookies are lightly brown. The cookies with spread out slightly, so I recommend spacing them out two inches apart.
Let the cookies cool on baking sheet for 1 minute before transferring to a wired rack to cool completely.