Prospector Buns – Basic Dough Recipe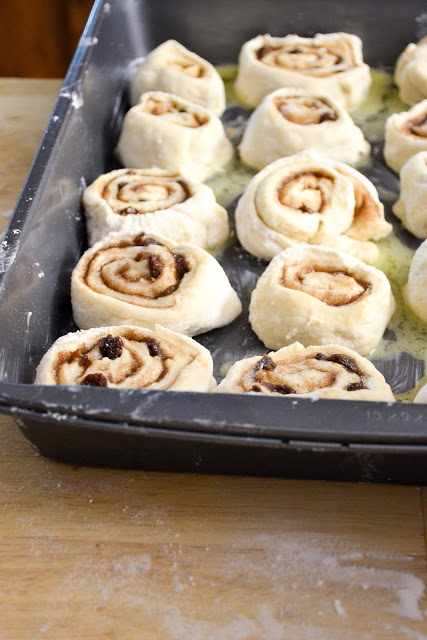 During my summer trip, we made a stop off at my Grandma's house. I love visiting her place. She's lived there for over 40 years and except for some carpet changes and a few small renovations, it's still the same as I remember while growing up. She has a nice big back yard with a large garden and raspberry bushes. Her basement is filled with old board games from the 70's that used to belong to my Mom and my Uncle. Up until a couple years ago, there used to be boxes and boxes of old comic books (from Marvel and DC superheros, to Archies and Richie Rich), until my Uncle reclaimed them. She doesn't have internet, but her TV is right next to the dining room table and we usually spend the evenings socializing, watching sports and doing jigsaw puzzles.
Another thing I love about her place in the summer is that she has air conditioning and her kitchen is always stocked and ready for baking. On this particular visit, we found ourselves making savoury cinnamon buns at midnight. For over 20 years she worked in a restaurant in her small town, so this wasn't just any handed-down recipe. This was a bread recipe that she perfected in their kitchen and its definitely a recipe I've been meaning to get my hands on for a while.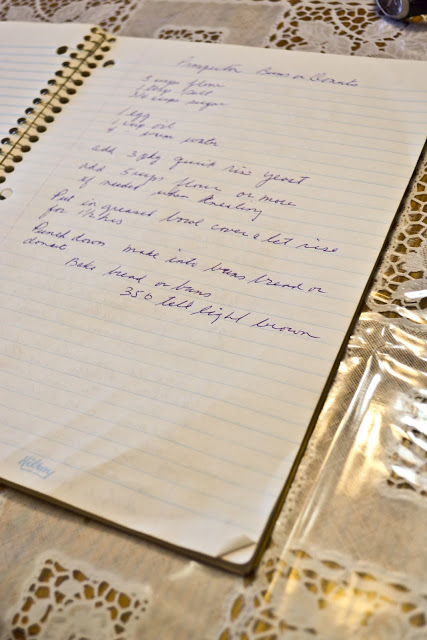 The recipe is called Prospector Buns and this is the easiest basic bread recipe I've ever made. Kneading is required and you do have to let the dough rise, but the ingredients list is so short that this makes up for it. Once the dough has risen, you can make anything from bread and dinner rolls to cinnamon buns and donuts. Another great thing is that this recipe is milk-free, so I plan on making a batch for Trevor sometime in the near future.
Baking at night is a lot of fun, but since we were planning on leaving early in the morning, I had to opt for night-time photos. Thank goodness for Lightroom, but I apologize in advance if the photos don't all match in terms of exposure and white balance. I'm still learning the in-and-outs of my camera and my editing software. If anyone has links to some great tips, I'll appreciate it as I love reading up on camera and editing techniques.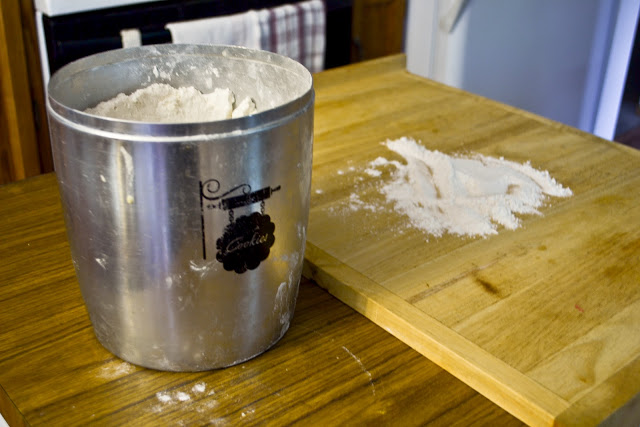 While I was busy taking photos of the set-up, my Grandma already had her KitchenAid mixer going with the dough. Even though she has the dough hook, she said that for this recipe, she likes the mixing results of the standard mixer attachment better. This is good for those who don't have a fancy mixer with different attachments.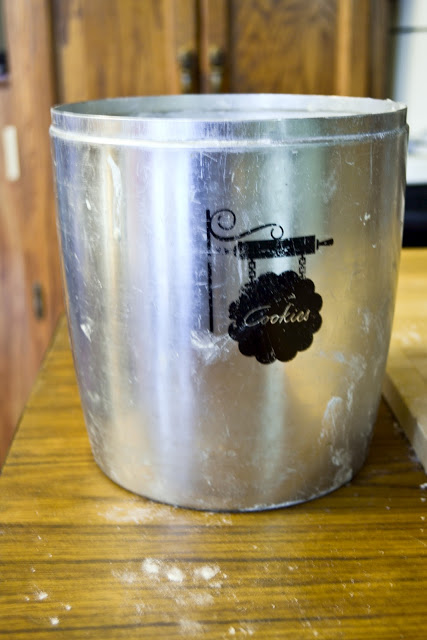 This flour container was given to my Grandmas as a wedding present over 50 years ago. Isn't it cute? I fell in love with it the moment I saw it and had to get a photo.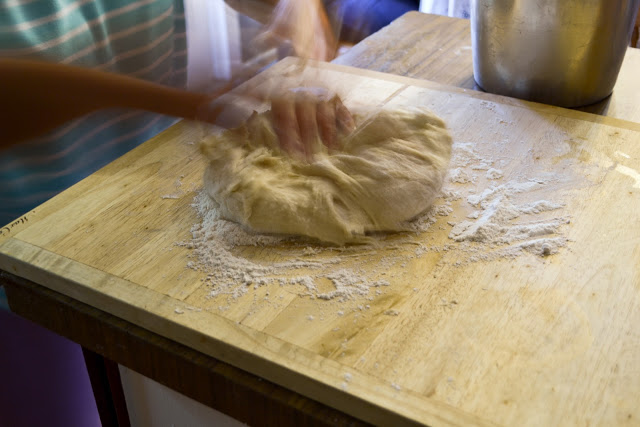 I love this action shot of my Grandma kneading the dough. I did get to knead it for a bit, but I'm not as quick as her and had to be nudged aside to speed the baking process along.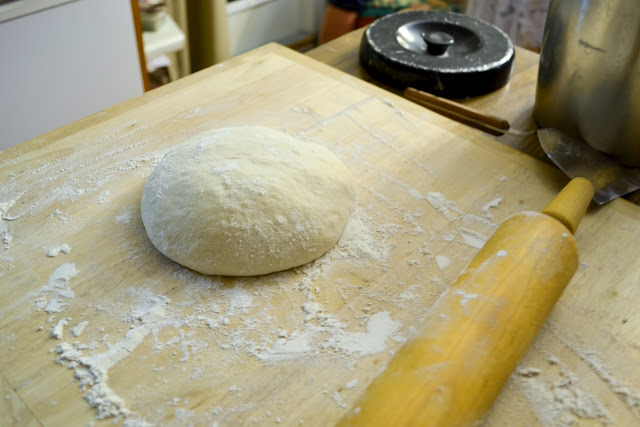 Also, where can I get a cutting board like this? I think I need to re-think my kitchen as I'm seriously lacking a large, flat surface for kneading and rolling dough.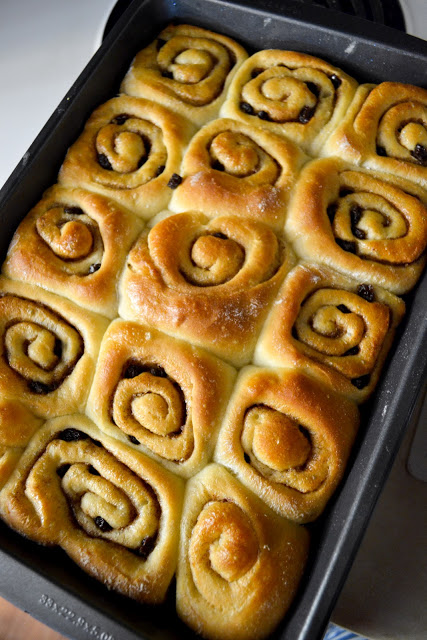 Since it was my duty to roll out the dough and sprinkle the cinnamon sugar mixture, I had to put the camera down and thus no photos were taken between the kneading and the baking process. Instead, here is the savoury recipe straight out of the oven. Besides, everyone knows how cinnamon buns are made, so I figured you wouldn't want to be bored with the usual photos. 🙂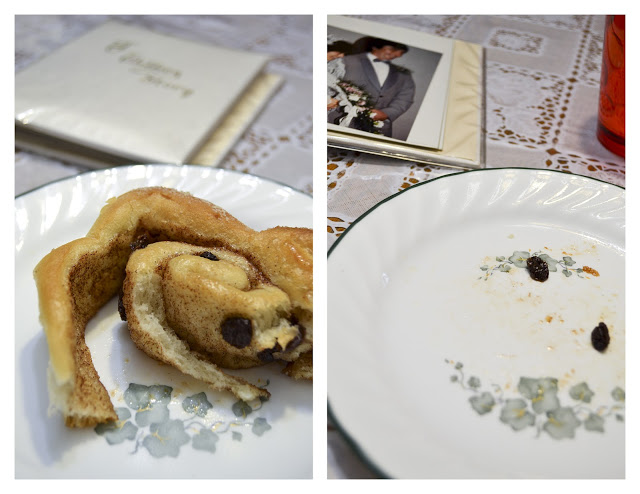 We ended our baking night by enjoying the warm buns (no icing) with cold chocolate milk and looking through old wedding photos for inspiration. The above album is my parents, who were married almost 28 years ago. I think I'm being reminded that I should look into planning a wedding sometime soon, since it's been almost a year since our engagement. 🙂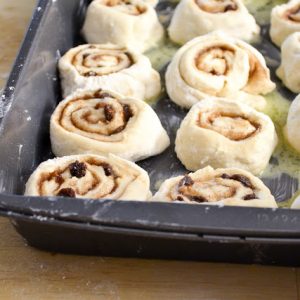 Prospector Buns - Basic Dough Recipe
Ingredients:
5 cups of flour
1/2 tbsp salt
1/3 cup sugar
1 egg
1/2 cup oil
2 cups warm water
2 packages of quick rise yeast
Directions:
Mix 2 1/2 cups of the flour with salt and sugar in a large bowl and set aside.
Using your mixer, blend together egg, oil and warm water. Gradually add the above flour mixture until combined. Add the packages of yeast.
Add the remaining 2 1/2 cups of flour and mix well.
Knead dough on a well-floured surface until it is smooth. You may need to add a little more flour to keep it from being too sticky.
Place the dough into a greased bowl, cover and let rise for 1 1/2 hours. One of my Grandma's tricks is to wrap the bowl of dough in a clean garbage bag and keep away cold air drafts.
Punch down the dough and make into buns, bread, cinnamon buns, donuts, etc.
Notes: This recipe made the pan of cinnamon buns, plus some bean-filled buns that my Mom and Grandma enjoy more than I do. You can see them in the background of the below photo. So yes, this recipe makes a lot more bread than just the pan of buns.
If you notice on the photo of my Grandma's handwritten recipe, there is no baking time listed. This is because it all depends on what you plan on making with dough . Hopefully I will be able to update this page with the approximate baking times.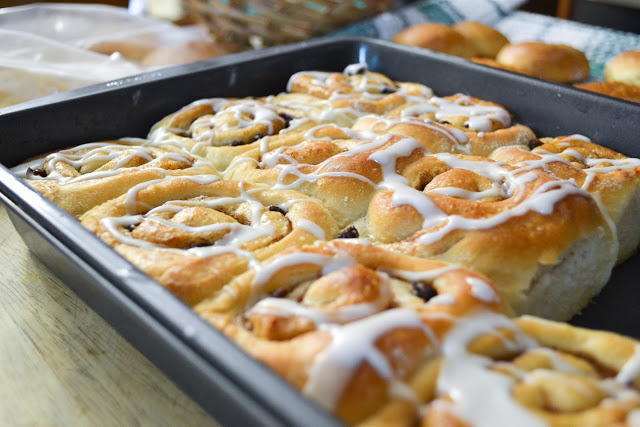 The best thing about baking at midnight is having a fresh, ready-for-you breakfast the next morning. We drizzled on some icing sugar and they still tasted just as though we had pulled them from the oven just a few minutes ago.
Enjoy!