No-Bake Crunchy Peanut Butter Squares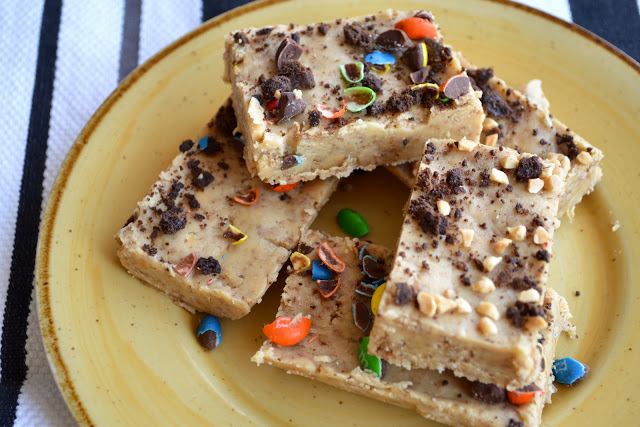 June was a really busy month for me. Between working my usual Monday-Friday day job, I decided to get back into shape by joining a nearby hot yoga studio. Taking up hot yoga in a city like Toronto can be really expensive, but they were having an amazing promotion of 30 days for $30 and based on the location of the studio and the schedule of their classes, I knew I couldn't turn it down. Since I had full unlimited access to any class, I decided to make the most of it and attend as many as I could.
Physically, I really benefited from the class. My clothes are a bit looser, my appetite has changed and I'm dealing with the Toronto humidity much better than I was last year. I've upped my water consumption and I can touch my toes again without having to bend my knees.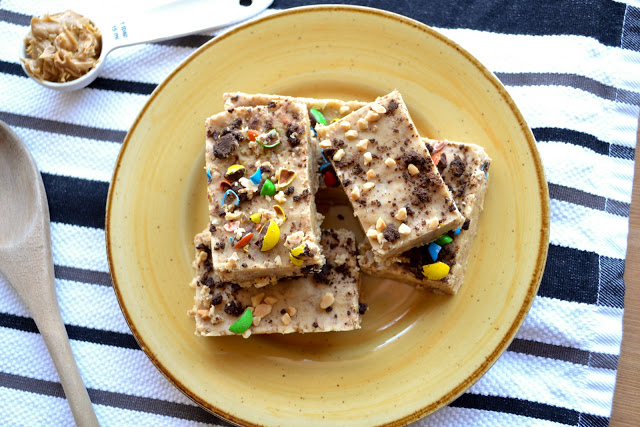 As much as yoga is supposed to help you relax and clear your mind, I found that towards the end of the month I achieved the complete opposite. Classes at the studio were 90 minutes long and I would always find myself rushing from work to make it to the studio in time for class. By the time I usually got home from class, it would be almost 8pm and I would still need to eat supper. With Trevor working long hours and (thankfully) taking over dinner duty, everything else was neglected. I barely had time to wind down from the day before I was in bed, waiting for my alarm to go off again at 6am.
One of the things that was neglected was this blog. I hate myself to admit it, but I struggled with it. It became a chore, just like washing the dishes or doing the laundry. My recipes became uninspiring and my photos were rushed and not the quality I wanted. I began to blog just for the sake of blogging and that was something I never wanted to happen.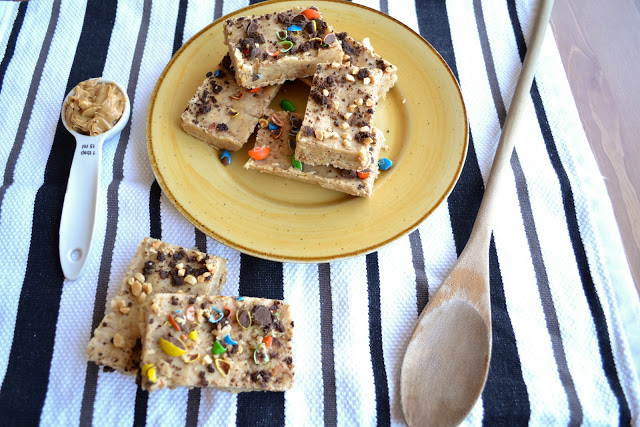 When it came to renewing my hot yoga membership, I was offered a discount for the month of July. I thought long and hard about continuing this yoga journey, but in the end I turned it down. Once again I would have continued on the mindset of trying to make the most of the money spent on the classes and this would have resulted in me "running myself into the ground" as Trevor put it.
Instead, I'm going to focus the money I would have spent on other things. I'm starting to play around with the settings on my camera. Since I purchased it in April, I've done nothing but use it to shoot on auto. As a film school graduate, I'm saddened by my laziness and now I'm trying to rewire my brain back to the photography classes I took over five years ago.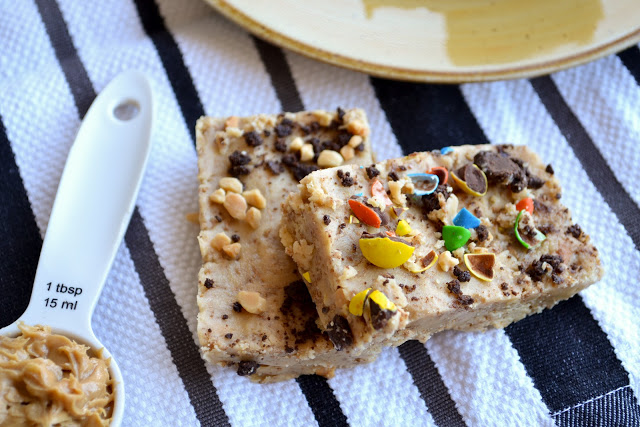 This peanut butter bar recipe is one I made at the beginning of the week, but due to time constraints (my last week of yoga – wheee!), it's been sitting in the fridge, waiting to be photographed. I didn't want to rush these photos and most importantly, I didn't want to be tied down to my automatic settings on my camera. Instead of going out, I spent the better part of last night going over the user manual and re-familiarizing myself with camera terminology.
These pictures aren't perfect, but out of the 38 I took, they were the best. I did have to do some minor tweaking in Lightroom to adjust the white balance since I took them in the early hours before 9am, but I'm learning and I'm hoping this will restart my love of food photography and blogging about food.
Oh, and these bars are delicious! I didn't have ground up graham crackers (lack of groceries is another setback of having no time), so I substituted ground up Shreddies cereal. This gave the bars a wonderful wholesomeness and cut back on the usual sweetness. I found these bars to be sweet enough with the powdered sugar already, so I forgo'd the melted chocolate on the top. The results are almost like a peanut butter fudge with a hidden crunch.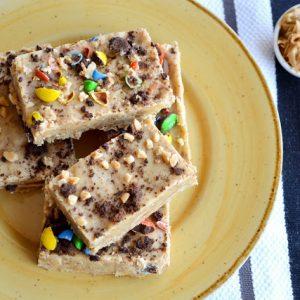 No-Bake Crunchy Peanut Butter Squares
Ingredients:
1/2 cup butter/margarine
1 cup Shreddies cereal, ground up
2 cups powdered sugar
1 cup of peanut butter
Optional items for sprinkling:
m&m candy
chopped peanuts
chocolate chunks.
Directions:
In a large microwaveable bowl, melt the butter/margarine for 30-45 seconds on high.
Stir in ground Shreddies cereal, powdered sugar and peanut butter and mix well.
Spread mixture in a 13×9 inch greased baking pan and gently pat down. Sprinkle with optional items.
Refrigerate for 1 hour until set.