Cookies 'n' Creme Kissed Cookies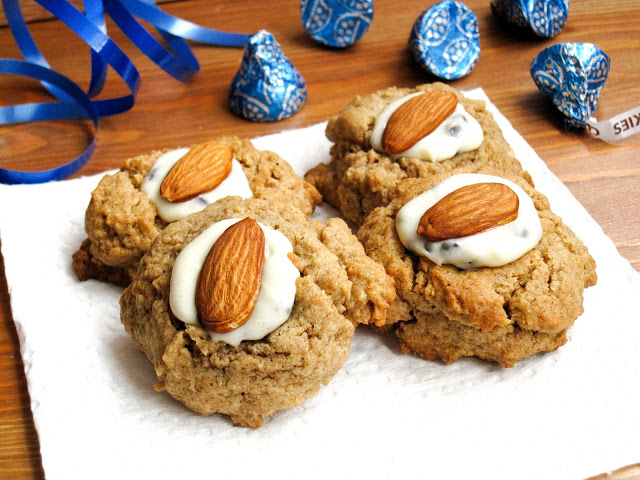 Does anyone else watch the TV show Portlandia? One particular sketch was in my head while making these.
"Put a bird on it!"
Except this time, it was more like "put an almond on it."
Yeah, we love that show.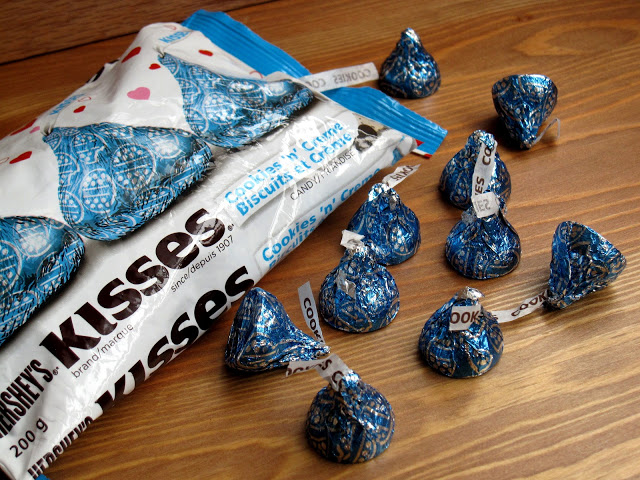 On Valentine's Day, some of my co-workers brought in chocolates and when the rest of us came in, we were greeted to individually wrapped Lindt Lindor Chocolates and Hershey Kisses on our desk. I looooove Lindors, but I was fascinated by the Kisses. They weren't your usual Chocolate Kisses, no, these were in a blue wrapper and called Cookies 'N' Creme.
They were too awesome to pass up. I knew I had to buy a bag and make something with them.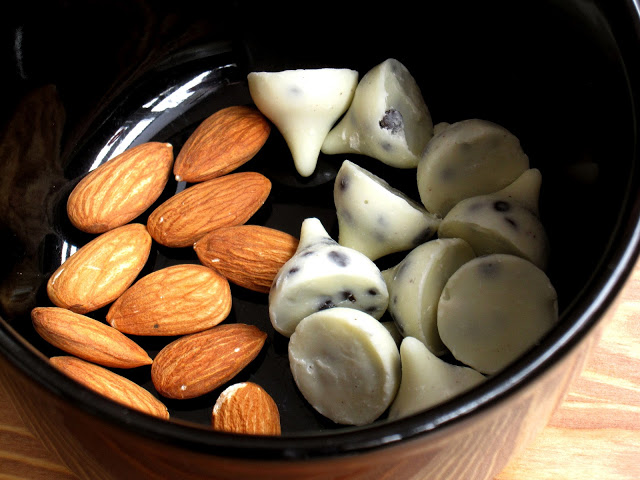 Now naturally whenever people think of baking with Hershey Kisses, those peanut butter blossom cookies always come to mind. I didn't think the flavour of peanut butter would pair well with these particular Kisses, so I knew I had to think of something different.
Also when people think of cookies 'n' creme cookies, they think of the ones with crushed Oreos in them. I wanted to try something new.
Ta-Da!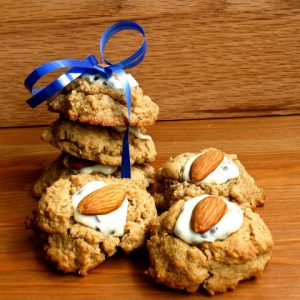 Cookies 'n' Creme Kissed Cookies
Ingredients:
1/2 cup butter/margarine, softened
1/2 cup brown sugar
1 large egg
1/2 tsp vanilla
1 1/2 cups flour
1/4 tsp baking soda
1/2 tsp baking powder
Dash of salt
Bag of Hershey's Cookies 'N' Creme Kisses
Almonds
Directions:
Preheat oven to 350*F.
Whisk together flour, baking soda, baking powder and salt in a bowl. Put aside.
In a separate bowl, beat soften butter/margarine and sugar until fluffy. Add the egg and vanilla and mix well.
Combine the wet ingredients with the dry ingredients until just mixed. I like to do that last part by hand with a wooden spoon to avoid the dreaded over-mixing!
Drop the cookie dough by the tablespoon on greased cookie sheets. Bake for 10 minutes until they are brown around the edges.
Remove from the oven and immediately place a Hershey Cookies 'N' Creme Kiss in the middle. Wait a moment until the Kiss melts and then press an almond on top of it. To speed up this process, you can "cheat" by putting the cookies back in the oven for a minute before putting on the almonds.
Remove from cookie sheet and let cool on a wired rack.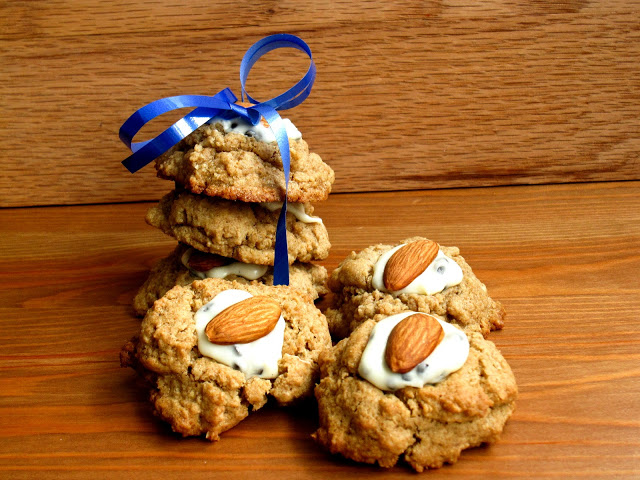 Watch Portlandia while consuming these cookies. I recommend starting with season 1 since it's only six episodes. Relate it to it, especially if you know people who are similar to the characters on the show. 🙂