Red Velvet Pancakes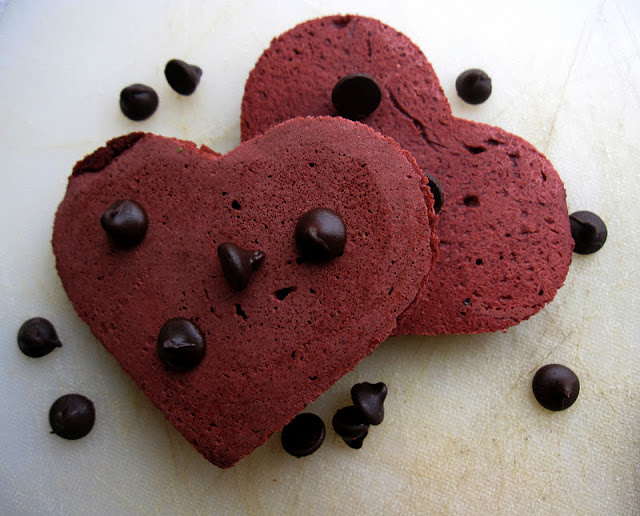 Lately, I've succumb to having big breakfasts on Saturdays. After a long week at work and five straight days of quick and easy oatmeal or Eggos and yogurt in the mornings, I start dreaming of good sit-down breakfasts. Eggs over easy, hashbrowns and toast, pancakes and fruit. The list goes on, even into crazy and bizarre territory, and that is where the inspiration for this recipe came in.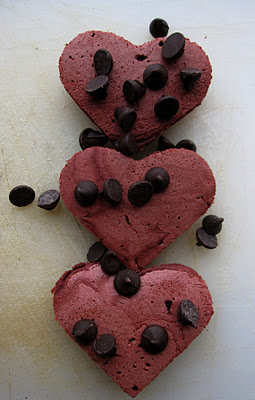 I've also had such a craving for chocolate too, why not incorporate it into breakfast? Also with Valentine's Day coming up, this is a cute reason to bring out the heart sharp cookie cutters.
These pancakes turned out fantastic, thick and fluffy. Silly me though, I forgot to buy pancake syrup. Luckily Trevor didn't seem to mind and said they were delicious on their own. I sprinkled some carob "chocolate" chips on top of the pancakes while they were still warm to help enhance the cocoa flavour.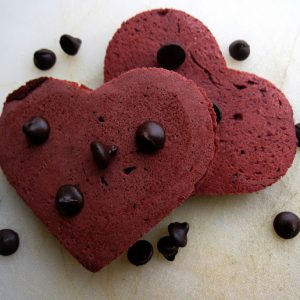 Red Velvet Pancakes
Ingredients:
1 1/2 cups flour
1 tsp baking powder
1/2 tsp baking soda
1/4 tsp salt
2 tbsp sugar
3 tbsp unsweetened cocoa powder
1 egg
1 tsp vanilla
1/2 cup water
1/2 cup yogurt
1 tbsp red food colouring
Directions:
Whisk together flour, baking powder, baking soda, salt, sugar and cocoa powder in a large bowl and set aside.
In a separate bowl, combine the egg, vanilla, water, yogurt and red food colouring. Gently combine the wet ingredients with the dry, mixing until just combined (don't over-mix).
Let the batter sit for a few minutes as you heat up your grill or frying pan. If the batter is on the thick side, you are welcome to add more water to thin it out.
When your surface is hot enough, add batter in 1/4 cup amounts. Flip the pancakes when bubbles form in the batter and the edges are tough. Serve with your choice of topping.