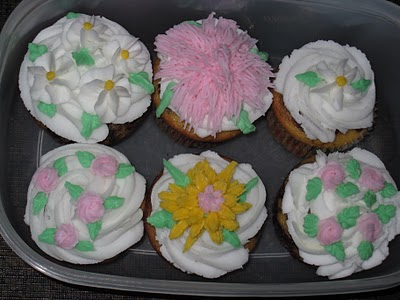 (To catch up, you can go back and read about Day 1 and Day 2 of my basic cake class).
I can't believe I decorated these cupcakes! Every time I look at them, I get a little giddy inside. Next week for the last class, we are doing a large cake again, but this will probably end up being my most favourite class out of the level 1 basic decorating classes.
We ended up using a lot of tips to create all the flowers and petals. I'll go through them with you and link the techniques that are demonstrated on the Wilton website (although I highly recommend learning from someone, as they can help you correct your mistakes).
The recipe for the icing I used can be found here.