Olive Oil and Rosemary Sea Salt Crackers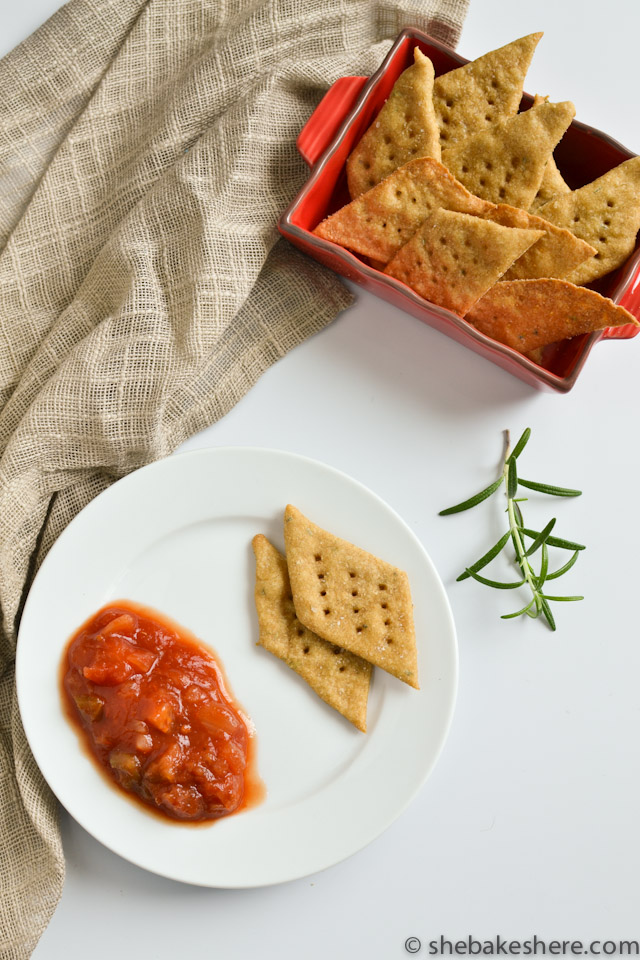 So besides making my own ice cream, I've apparently now become a person who makes her own crackers. I know, crazy. If you had told me that I would become this domestic when I first started this blog, I would have laughed and laughed and laughed. Yet here we are, almost 4.5 years later, and I'm posting a recipe for the incredibly long-winded but very addicting olive oil and rosemary sea salt crackers.
One of the main reasons I never thought I would make my own crackers is because they're pretty cheap to buy and really, what's easier than opening a box? We always have a box or two going at once because they're a great snack when we don't want something sweet, they pair wonderfully with everything (i.e. hummus, guacamole, salsa, soup, etc) and they go on sale at the Shopper's Drug Mart near our condo all the time. And I'm all for getting optimum points on things like groceries so I can use the points to buy non-grocery things like chocolate. And shampoo when we run out.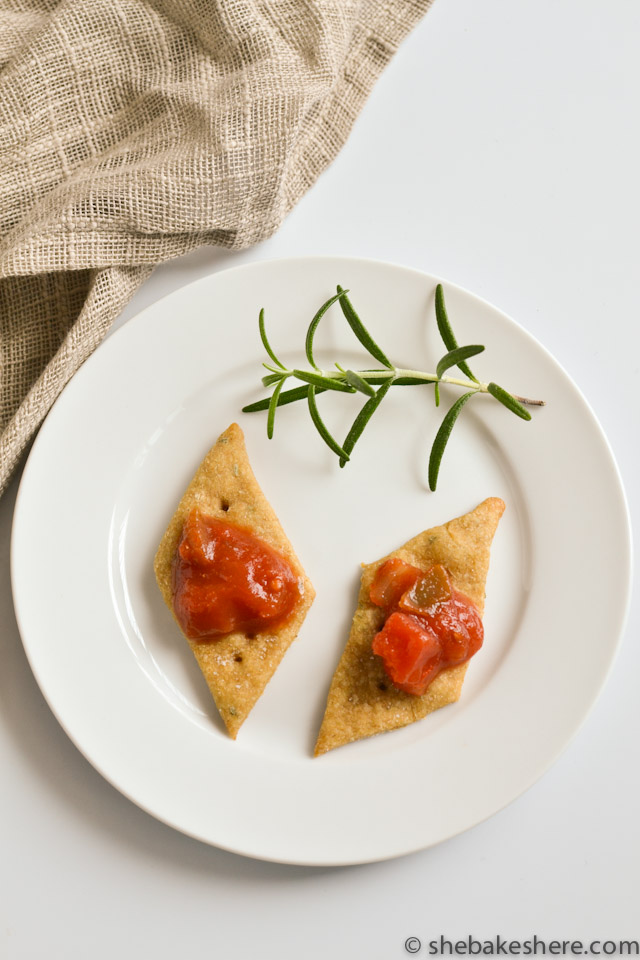 Lately, though I've become weirdly conscious of reading the ingredients list on our packaged food. And when the list is too long or full of unpronounceable multi-syllable words, my eyes tend to glaze over and then I wonder what the heck I'm eating. I'm not usually so health-conscious, but sometimes reassuring to know that I'm not eating the same ingredients that can also be found in my running shoes (weird example, but go with it). So a few weeks ago, in an attempt to cut down on some of the artificial preservatives we're probably eating, I tried my hand at making my own crackers.
One of my favourite things about making crackers was that it was a lot easier than I was expecting. The ingredient list is ridiculously short and you can tailor the spices and add-ins to suit your own tastes. For example, I have a rosemary plant that was feeling a little lonely so I finely chopped some fresh rosemary and added some olive oil and sea salt as complimentary flavours. But if rosemary and sea salt isn't your thing, you could add black pepper, thyme, shredded cheese, chopped nuts, sesame seeds…really the sky is the limit! Just think of your favourite brand of box crackers and try to imitate the flavour using real ingredients.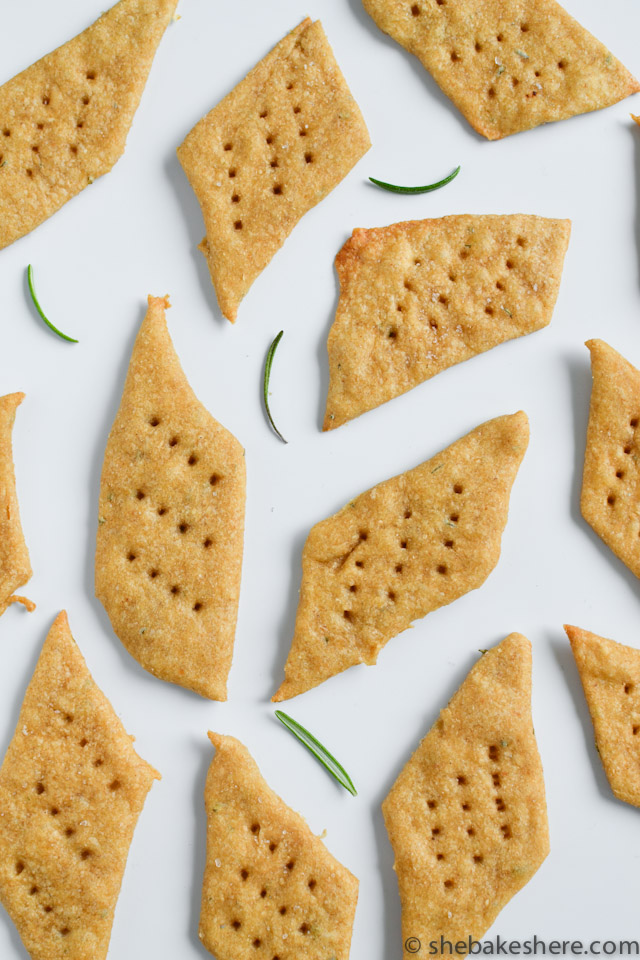 I'll admit that the one thing I wasn't a huge fan of was constantly rolling out the dough and trying to make it as thin as possible without creating weird, stretched out crackers. I tend to be impatient and some days my rolling pin and I just don't get along. But if you really want crunchy crackers similar to the boxed versions, you're going to have to roll them thin or else bake them longer to ensure they are crispy. Trust me, it's worth it. And nobody likes soggy crackers.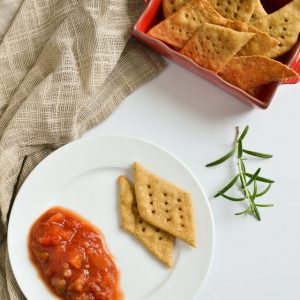 Olive Oil and Rosemary Sea Salt Crackers
Ingredients:
2 cups whole wheat pastry flour
2 tsp finely chopped fresh rosemary
1/2 tsp garlic powder
1/2 tsp sea salt
1/4 cup olive oil
2/3 cup water
Directions:
In a large bowl, whisk together 1 3/4 cups of the whole wheat pastry flour (put the other 1/4 cup aside for now), chopped rosemary, garlic powder and sea salt. Make a well and add the olive oil and water. Stir with a wooden spoon until a rough, sticky dough forms.
Sprinkle the remaining flour on a clean, non-stick surface. Gently knead the dough on the floured surface until it is smooth, adding some extra flour if the dough is too sticky. Cover the dough with plastic wrap and let rest for about 20 minutes.
During the last five minutes of rest, begin preheating your oven to 425*F. Line your baking sheets with parchment paper or a silicone baking sheet.
Unwrap the dough. Using a rolling pin, roll the dough as thin as you can manage and slice into your desired shape with a knife or pizza cutter. Gently transfer the crackers to your prepared baking sheets.
Bake for 12-15 minutes until the crackers are crisp and brown on the edges (the crispier the better!). Once they are done baking, remove from the baking sheets and let cool on a wired rack. Eat the same day or store in an air-tight container.