Almond Meal Oatmeal Raisin Cookies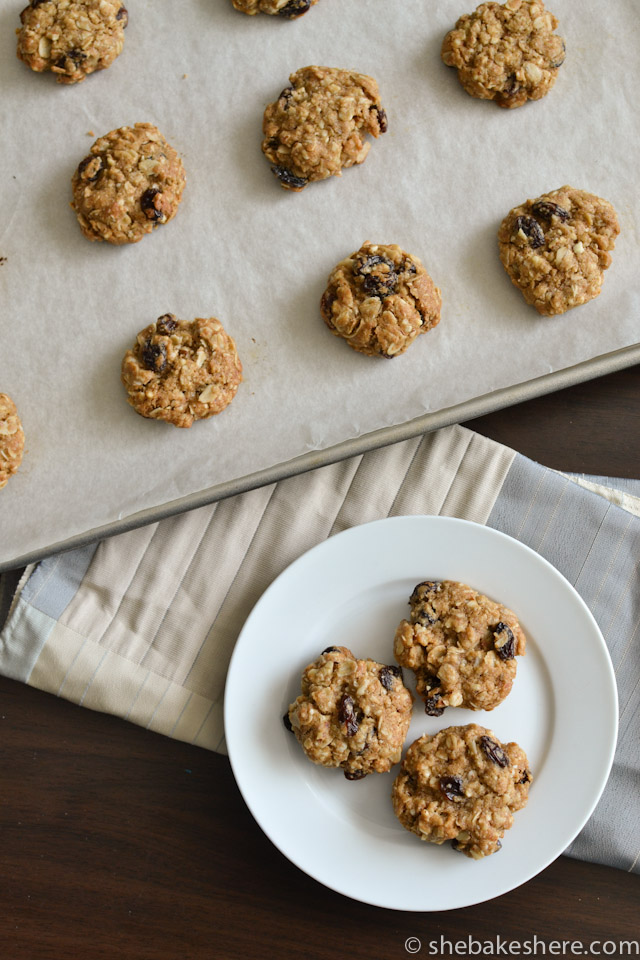 There is nothing worse than a tease. Especially a warm weather tease.
Case in point: I have five zucchini plants, a spinach plant, a lettuce plant, and a rosemary plant crowded in large, over-sized pots on our living room floor. All lined up against the window like prisoners on death row, fighting for valuable sunlight, day in and day out, as the sun passes by our south facing windows. I haven't been able to put them back out on the balcony since last Saturday before the weather dropped and the wind decided it was back with a vengeance. My poor little plants look a little cooped up and after this long winter, I know exactly how they feel.
It's partially my fault because I definitely started my indoor seeds too early. I blame it on my excitement because this summer we finally have a (small) piece of outdoor space. In my ignorance, I also didn't think that all five zucchini seeds would take and now I'm staring down at five plants covered in little buds. If all five plants flower and produce fruit, I may be in trouble. If that's the case, be prepared for a lot of zucchini recipes this summer.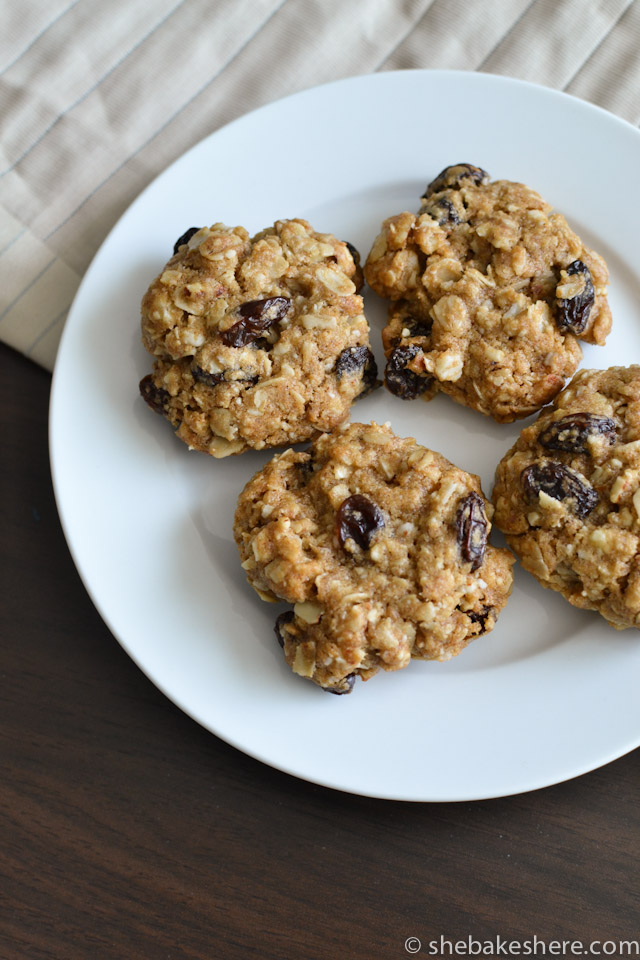 A good thing about this colder weather (if there is such a thing) is that I'm slowly gravitating back to my oven. I'm craving all the comforts of warm food, especially homemade cookies with almond milk. This is the second batch of cookies to leave the oven in less than a week, but I just can't help it – they're just that good. Luckily when it comes to homemade cookies, Trevor is very willing to eat his share.
One of my favourite recent add-ins to homemade cookies is almond meal. At first, I used to think that almond meal was a fancy (read: expensive) flour that was used primarily for gluten-free baking. While that's not completely untrue, almond meal and almond flour are quite different, with the texture of almond meal being more coarse and not quite as fine-grained as almond flour. The Kitchn has a really helpful article about the differences and whether or not they are interchangeable.
One thing I was right about was the price. Buying almond meal can be a little pricey, so I'm a big fan of making my own in my food processor. The homemade almond meal may not grind up as nicely as the store bought stuff, but I find that the occasional large pieces of nuts hide well in cookies with a lot of texture.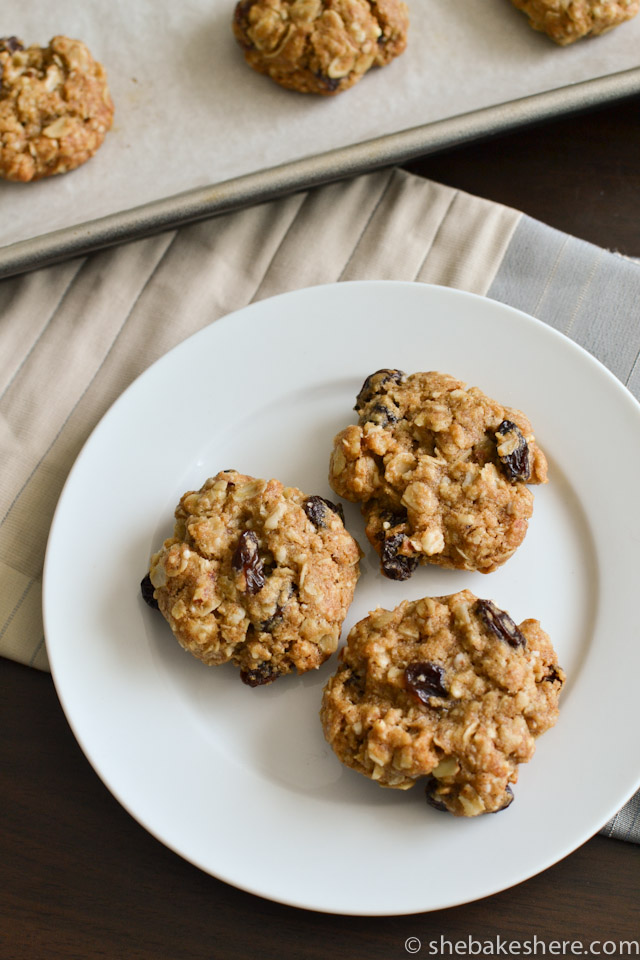 A word of caution is that if you make these cookies (and I know you will) your kitchen will smell amazing. Seriously, toasted almonds may be the best baking smell on earth.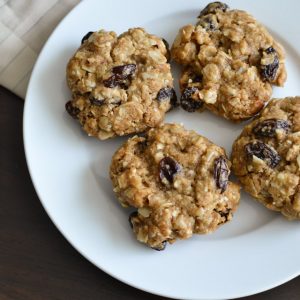 Almond Meal Oatmeal Raisin Cookies
Ingredients:
1/2 cup soft coconut oil (not melted)
2/3 cup brown sugar
1 large egg
1 tsp vanilla extract
1/2 cup almonds, ground into almond meal*
3/4 cup whole wheat pastry flour
1 1/2 cups rolled oats
1/2 tsp baking soda
1/2 tsp cinnamon
1/2 tsp sea salt
3/4 cup raisins
Directions:
In a large mixing bowl, cream together coconut oil and brown sugar. Add the egg and vanilla extract and blend until well combined.
In a separate bowl, whisk together almond meal, whole wheat pastry flour, rolled oats, baking soda, cinnamon, sea salt, and raisins. Using a spatula, stir the dry ingredients into the wet ingredients.
Cover the bowl with plastic wrap and chill the cookie dough in the fridge for at least 15 minutes. After 10 minutes, begin preheating your oven to 350*F and line your baking sheets with parchment paper or a silicone baking mat.
Remove the cookie dough from the fridge and roll cookies into 1 – 1 1/2 inch balls. Place each cookie about 2 inches apart on your baking sheets and lightly press down with your hands.
Bake cookies for 10 – 12 minutes. Cookies with still be soft after baking, so let cool them on the baking sheet for 5 minutes before removing. Cool completely on a wired cooling rack and store in an air-tight container.
* I used my handy food processor and blended the almonds for about 10 seconds to make almond meal. I wouldn't recommend blending any longer than this otherwise you will end up with almond butter. Don't worry about if there are some large chunks of almonds, I found it added some nice texture to the cookies.