Mini Chocolate Chunk Bran Muffins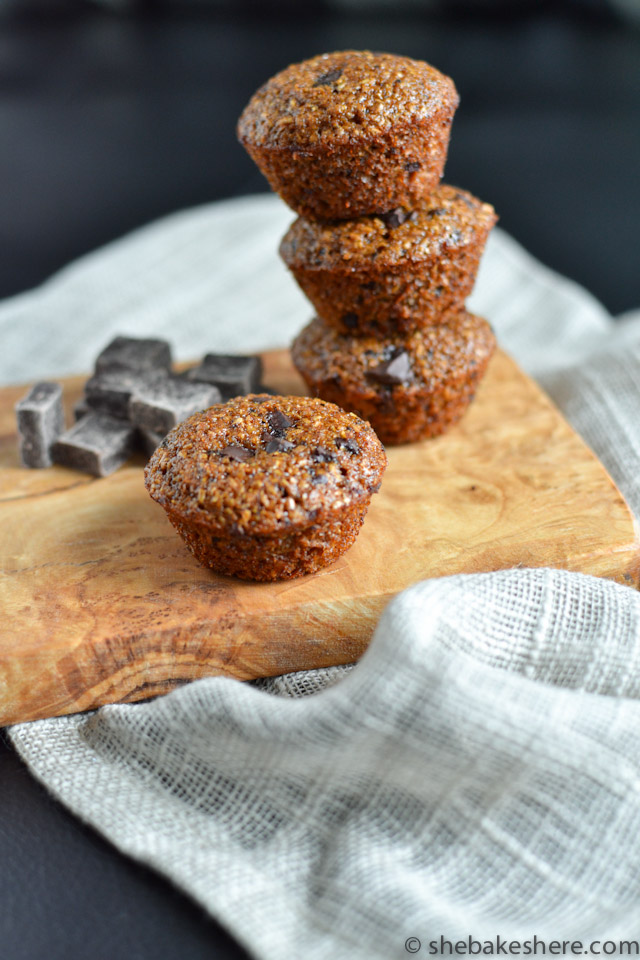 I'm a big fan of looking through my old recipe archives. It may sound weird, but one of my favourite things to do is look back and see when the last time was that I made something from a certain category. I recently started a notebook full of recipes and flavour combinations that I've been meaning to try and flipping through my archives is a good way to keep some variety in my baking (such as posting 6 cookie recipes in a row and not realizing it until after the fact). Plus going through my archives can be a nice reminder to see if I've already posted a similar recipe. As of this month, I've been blogging on SBH for four years and those early years of posting are especially fuzzy.
One interesting thing of note in my recipe categories was that there were a total of 15 muffin recipes posted in 2012 and 2013. That's a lot of muffins, especially when you consider that in 2014 I only posted 2 muffin recipes.
So to make up for my seeming lack of muffin recipes last year, I thought it would be fun to get a jump start and post the first one of 2015 in January.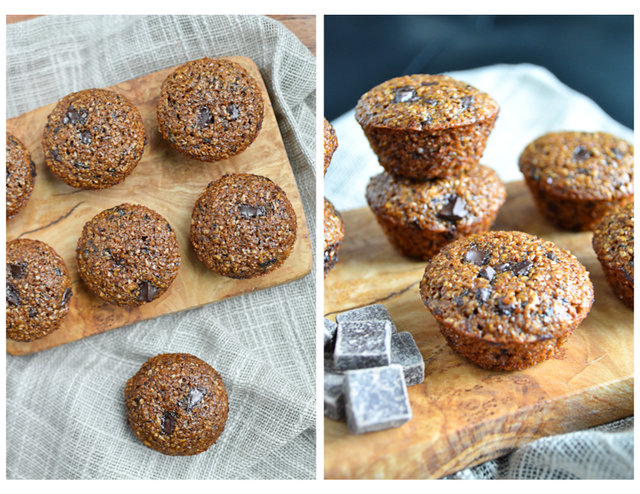 Now I get that the words fun and bran muffins don't seem like words that should go together. In fact, when I was younger I used to despire bran muffins – especially when I was hungry and Tim Horton's was out of the chocolate chip variety. So to dress up my first muffins recipe of 2015, I made them miniature (because cute) and added bits of dark chocolate (because delicious). If you don't have chocolate chunks on hand, regular chocolate chips will be fine in a pinch. The recipe may seem like it makes a lot, but just be warned that like all delicious bite-sized snacks, they'll go pretty fast.
Mini Chocolate Chunk Bran Muffins
Ingredients:
1 cup almond milk
1 tsp apple cider vinegar
1 cup bran
1 tsp baking soda
1/3 cup melted coconut oil
1/3 cup molasses
1 tbsp honey
2 tbsp brown sugar
1 egg
1/2 tsp vanilla extract
1 cup whole wheat pastry flour
1 tsp baking powder
1/4 tsp salt
1/2 cup chocolate chunks
Directions:
Preheat your oven to 350*F and spray your mini muffin pan with a non-stick cooking spray.
In a measuring cup, combine almond milk and apple cider vinegar. Set aside to curdle.
In a small bowl, whisk together bran and baking soda. Add almond milk and apple cider vinegar mixture and allow to soak for a few minutes (mixture may foam slightly).
In a separate bowl, stir together melted coconut oil, molasses, honey, brown sugar, egg and vanilla extract. Add bran mixture and stir with a wooden spoon.
Add whole wheat pastry flour, baking powder, salt and chocolate chunks. Stir together until no flour is visible.
Spoon batter into the mini muffin pan, filling each cup 3/4 full, and bake for 8-10 minutes. Muffins will be ready when the center springs back when lightly touched.
Remove from the oven and let the muffins cool in the tin for a few minutes. Gently remove muffins with a butter knife and let cool on a wired rack.
Depending on the size of your chocolate, you may need to chop it up with a sharp knife to make smaller chunks.