Grandma's Christmas Shortbread Cookies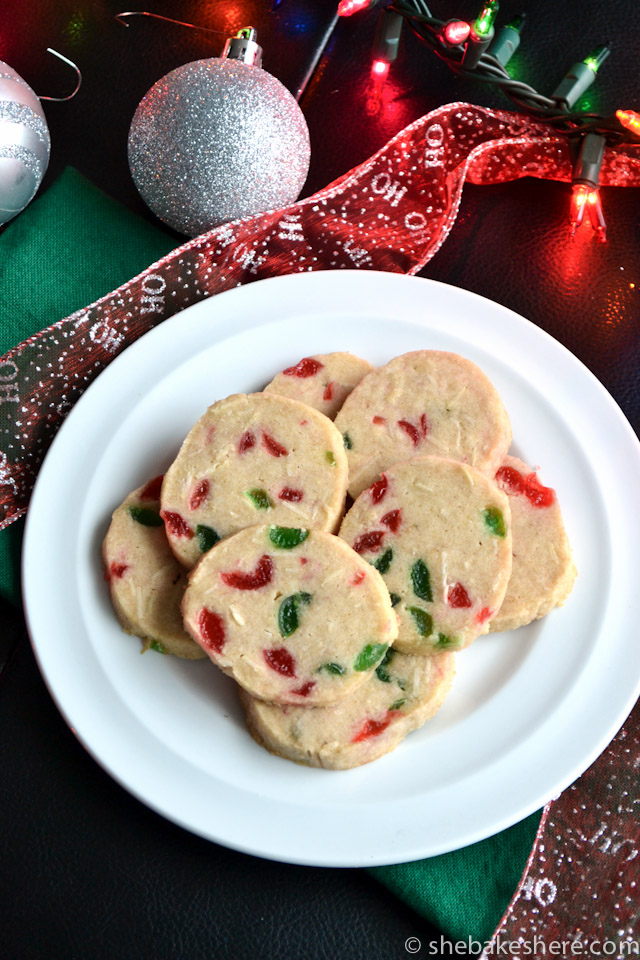 If I had to pick something that puts me in the holiday spirit, I would have to say it's my Grandma's Christmas shortbread cookies. These bad boys are buttery, crumbly and the specks of red and green maraschino cherries just put me in the holiday spirit. In fact, I'm pretty sure that if you bottled up Christmas in a cookie, this would be it. Every December, like clockwork, I look forward to consuming my weight in these cookies. This year Trevor and I are spending our holidays in Toronto, so I knew that if I wanted to get my annual fill, I needed to make these cookies on my own.
Growing up, I was never fond of maraschino cherries or the sticky juice that they were packaged in. Every year I would analyze each and every one of these cookies on the dessert table and then go for the ones with the least possible amount of cherries. Luckily as I got older I discovered that the cherries, along with the sliced almonds, are the best part of the cookies. It's funny how that works out sometimes. In fact, I love the cherries in these cookies so much that I sometimes even take little bites around the plain sections of a cookie and then save the cherry-filled bites for the very end. Call it my version of licking the cream filling out of Oreo cookies, but I love it and it's a habit I'm now stuck with.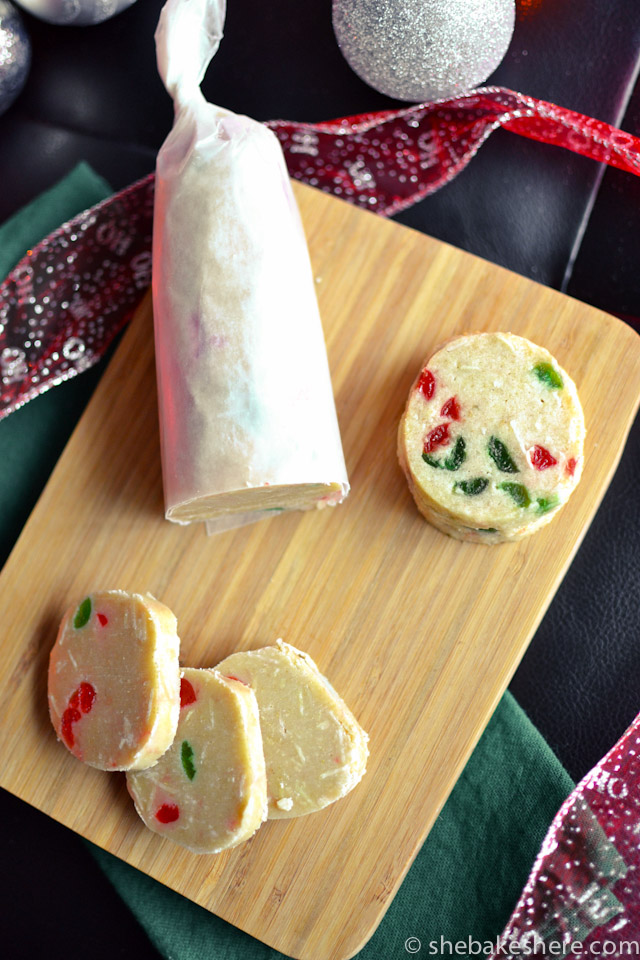 Since I was making the cookies for myself (and Trevor since I guess being married means sharing) I decided to up the amount of cherries from 1/2 cup to 3/4 cup. If you are not a maraschino cherry monster like myself, you are welcome to scale the recipe back to 1/2 cup. Don't worry, I won't be offended.
It's also worth mentioning that this recipe makes a lot of cookies. If you have a cookie swap coming up or need something yummy to cover a lot of ground on a cookie tray, I've got your back. The cookie rolls can be kept in the fridge and sliced and baked as needed and once cooled they freeze beautifully and can be thawed in less than 15 minutes. Perfect for any last minute guests you may have during this busy holiday season.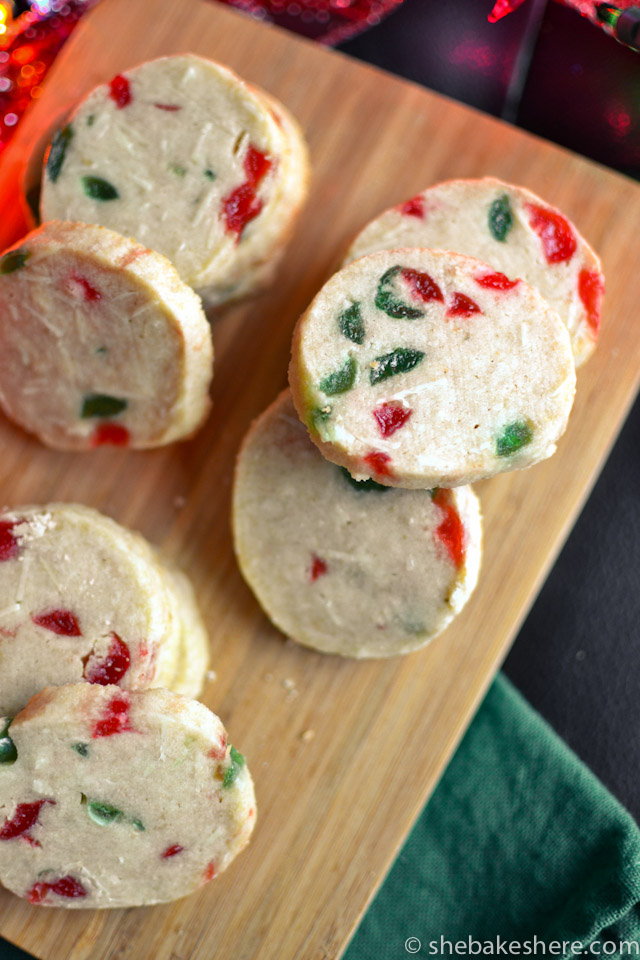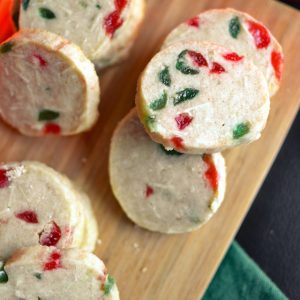 Grandma's Christmas Shortbread Cookies
Ingredients:
2 cups butter, softened
1 tsp vanilla
1 cup icing sugar, packed
1/4 cup corn starch
4 cups all-purpose flour, gently packed
3/4 cup red and green maraschino cherries, drained and sliced in half
1/2 heaping cup of sliced almonds
Directions:
In a large mixing bowl, cream together butter and vanilla. Add icing sugar and corn starch and continue mixing, scrapping down the bowl with a rubber spatula as needed.
Gradually add flour, one cup at a time, until the dough slowly comes together. Make sure that any flour settled at the bottom of the bowl is fully incorporated into the dough.
Using a wooden spoon, stir in red and green maraschino cherries (drained from their syrup and sliced in half) and sliced almonds. This part is a good arm workout!
Tear off long pieces of wax paper (approximately 15-inch in length). Roll the dough in the wax paper to form two 12-inch round logs and twist the ends of the wax paper to seal shut. Refrigerate the dough overnight or for at least two hours.
Preheat your oven to 350*F and line your baking sheet with parchment paper or a silicone baking mat.
Remove the rolls of dough from the fridge. Unwrap and slice in 1/4 inch rounds, placing the cookie slices on your baking sheet. Bake for 10-12 minutes until the edges of the cookies are slightly brown (do not overbake!).
Remove from the oven and let cool on the baking sheet for a few minutes. Gently remove the cookies and place on a wired cooling rack. Once the cookies have cooled, you may store them in an airtight container or freeze to be eaten later.