Easy Yogurt Overnight Oats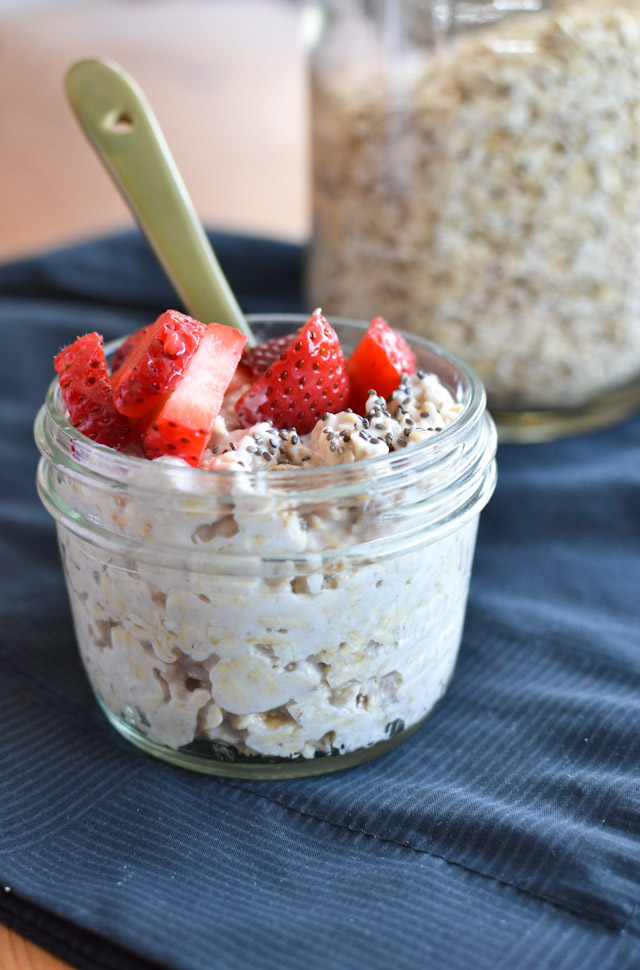 As an early (not by choice) riser, I'm a big believer in having a good breakfast to start my day. As much as I would love to have a proper sit down breakfast each morning, I'm usually strapped for time. Once I get up, shower, get dressed, pack my lunch and make sure I have everything ready for the day (such as my gym bag for days I hit the gym after work), I usually only have about 10 minutes to make/eat my breakfast and enjoy a cup of coffee before I catch my 7:03am bus (ugh) to the subway station.
Since my morning time is so limited, I'm also a big believer in getting as much ready as I can the night before. I usually get my lunch ready while I'm making supper and I try to pack my gym bag while I'm brushing my teeth. Now that the weather is starting to warm up, I've started to re-introduce yogurt overnight oats into my breakfast routine. This saves even more time because all the prep happens the night before and I get to wake up to ready-made, cold and creamy oats that I can decorate with different nuts, fruit and spices. The great thing is that overnight oats are super portable and on days where I'm really running late, they can be made in a mason jar or portable Tupperware container and thrown in my bag with a spoon. A nice, healthy, and cheaper alternative to waiting in line at Tim Horton's every morning!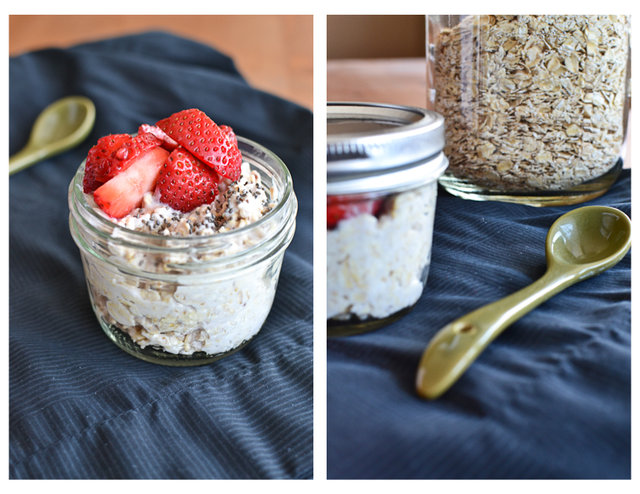 Right now, my favourite toppings for overnight oats are strawberries, chia seeds and a quick dash of cinnamon, but I'm sure this will change when more fruit is in season.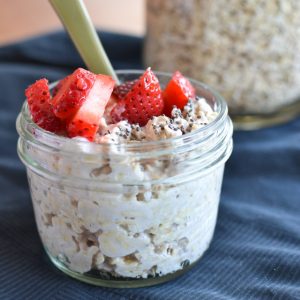 Easy Yogurt Overnight Oats
Ingredients:
1/2 cup old-fashioned or rolled oats, uncooked
100 gram yogurt cup, any flavour
3 tbsp milk
Suggested Toppings
fresh fruit
chia seeds
chopped nuts
cinnamon
Directions:
In a small bowl, Tupperware container or mason jar, stir together uncooked old-fashioned or rolled oats, yogurt, milk and optional chia seeds. Cover and place in your fridge for a minimum of 6 hours to let the oats soak up some of the liquid.
Remove from fridge and add desired fruit, nuts and spices. If the oats are too thick for your liking, feel free to add an extra tablespoon of milk.