Brownie Filled Banana Muffins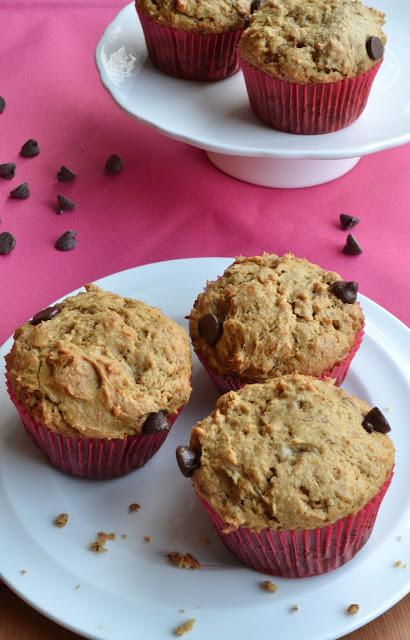 Where did January go? I feel like it was just yesterday that I was celebrating the new year. Now every time I go into the grocery store, I'm being bombarded by flowers and chocolates and everything that goes hand-in-hand with Valentine's Day.
Not that I mind having another reason to buy more chocolate. Mmmmm, chocolate.
In terms of wedding planning, February is already shaping up to be a busy month. My mom will be visiting in a few weeks to help me with my dress shopping and iron out a few details with the "big day" planning. I'm not entirely sure what to expect from the appointments we've made, but I'm going to be optimistic and hopefully we can find something that's not too crazy (I've been watching a lot of Say Yes to the Dress to get an idea of styles and have been more in awe of the jaw-dropping dress budgets all of these girls have). Along with wedding planning, Trevor and I also have our engagement photos session this month, which was an added bonus that came with our photography package. With the unpredictable weather we've been having lately, I'm not entirely sure how they may turn out. We keep joking that we'll be bundled up and completely unrecognizable, with the wind blowing in our faces.
To prepare us for all these things to come this month, I've been trying to make our rushed mornings easier by making a quick grab-and-go breakfast. Banana muffins are always a staple for us since we never eat bananas fast enough and are always left with two or three ripe ones.
Now I bet you're asking what's so special about these muffins? All you have to do is cut one open and see for yourself.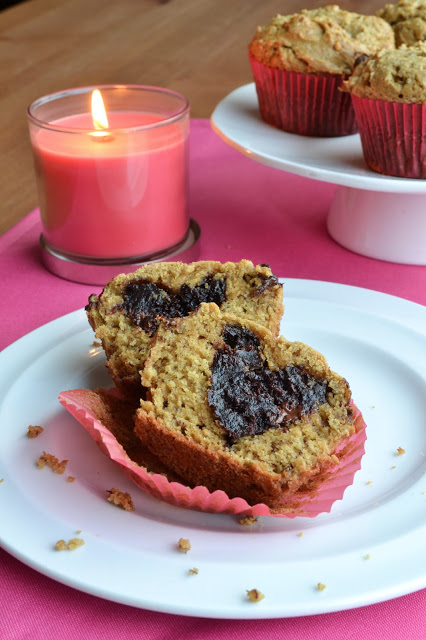 To create these heart-filled muffins, I made my favourite Ghirardelli brownie mix and used a mini cookie cutter to cut out the hearts. This technique is very popular to make heart-filled cupcakes, but since Trevor is not a big fan of cupcakes, I decided to change the recipe to banana muffins. The chocolate chips were also helpful to use as markers so I would know where to properly cut the muffins and still be able to see the heart-shape inside.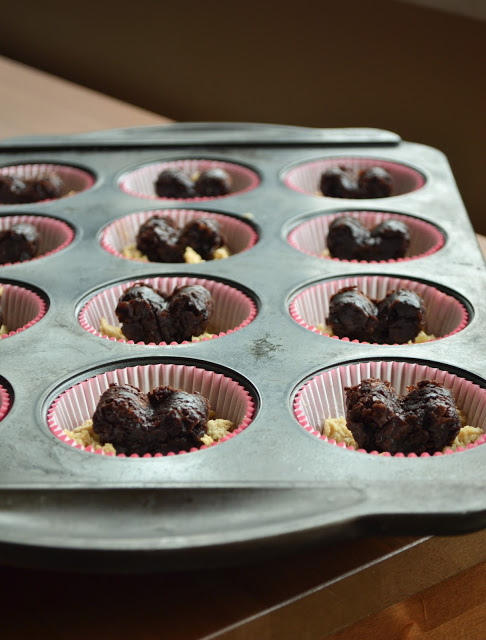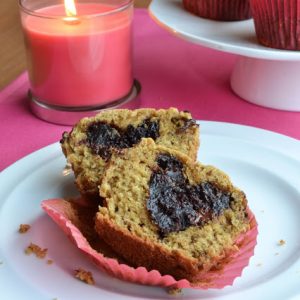 Brownie Filled Banana Muffins
Ingredients:
Brownies
One pan chocolate brownies (recipe or box mix)
Muffins
1/2 cup butter/margarine, room temperature
1/3 cup brown sugar
2 eggs
2 ripe bananas, mashed well
1/2 tsp  vanilla extract
2 cups flour
1 tsp baking soda
24 chocolate chips, for marking
Directions:
Prepare your a batch of your favourite brownies. Once the brownies have cooled, use a small heart shaped cookie cutter and carefully cut out 12 hearts. Feel free to eat the brownie scraps while you make the banana muffins.
Preheat the oven to 350*F.
In a large mixing bowl, whisk together flour and baking soda. Set aside.
In a separate bowl, cream together the butter/margarine and brown sugar. Add the eggs, mashed bananas and vanilla extract.
Combine the dry ingredients with the wet ingredients and stir together until just mixed (do not over-mix).
Prepare your muffin tin with liners and spoon a couple tablespoons of batter into the bottom of the liners. Gently press the heart shaped brownie pieces into the pan, pointy side into the batter. Make sure that each heart is facing in the same direction and cover with the remaining muffin batter. Mark with chocolate chips on either side of the hearts so you know where to cut the muffins once they have been removed from the pan.
Bake for 15-17 minutes until the muffins are set and the tops are golden and slightly cracked. Remove from the pan and let cool on a wired rack.