Spiced Pumpkin Pecan Loaf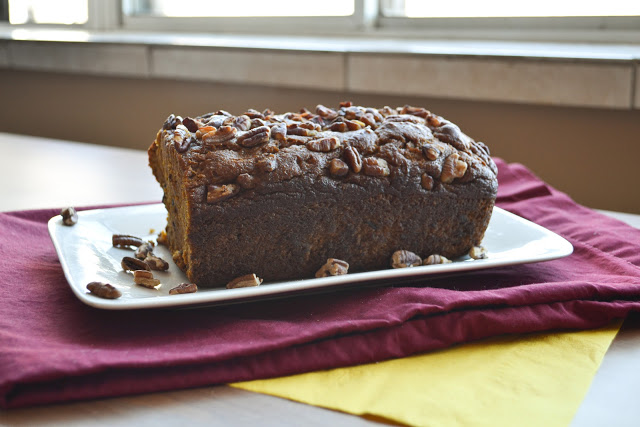 Despite my running around and getting ready for my Japan trip next week (8 days), I knew I had to celebrate the first day of Fall yesterday with some delicious baking. This is my favourite time of the year (sweaters! boots! hot mugs of tea!) and I was a little sad to realize that as much as I love this season, I only have one other pumpkin recipe on She Bakes Here.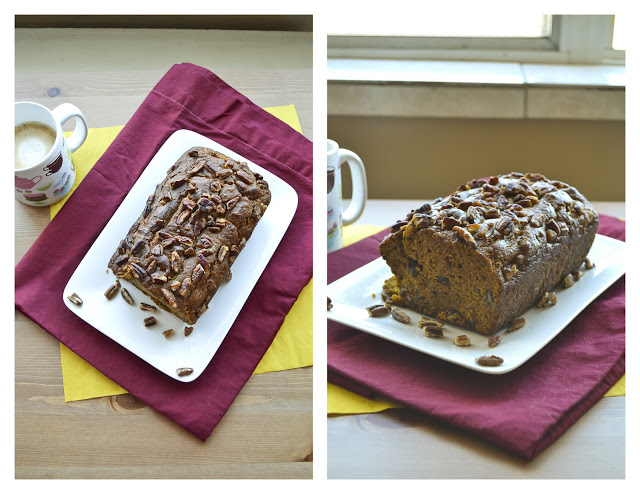 Since I'll be away in Japan for Thanksgiving, I want to make sure that I get my fill now of pumpkin pie, Starbuck's addicting pumpkin spiced lattes and all the delicious baking that comes with the Fall season. And what better way to kick off the season than with a delicious spiced pumpkin loaf for breakfast?
Since I used walnuts in my pumpkin cookie recipe, I decided to take another route with this pumpkin loaf by using pecans. The recipe is one that I found on Cooks.com, but I modified by reducing the sugar content and substituting nutmeg for allspice (simply because I didn't have allspice). The results were a deliciously moist loaf that almost doesn't even need butter, although its always highly recommended. The toasted pecans add a wonderful texture and crunch and you won't even miss the reduced sugar. Be sure to also pair this loaf with a strong cup of tea or coffee.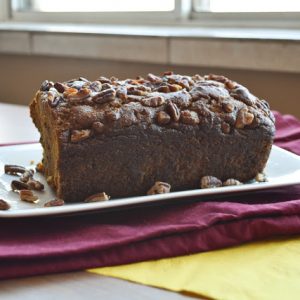 Spiced Pumpkin Pecan Loaf
Ingredients:
1/2 cup vegetable oil
1 1/4 cups brown sugar
2 eggs
1 cup pumpkin puree
1/2 cup pecans pieces
1 1/2 cups flour
1 tsp baking soda
1/4 tsp baking powder
1/4 tsp cloves
1/2 tsp cinnamon
1/2 tsp nutmeg
1/4 tsp salt
1/4 cup toasted pecans pieces
Directions:
Preheat your oven to 350*F.
In a large bowl, combine vegetable oil, brown sugar and eggs. Mix well and add pumpkin puree and the (not toasted) pecans.
In a separate bowl, whisk together flour, baking soda, baking powder, cloves, cinnamon, nutmeg and salt. Add dry ingredients to wet ingredients and stir until just combined.
Pour batter into a greased loaf pan and sprinkle with toasted pecans. Bake for approximately 1 hour until an inserted toothpick comes out clean.
Cool for a few minutes in loaf pan and then remove to cool on a wired rack.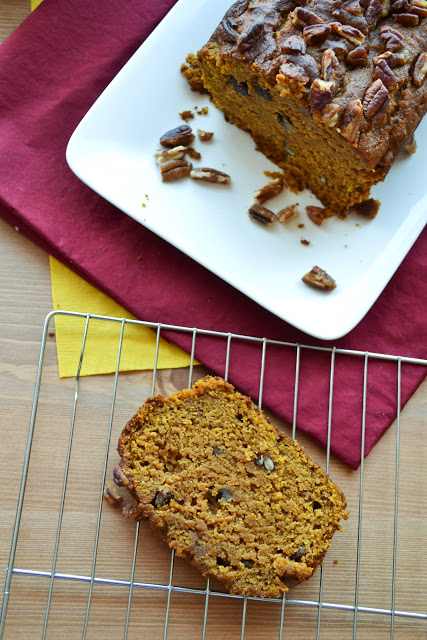 Well, I'm off to exchange my money for yen and read up on the Japanese language books my parents gave me. Enjoy this beautiful Fall day everyone!