Skor Bar Caramel Apple Spread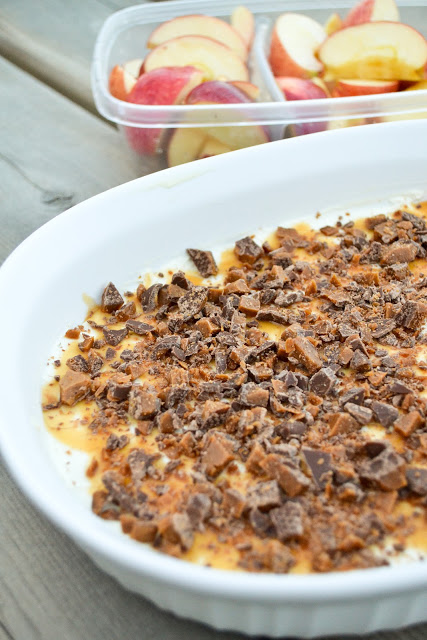 I can't believe it's been over 3 weeks since I last blogged. Bad Jessica, bad, bad Jessica.
Sometimes you just need to get away though, and what better way is there than to surround yourself with family and food? The joke in our family is that no matter what kind of get-together we plan, there is always tons of food involved. My brother Nathan and I joke that we always gain weight when we go home to visit, but that's what happens when you have a family that loves food. My Grandma cooked in a restaurant for over 20 years and my mom loves to have people over and feed them. No one leaves our home hungry.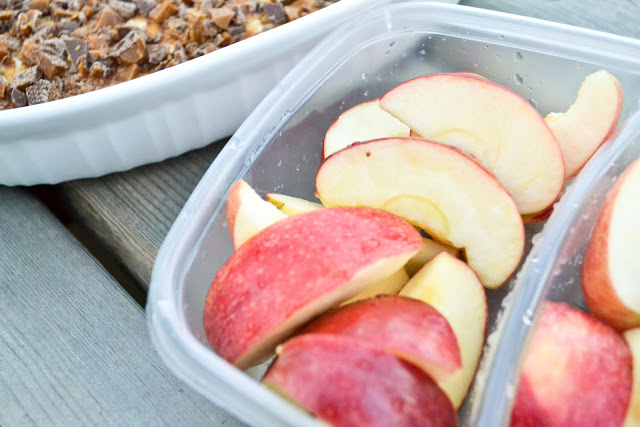 Since we had a lot of people over at various times during my visit, I was able to try out a recipe I had been dying to make ever since a co-worker brought some into the office. The recipe calls for cream cheese and chocolate, so I knew that I wouldn't be able to make it in our apartment without receiving loathing glances from Trevor. Or gaining 10 pounds from having to eat the whole thing myself.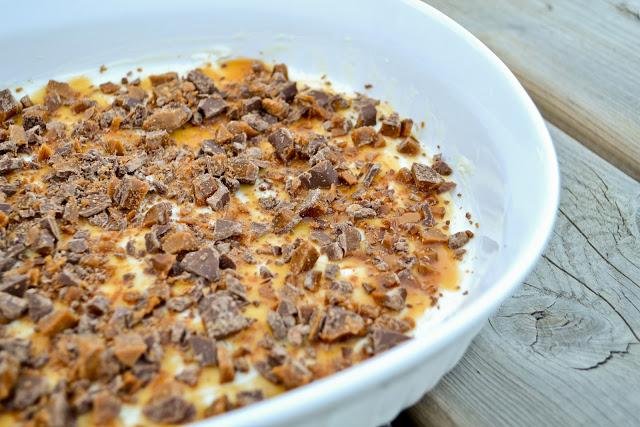 This recipe is perfect for summer since it's an apple dip/spread and besides the fruit, it really only calls for three main ingredients. It was such a hit that I ended up making it three times over a two week period. We kept calling it "healthy" because apples were involved. 🙂
Besides being addicting, the recipe is also ridiculously easy to make and can be changed pending on your tastes and preferences. Love nuts? Sprinkle some on! Prefer a different type of chocolate bar? Chop it up and try it out! Just keep a lot of sliced apples on hand, I guarantee you'll need to keep that bowl full.
Also be prepared for the surprised looks when you recite the simplicity of this recipe.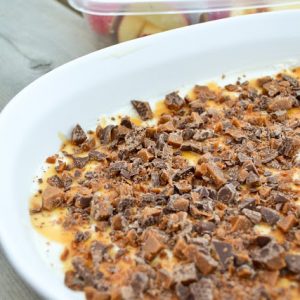 Skor Bar Caramel Apple Spread
Ingredients:
4 oz cream cheese, softened (half a block or 1/2 cup of the spreadable kind)
Caramel sauce
2 Skor Bars, crushed and chopped up
Directions:
In a bowl, mash the cream cheese until its nice and soft and spread in a shallow dish.
Drizzle with caramel sauce. Crush/chop up Skor Bars and sprinkle over caramel sauce and cream cheese. Let sit in your fridge for a few moments while you chop up the apples.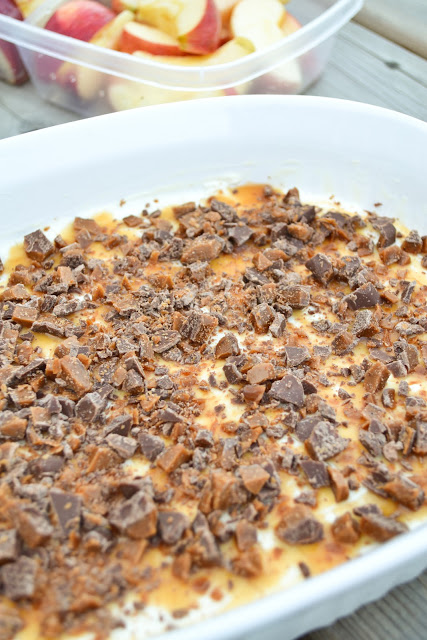 Enjoy!