Strawberry Banana Nutella Muffins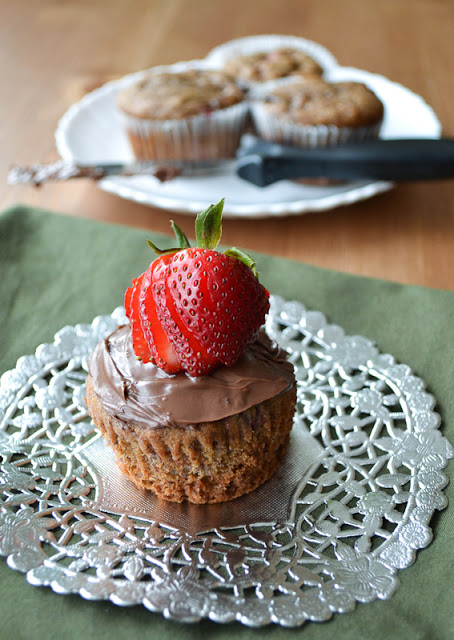 Let me tell you a story…..about the first time I had Nutella.
It was around this time last year.
I was at Costco picking up groceries. There was a woman doing the food-sample-thing that Costco is famous for. She was cutting bread slices into quarters and using a sharp knife to spread Nutella, thickly, on each piece.
(No, that's a lie – I can' remember the type of knife she was using. I just exaggerated that part for effect.)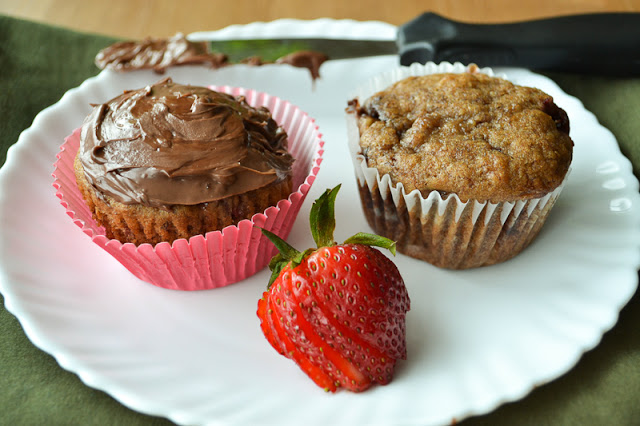 This wasn't an overcrowded food-sampling booth. No, all the people seemed to be piling up at the entree-related booth nearby, with an item that looked suspiciously like beef (at this point, I had already given up red meat in my diet.)
The Nutella-spreading woman smiled at me, her only customer, and gestured at the plastic serving tray in front of her filled with little paper cups of bread and Nutella.
Up until this point, I had never consumed Nutella. I had been warned of it's addictive qualities, but besides seeing the commercials occasionally on TV, I never really though much of it.
Until now…..
(I swear I saw Nutella oozing off one of the slices, begging to be eaten. I blame that one slice, the one slice that started it all.)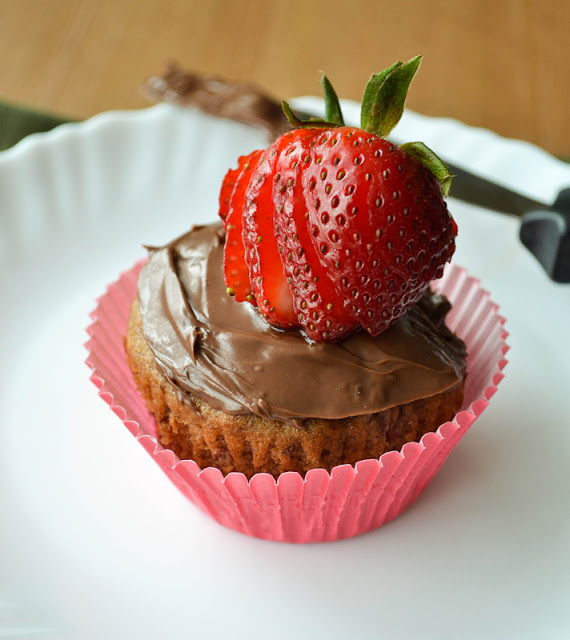 I can still remember how delicious that first bite of Nutella was. Sticky and sweet, with the nutty taste of hazelnuts enveloped in a rich, decedent cocoa flavouring. It was everything I loved in life and more, drizzled on a tiny slice of bread.
It only took me three days to eat my first jar. The second jar took a little longer at five days.
After this eight day Nutella-fueled binge, I never wanted to see the stuff again. My teeth felt like they were constantly coated in a sticky layer of sugared hazelnuts. I finished the last of my second jar and vowed that I would never eat the stuff again.
It's been almost a year since that first taste and I recently saw a complete stranger eating breakfast on the subway. She had a spoon and was eating from a clear plastic container. The smell hit me right: Nutella and strawberries.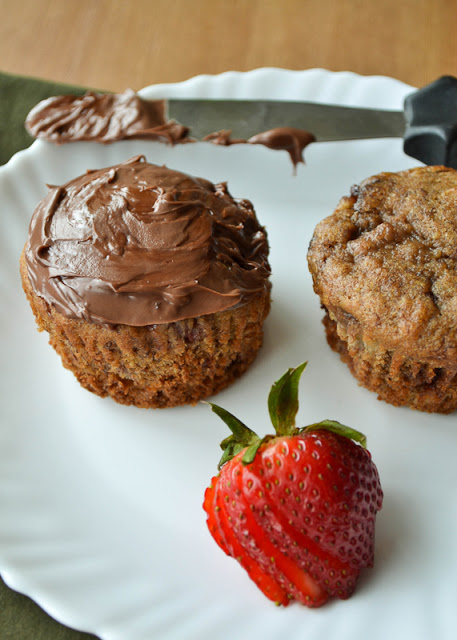 Of course, why hadn't I thought of this combination before? All this time, I've been enjoying my Nutella on plain bread, when it clearly belongs with fruit. And muffins, oh boy, it belongs in muffins.
This recipe is slightly inspired by Two Peas and a Pod, which is where I first saw the combination of strawberries and Nutella baked in muffin form. Adding a little Nutella and chopped strawberries to my favourite banana muffin recipe and I think I've calmed the chocolate-hazelnut craving monster in my stomach….for now.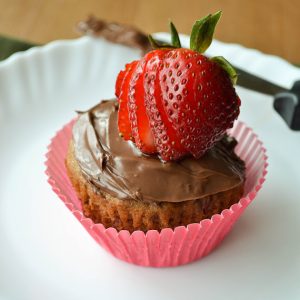 Strawberry Banana Nutella Muffins
Ingredients:
1/3 cup vegetable oil
3 ripe bananas, mashed
1/4 cup white sugar
1/4 cup brown sugar
1 egg
1 tsp of vanilla
1 1/2 cups strawberries, chopped
1 1/2 cups of flour
1 teaspoon of baking soda
Dash of salt
1/3 cup Nutella, or other hazelnut-chocolate spread
Directions:
Preheat the oven to 350*F. Grease a muffin pan or line with baking liners.
In a large bowl, mash the bananas with a fork or a potato masher. Add oil and mix well. Add sugars, egg, vanilla and chopped strawberries and mix until just combined.
In a separate bowl, whisk together flour, baking soda and salt. Combine wet ingredients with dry ingredients and stir until just combined (do not over-mix!)
Fill the muffin tin 1/4 with muffin batter. Layer a spoonful of Nutella on the top (see note below) and add more muffin batter until the tin is 3/4 full.
Bake in the oven for 10-12 minutes until the tops of the muffins are golden brown and your kitchen smells divine.
** A word of warning: You may want to layer on a ton of that delicious Nutella between the muffin batter before baking, but a word of caution – less is more. If there is too much Nutella, the muffins will cave in – not a pretty picture! I suggest small spoonfuls of Nutella with the batter and then after baking, use up the rest to lather on top like a cupcake! Mmmmm, good.