Green Mint Chocolate Chip Cookies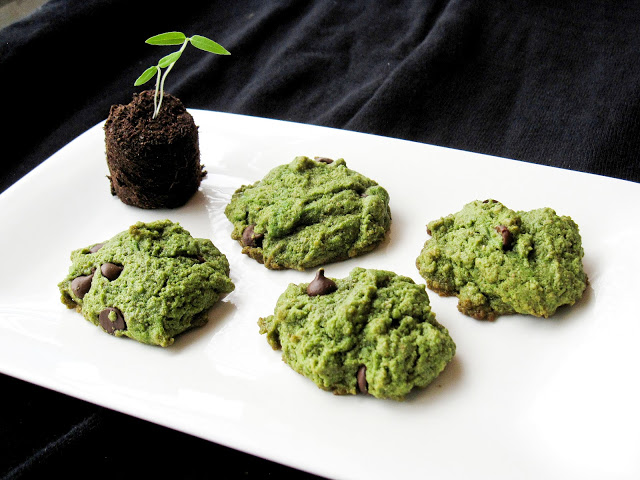 With my love of all things chocolate and mint, this recipe was bound to happen.
With St. Patrick's coming up, I've had a lot of green on the brain. Of course it doesn't hurt that we've barely had a winter season here, so every time I step outside I'm greeted with bare lawns and trees. I guess its not the green paradise I'm hoping for….yet.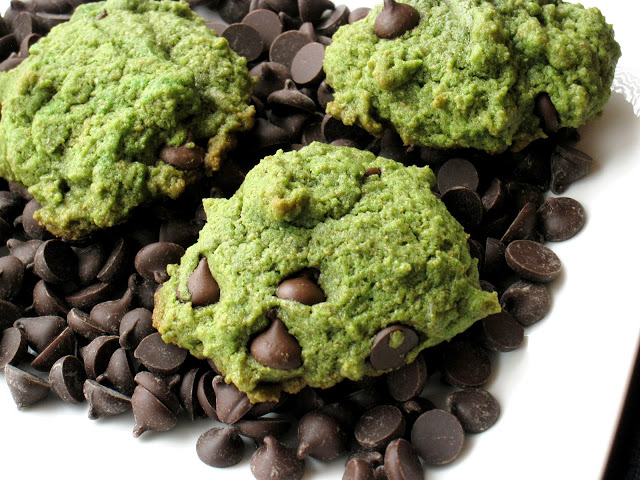 I do have a little green in my life though as I've decided to start an indoor garden. Since the weather has been so warm, our apartment has been a melting pot of heat (our landlord controls the heat in the building). I decided to take advantage of the warmth, so opened my Jiffy greenhouse package a little earlier than planned and set to work on germinating my tomato and spinach seeds.
A few days ago, when checking in on them, I was created with a little green surprise.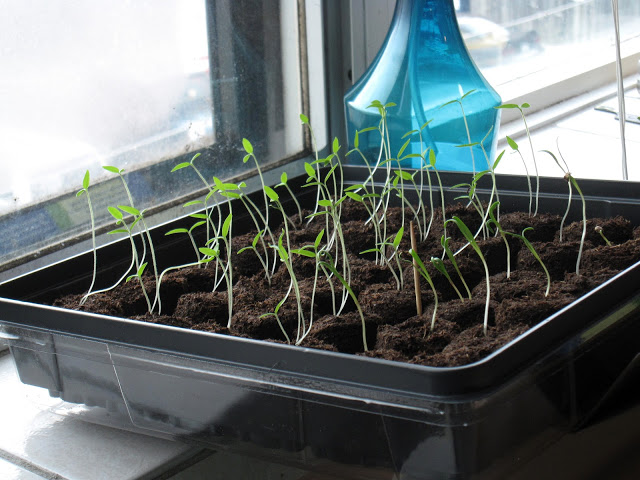 Yes, I've created life. Green life.
(Let's cross our fingers and see if they last!)
This was cause for a celebration. Although I never look for a reason to make cookies.
If you aren't as hip to this cooling mint flavour vibe in these cookies as I am, you are welcome to substitute more of the mint extract for vanilla extract. But if you are even more of a mint fiend than moi, you can even jazz up the cookies with mint-flavoured chocolate chips.
But if you just leave the recipe as is, you will still enjoy a delicious cookie with a cooling mint sensation. This is especially delicious when your apartment reaching that melting pot temperature (which may be ideal for my new plants).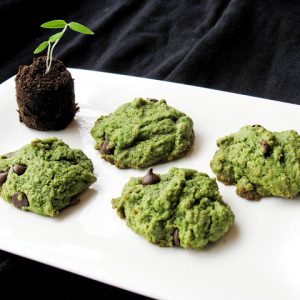 Green Mint Chocolate Chip Cookies
Ingredients:
3/4 cup brown sugar
2/3 cup sunflower oil
1/4 cup soy milk
1 tsp vanilla extract
1 tsp mint extract
1 tsp green food colour
1 tbsp flour
2 cups of flour
1/2 tsp baking soda
1/4 tsp salt
1/2 cup chocolate chips
Directions:
Preheat the oven to 350*F.
Whisk together the brown sugar, oil, soy milk and 1 tbsp flour. You should do this for a few minutes until the mixture is caramelized.
Add the mint extract, vanilla extract and green food colouring.
Add half of the flour, baking soda and salt and mix well. Add the remaining 1 cup of flour, chocolate chips and mix well until no more flour is visible.
Drop mounds approximately 1 1/2 tbsp in size on a greased baking sheet. Slightly flatten the dough to ensure the cookie will be cooked evenly.
Bake for 5-8 minutes until the edges are a golden brown. Leave on the baking sheet to cool for one minute before transferring to a wired rack to cool. Store in an air-tight container.
To make these recipe vegan, be sure to use dairy-free chocolate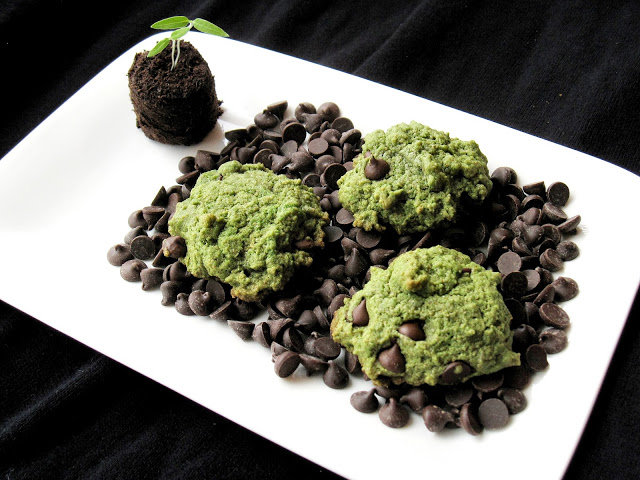 Also, I would just like to share some recent great news! A month ago, I submitted a couple entries for Food Bloggers of Canada's slogan contest and one of my slogans was picked! If you follow me on twitter, you would have seen my excitement last Friday when I came home from work to find a package wrapped in postage paper.
It was a copy of Dinner with Julie's book Spilling the Beans. Anyone who knows me, knows how much I love cooking with beans. It started 4 years ago with the discovering the book The Sneaky Chef and has gradually grown to Trevor asking me if I hide pureed beans in supper almost every night.
It was perfect. Even more so when I opened the book to the first page.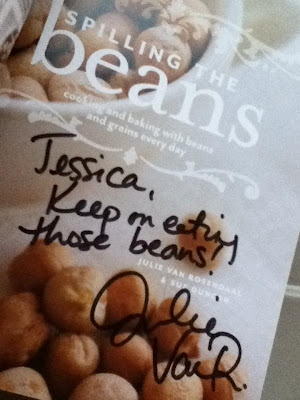 Thank you Julie and Food Bloggers of Canada!
If you aren't a member yet, I highly recommend joining. In the mean time, I need to go to the grocery store to pick up some more beans and lentils for the weekend.