White Chocolate Toasted Coconut Scones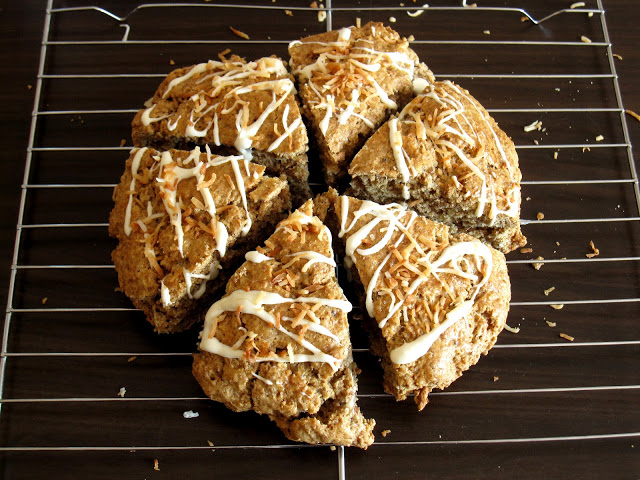 Last week on Twitter, I expressed my exasperation at my last visit to Bulk Barn. Since I have to drive there, I try to space out the visits so I can make one big trip to pick up everything. A normal visit usually consists of buying soft whole wheat flour, quick oats, regular oats, brown sugar, ground flax seed, carob chips and any other baking supplies I'll need for the next few weeks.
Only last week when I arrived home with my bulging bags of goods did I realize that I didn't have my flour. I remember scooping the flour from the bin into a bag, placing it in my basket and later placing it on the checkout counter with the rest of my purchases. Somehow it didn't end up in bag, nor (thankfully) my receipt. I was mildly annoyed, but not as annoyed as I would have been had I actually paid for it and then forgotten it.
Luckily though, I managed to get home with my oatmeal, which is my early morning breakfast staple. Lately I've been really into mixing in some coconut milk. The nuttiness of the milk adds a nice sweetness to my otherwise bland and tired oatmeal. Since coconut milk doesn't affect Trevor's allergy, I knew it would also be a great tool to bake if I could find the right recipe.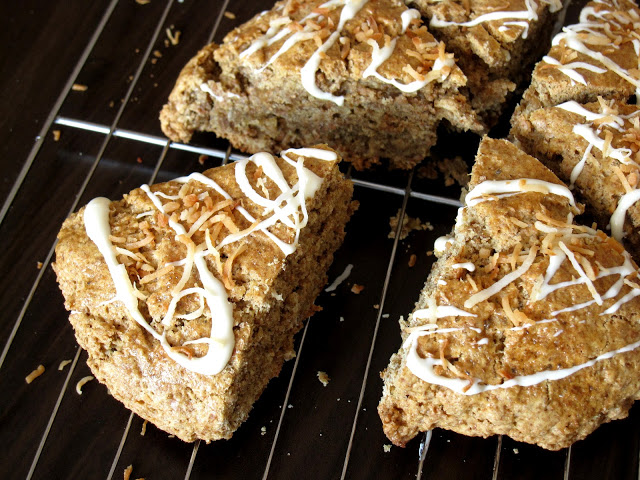 Since then I haven't had the time to pick up more soft whole wheat flour, I'd been avoiding baking all week so I don't have to scrap the bottom of my current bag. This morning I measured that I had a little over 1 cup left, some tiny remains of regular whole wheat and then few tablespoons of white flour.
Due to this limited amount of flour on hand, I knew what I would make this week needed to be on the smaller side, like a half batch of muffins or scones. After scouring the internet, I thankfully found a gem of a recipe that I could tweak to fulfill my coconut milk preferences.
White Chocolate Toasted Coconut Scones
Ingredients:
1 1/2 cups flour
2 tbsp sugar
2 tsp baking powder
1/4 tsp baking soda
1/4 tsp salt
6 tbsp cold butter/margarine
1 egg, yolk and white separated
1/4 cup + 2 tbsp coconut milk
1/4 cup toasted coconut
1/4 white chocolate, chopped
Optional
Coconut milk to thin out the chocolate
Directions:
Preheat oven to 350*F.
In a large bowl, whisk together flour, sugar, baking powder, baking soda and salt. Cut in cold butter/margarine with a pastry cutter until the mixture it crumbly.
Separate the egg yolk and whites. Set the white aside and mix the yolk with the coconut milk. Add the yolk/milk mixture and a little more than half of the toasted coconut to the crumbly flour mixture and mix well.
On a floured surface, knead the dough 5 times and pat into a flat, round circle. Place on an ungreased baking pan and brush the top with a little of the remaining egg whites.
Bake for 25-30 minutes until the top is a deep, golden brown. Removed from baking sheet and let cool on a wired rack.
Melt while chocolate in a container in the microwave (be sure that the container is microwave safe). Add a tiny bit of coconut milk to thin out the chocolate. Drizzle melted while chocolate onto the scones and sprinkle with remaining toasted coconut.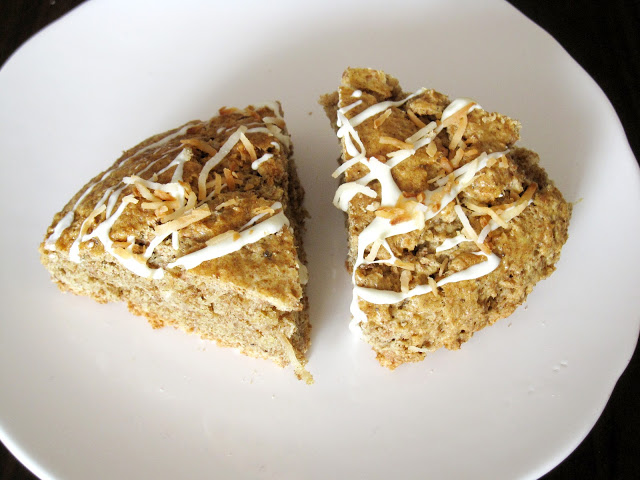 Enjoy!