Chocolate Pomegranate Cupcakes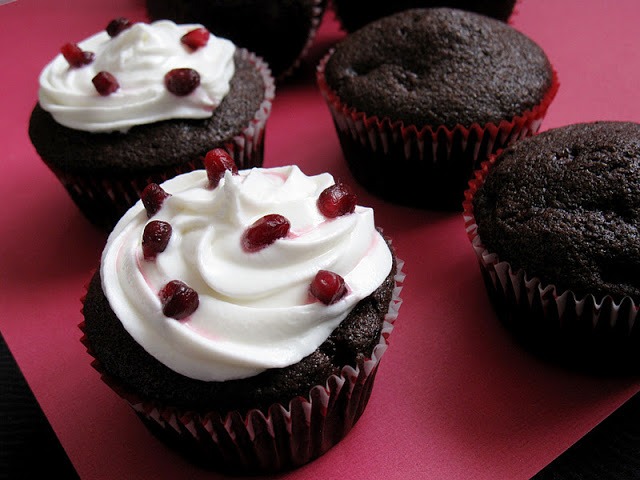 I always like to check out the discount produce section at grocery stores. I've always found its are the best place to get ripe bananas that are just begging to be baked into a delicious banana bread or muffin. One day when checking out our local grocery store, we found it loaded with packages of pomegranates. The produce priced at 6 for $1.49, was ripe, but still decent enough to last a few days. Considering the usual price of pomegranates, I thought it was a steal of a deal and picked up a package.
I spent the next few days covered in pomegranate juice. There was no dignified way to eat one and not look like I was in a terrible accident. When I was finally down to two pomegranates, I was at my wits end and turned to the internet for advice.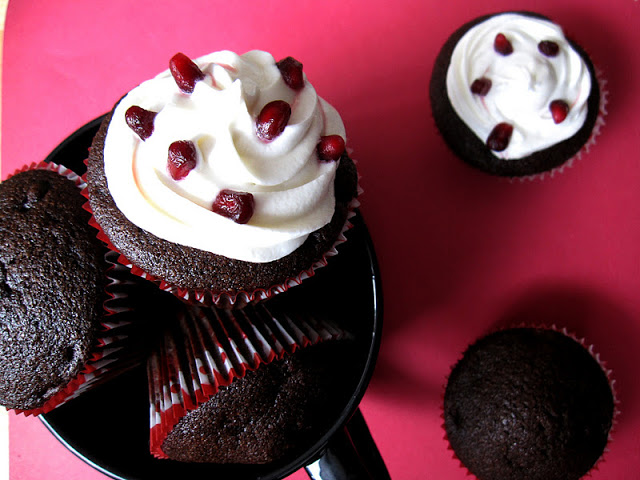 Fun fact I learned about pomegranate seeds – they sink in water. According to wikihow's "How to Seed a Pomegranate," if you separate the seeds from the white fiber in a large bowl of water, the seeds with settle to the bottom of the bowl and you can scoop out the fiber with a strainer. Once I tried this and managed to keep my fingers their original colour, I realized that I may never eat a pomegranate the same way again!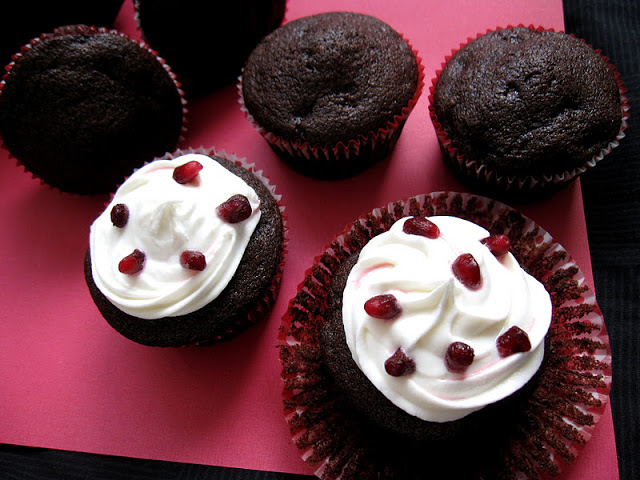 Once I had two pomegranate's worth of seeds, I searched the internet for what I could make with them. I was in a pre-Valentine's Day mood, so I decided to pair up pomegranate with my love of chocolate and found the most perfect recipe for milk-free chocolate cake to make chocolate cupcakes. This way, Trevor could also enjoy them.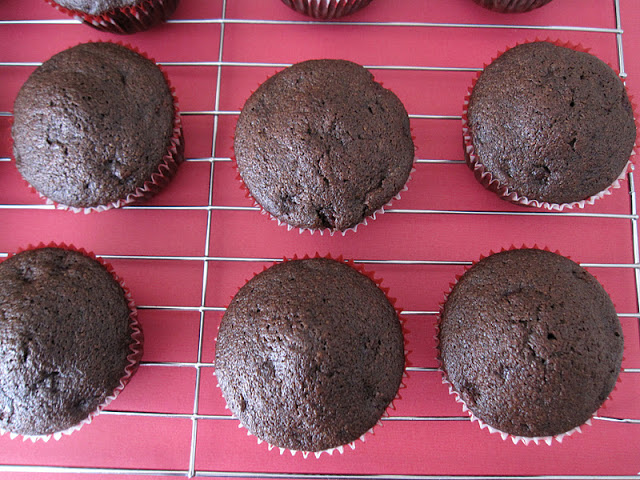 You would never guess that there are no milk or eggs in this recipe. These chocolate cupcakes are moist are moist, decedent and hide the surprise crunch of pomegranate seeds. Pair this up with your favourite butter cream icing recipe and they'll sure to be a hit. You could even make them more pomegranate-y by adding some juice into the icing!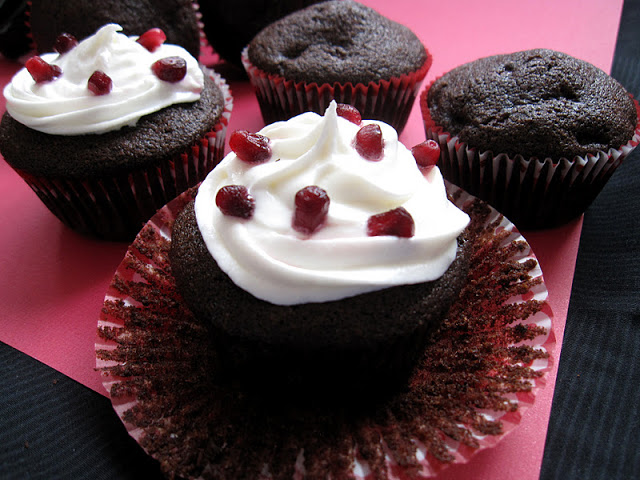 Chocolate Pomegranate Cupcakes
Ingredients:
1 1/2 cups flour
3/4 cup white sugar
1/4 cup cocoa powder
1 tsp baking soda
1/4 tsp salt
1/3 cup vegetable oil
1 tsp vanilla extract
1 tsp distilled white vinegar
1 cup water
1/2 cup pomegranate seeds
Directions:
Preheat the oven to 350*F.
In a large mixing bowl, sift together flour, sugar, cocoa powder, baking soda and salt. In a small measuring cup or bowl, combine oil, vanilla extract and vinegar.
Add the wet ingredients to the flour mixture along with water and pomegranate seeds. Mix well, breaking up the flour clumps as you go.
Line your muffin tins with baking cup liners. Spoon the batter into the cups, only filling 3/4 of the way. Bake for 20-25 minutes, testing with a toothpick to ensure they have baking throughly.
Now I know what you're all thinking – "14 cupcakes, really?" I realized this too when I made the recipe. Because I barely filled the baking cups to 3/4 full, I had some leftover cupcake batter. Rather than using my muffin pan again for just two cupcakes, I just poured the batter into a clean jam jar and baked it for 30 minutes. Now I have a little cake in a jar for a portable snack.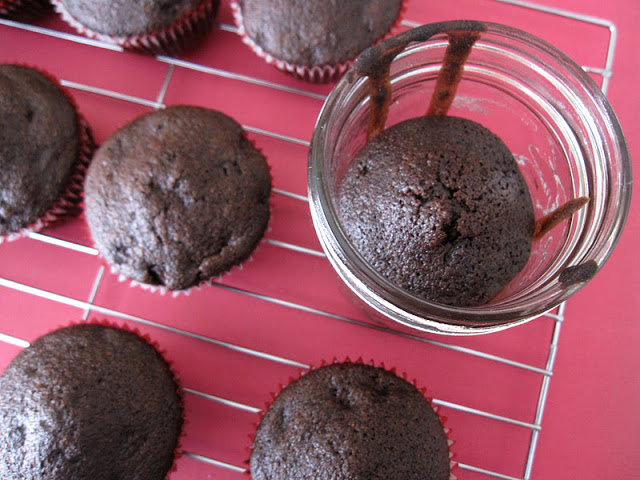 Enjoy!