Quinoa Oatmeal Raisin Cookies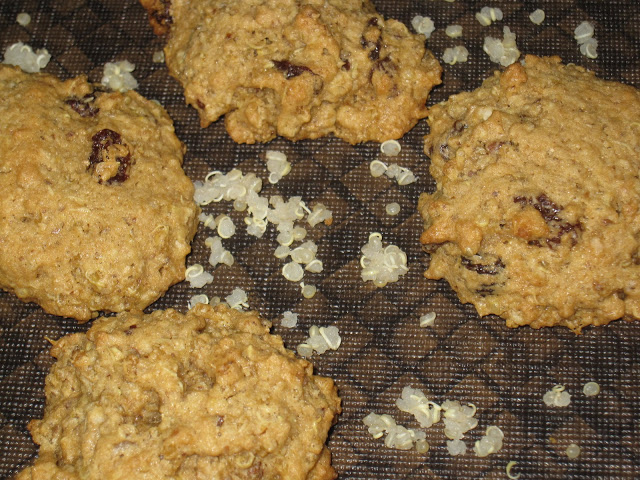 Quinoa is one of those strange food names I've never been able to pronounce properly. Off of the odd chance that I magically get it right, my brain never decides to remember it and then I always go back to mispronouncing it again. The bad part is that Trevor has decided that we're at the point of our relationship where he knows what I'm talking about and doesn't bother correcting me, even when I use the wrong words or say something wrong all together.
Trevor: What's for supper?
Me: Oh, we're having….uh, quinn-noh-ah.
Trevor: (pause) Great, sounds delicious!
This does wonders for my social development outside of the apartment. "Yes, Mr Waiter, I would like my side dish to be some of that delicious looking……quinn-noh-ahh….yes, I said quinn-noh-ahh. In my spare time? I like to bake and post my creations on the internet."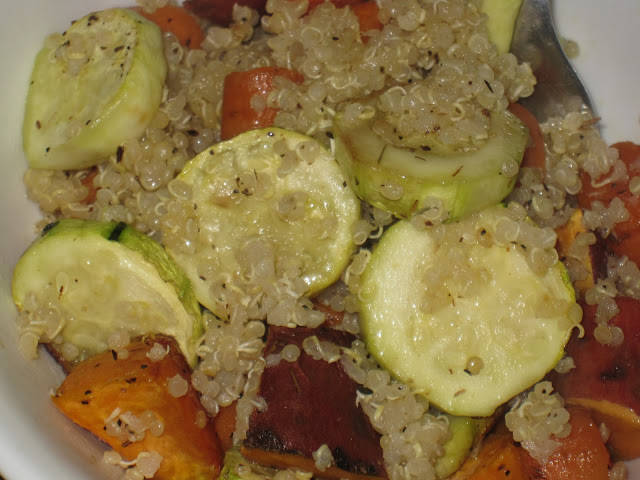 One of our typical quinoa suppers, with roasted carrots, sweet potato and zucchini
For future reference, according to Google, quinoa is pronounced keen-wah. Yeah, I don't get it either, I must have completely zoned out during that significant part of grade 2 when this kind of alphabetical pronunciation was taught to us. Grade 2 wasn't a complete blur though, I can tell you about the time that my best friend at the time pushed me as I dangled on the highest monkey bar as though it were a swing (we thought we were so clever) and thanks to the force of that push, I flew off backwards and landed flat on my face in the playground sand. That was the year I rocked a wicked scar on my lip and a new-found knowledge of momentum.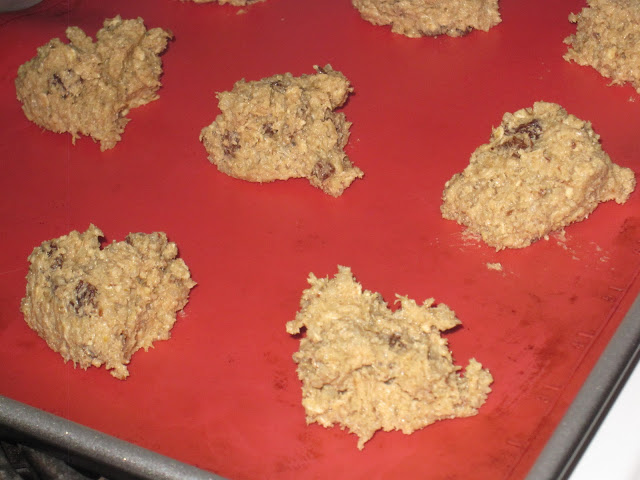 But even though I can't pronounce it to save my sanity, I love cooking with quinoa and always keep a bag of the stuff tucked away in the cupboard for easy, healthy suppers. One cup of quinoa packs over 16% of your daily required protein and over 20% of your fiber requirements. Pretty good for such a tiny, unpronounceable grain!
Now, I know the big question on everyone's minds in how it ended up in, of all things, cookies. Even though I cook with quinoa, I would have never dreamed I could also bake with it. I stumbled upon the idea via Google, when I was trying search for yet another thing I can't remember – the precise measurement requirements for cooking it.

Note to self: after this, look up "quinoa chocolate cake."
Naturally, when I saw this, I was intrigued. While the "keen-wah" was cooking (1 cup grain, 1 1/2 cups water), I went back to search "quinoa cookies." There were quinoa chocolate chip cookies, quinoa molasses cookies, cookies with quinoa flour, peanut butter quinoa cookies. It was a whole new untapped world for me.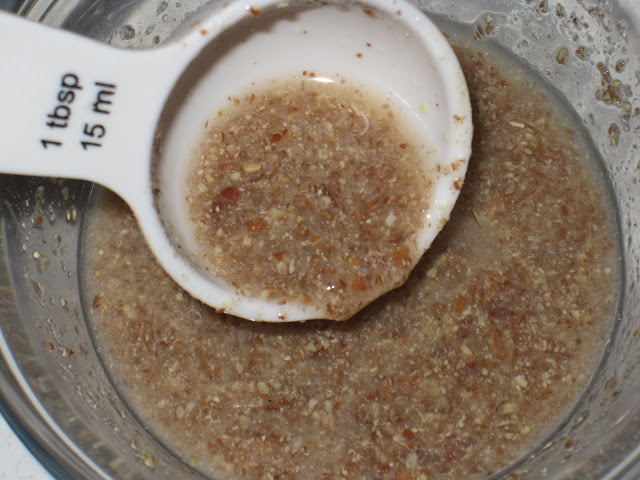 I finally settled on a simple sounding oatmeal cookie recipe. I substituted a flax egg for the real egg, which is a common replacement for vegan baking. Flax eggs work great in oatmeal recipes, it blends so well that no one will ever know the difference and you can save your eggs for more pressing recipes.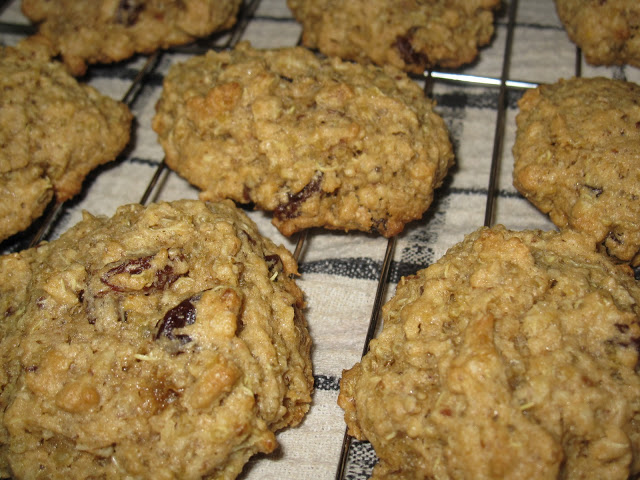 I didn't know what to think of these bad boys, so I was pleasantly surprised when I first bit into one. Soft and warm from the oven, a subtle sweetness from the brown sugar and chewiness from the oats. It's only in your last bite do you notice the slight nuttiness from the quinoa, an ingredients otherwise masked by the oats and raisins. If you ever find yourself with a cupboard always filled with quinoa, this is a recipe you can't miss.
Trevor gave this recipe a big thumbs up. I think he's also happy that there's no milk in them. Or frosting for that matter.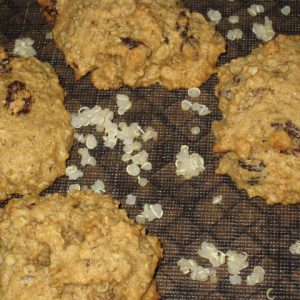 Quinoa Oatmeal Raisin Cookies
Ingredients:
1 tbsp flax
3 tbsp water
1/2 cup margarine, room temperature
1/2 cup brown sugar
1/4 cup white sugar
2 tsp vanilla
1 1/4 cups soft whole-wheat flour
1/2 cup rolled oats
1/2 teaspoon baking powder
1/2 teaspoon baking soda
1/4 teaspoon salt
1 cup cooked quinoa, cooled
3/4 cup raisins
Directions:
To make flax egg, mix together ground flax and water in a small bowl and set aside for five minutes. It's ready to use when the texture is gummy and has an egg-like texture (approximately 5 minutes).
Preheat oven to 350*F.
Whisk together flour, oats, baking powder and baking soda in a small bowl and set aside.
In a larger bowl, combine margarine, sugars, flax egg and vanilla.
Add the dry ingredients to the wet ingredients in 4 increments, stirring thoroughly between each addition. Stir in the quinoa and raisins.
Drop by the tablespoon on a greased baking sheet and bake for 7-12 minutes until the tops are lightly brown and the bottom is a deeper brown.
Cool for one minute and then transfer cookies to a wire rack to cool completely.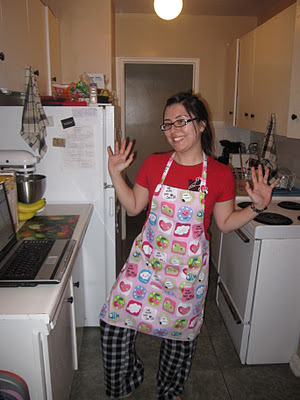 Lastly, I just had to add this photo that Trevor took of me for a laugh. It's my sweet new $7 apron and my even sweeter dork pose, haha! And yes, I like to bake in my pajamas and listen to my music via my laptop. I'm weird like that.