$20,660 and still counting! (Toronto Bakes for Japan)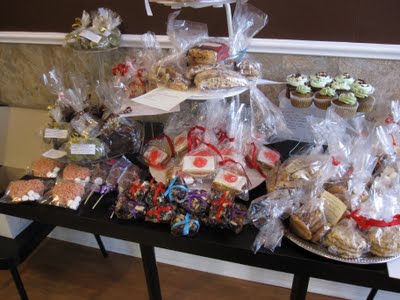 Last Sunday was probably the most beautiful day in Toronto, despite the thunderstorm we had in the early morning. Thanks to so many generous supporters, we were able to sell donated baked goods to the residents of Toronto in the name of the Japanese Red Cross Society.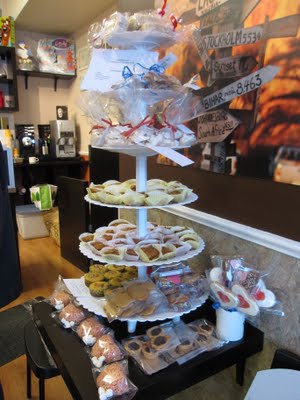 The Amaranto Cafe is normally closed on Sundays, but the owner, Elizabeth, opened the shop and let us take over her store. With so much food donated, she kept running to the back and grabbing more cake stands so we could display everything properly and that no dessert would be missed. It poured rain outside for most of the morning, but it didn't stop people from coming in. During some of the quiet moments in the store, volunteers filled trays with goodies and took to the streets armed with umbrellas.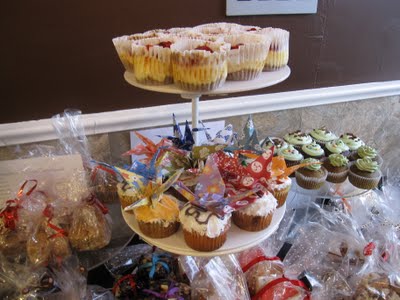 There were also quite a few heart-felt moments during my shift. A family of four came in and spent $68 on baked goods while their two young boys told us how they were helping Japan because "the ground moved and water came in." Their mother informed us that the boys had been saving their money for Japan and this was the perfect event for them to donate at.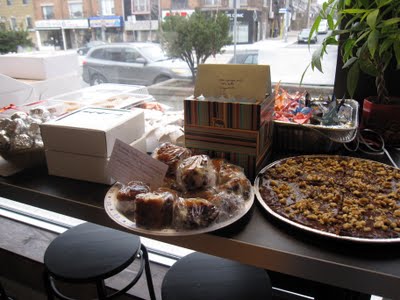 A couple hours after my shift ended, I kept checking back on twitter, as everyone was tweeting about the event with the tag #bakeforjapan. It was here that I was able to see what else was going on at the other locations around the city. Some of the silent auction items were incredible, including a vanilla and matcha sushi cake that looked amazing and so realistic. The art auction items were very impressive and I would have framed and hung them up in my apartment in a heartbeat. Musicians and bands were set up in larger locations to draw people in. It was all so magical and surreal. (More twitter photos can be viewed here).
My green tea whoopie pies were gone by the end of my shift, but there were still plenty of cookies on a stick floating around the store. Our team leader, Kristina tweeted this photo later on and when I noticed my cookies in their hands and the look on their faces, I got a little teary-eyed.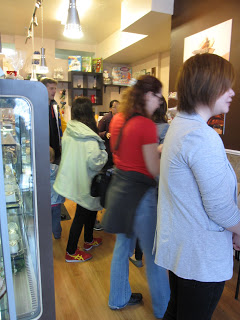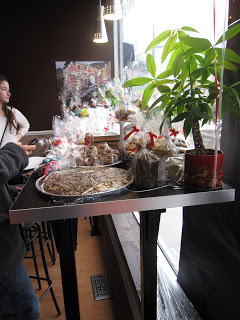 There are moments where I wish I could have done so much more, but my mom reassured me that I at least did something. I volunteered my time to help out and I stepped out of my comfort zone in terms of baking things that I had wanted to try, but were still new to me. I was able to marvel at the other creations and efforts of all the other bakers around the city and meet other wonderfully dedicated volunteers. Looking back at all that went on on Sunday and it makes me feel proud to have been a part of it.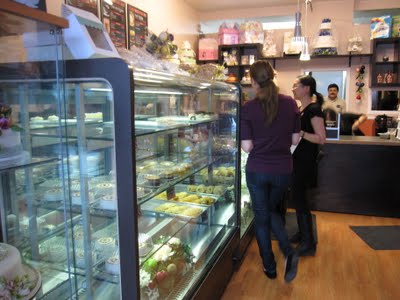 Amaranto Cafe made a total of $1,700 on Sunday. So far a total of $12,826.80 $20,660 has been raised from all the different locations, but you can still donate through the Toronto Bakes for Japan website until Friday or directly through the Japanese Red Cross Society.
Big props to Heena and Niya who took this idea, got the word out and made everything possible.
And remember: "Small acts, when multiplied by millions of people, can transform the world." (Howard Zinn)